Click here to get this post in PDF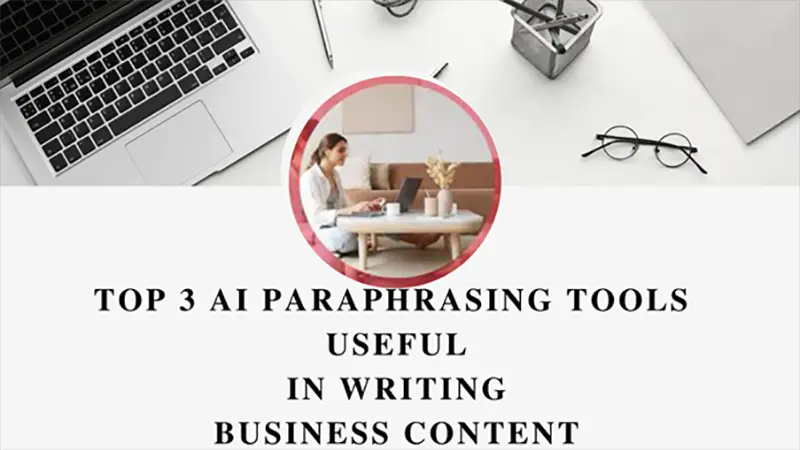 You might be looking for hot takes to grow your online business quickly and exponentially, get more and more visitors every month, and build a better brand reputation with some easy-breezy steps.  
One great hot take is to create quality content that will hook your audience to your website, make them read your blog regularly, and buy from you.
But as a beginner or small business owner, you need to go the extra mile to get maximum results from your content. You need to focus on both the quality and quantity of your content because web content is what will help you keep your audience engaged for longer and eventually convert them into returning and loyal customers. 
Moreover, writing and publishing exclusive content for business websites is not easy. This is where a paraphrasing tool comes in handy.
Why Should Business Owners Consider Using a Paraphrasing Tool?
Small business owners with low budgets and limited resources simply can not afford professional writers to write content for their blogs, articles, marketing copies, and more. 
They start writing blog posts and articles themselves. They pour extreme effort into writing a powerful piece of text but still aren't getting the results they would like to publish on their websites. 
So, how do you make sure you write high-quality content? You can do this by using a paraphrasing tool. 
Using a paraphrasing tool means rephrasing the existing ideas changing words and phrases or restructuring sentences without any manual rephrasing. You can use this word-wangling tool to get better quality content, avoid plagiarism, and save tons of time and brain power. 
Among the plethora of online paraphrasing tools, finding the right one to meet your needs and expectations might overwhelm you. Do not fret! 
We have compiled a shortlist of AI paraphrasing tools for writing your business content. Let's find them out. 
Top 3 AI Paraphrasing Tools For Business Writing
Here are the three best AI paraphrasing tools that will help you write any type of content for your business needs. 
Paraphrasingtool.ai offers an advanced AI paraphrasing tool for rephrasing any type of content to make it plagiarism free. 
The tool offers different writing modes that allow you to write in the tone you want but do not change the original meaning of the text. It ensures that the quality of your content remains the same from beginning to end. 
This tool is set apart from other paraphrasing tools because it offers much more than just paraphrasing. You will also get the title and overview (summary) of the content.
You can rephrase 1000 characters of any type of text for completely free. You will be amazed by its fast and accurate results. 
How does it work?
Using this tool needs no technicalities or expertise. Once you land on the website, you will find its paraphrasing tool as default with a clear UI. Paste the content in its input field, choose the mode you want to rephrase in and click on "Paraphrase". That's all! 
Its paraphrasing modes are: 
Text improver
Near human 
Plagiarism remover
Creative 
Quill text (Premium)
Academic (Premium)
Sentence rephraser
You will get the rephrased text with high accuracy and faster speed. 
Features:
AI-powered paraphrases 
Different paraphrasing modes
It generates a quick overview and title of entered text
Supports multiple languages
It is available for free
It rephrases 1000 characters at a time
It generates error-free content
It is fast and accurate
It is another AI paraphrasing tool but a little bit different in processing than other standard paraphrasers that engulf the text and rephrase it one way or another. 
This paraphrasing tool, as the name indicates, is a sentence rephraser – rephrases the content sentence by sentence. 
It is the best rephraser for any type of content with no exception of business writing. The tool is currently free to use for unlimited paraphrasing. 
How to use it?
Working with this tool is different from the usual paraphrasing tools, but it is not difficult. You enter the paragraph you want to rephrase, click on a sentence and it will rephrase the sentences in 10 different styles, offering you sentence-based suggestions to choose from. 
Then click on the paraphrased sentence that you see the right fit and the original sentence will be replaced with the chosen sentence. 
Features:
This tool does sentence-level paraphrasing. Hence, offering you to choose a rephrased sentence of your choice. 
Longer text can be paraphrased sentence by sentence
It conserves the original context of the text
It eliminates errors and other grammar mistakes
It outperforms professional paraphrasing tools in rearranging sentence structures.
It is available online for free
As the name indicates it is another AI paraphrasing tool that allows you to rephrase business content. The top reason of including this tool in the list is its various paraphrasing modes, which use artificial intelligence to rewrite the text in unique and distinct ways. 
How to use this tool?
To use this AI paraphraser, copy/paste the text in the input field, choose the paraphrasing mode, enter the captcha code, and tap on the Paraphrase button. Its paraphrasing modes are; 
Standard (Free)
Formal  (Free)
Sentence rephraser  (Premium)
Human  (Premium)
AI robot  (Premium)
Plagiarism remover (Premium)
Choose the mode according to the way you want to rephrase the content. Regardless of the mode, you have chosen, it keeps the true sense of the content and makes it error-free.
Features:
Here are the main features of this AI tool are:
It allows users different aAI-powered paraphrasing modes
It paraphrases the content by either changing words with their suitable synonyms or rearranging the sentences in a unique way. 
It offers plagiarism-free outcomes within a few seconds.
It is free to use but to enjoy all the modes you must buy its premium
Conclusion 
Online businesses are now setting new trends in the digital market today. Quality, informative, and error-free content is what makes your business unique and stand out from the crowd. 
Writing business documents is no walk in the park, but a paraphrasing tool makes the content writing process easier. 
The three AI paraphrasing tools mentioned above are ideal for business content writing, be it blog posts, articles, marketing ads, or reports. You can choose any of the above tools and rephrase the content, but make sure you proofread it afterwards to make it absolutely exclusive and readable.
You may also like: Meet The Best Software Tools for Business Writing