Click here to get this post in PDF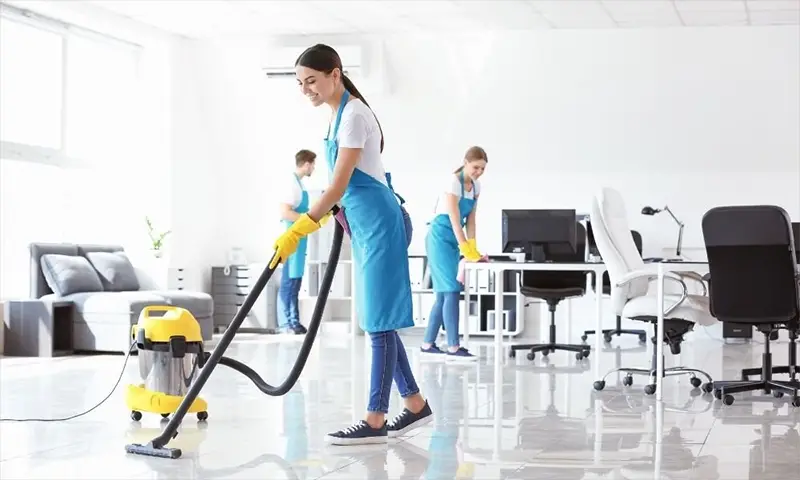 Are you looking to make a splash in the business world and start your very own cleaning services company in Cheras? With enough hard work, a little creativity and these top tips, you'll be well on your way to owning and managing your very own successful business. So buckle up and get ready to take the plunge – here's how you can get started!
Develop a business plan and set clear goals for your cleaning services company
Developing a business plan is essential before starting a cleaning services company. It allows you to map out the steps, objectives, and long-term goals of your business to have a clear and consistent strategy for success. Your business plan should include sections that define your target market, strategic objectives, positioning within the industry, and financials.
Before diving into your business plan in-depth, set specific, measurable goals and milestones for yourself to follow. This will help ensure that all the work you put into developing your business is paying off.
Think of concrete goals that apply to different aspects of running a cleaning services company, such as growing a clientele base by 10%, increasing revenue by 20%, and adding two additional full-time employees within six months. Defining short-term achievable goals will help keep you on track regarding expanding your company's presence in Cheras.
When it comes to defining long-term objectives, this could be anything from setting up multiple outlets catering to different types of clients or introducing eco-friendly solutions like compostable cleaning supplies packaged in reusable containers. 
Keep in mind that while these longer-term plans are worth looking into down the road if you don't have time to execute them right away, it might be best not to include them in the beginning stages of planning out your cleaning services business model.
Determine your target market and understand their needs and preferences.
Starting a cleaning services company in Cheras can be a great way to meet customers' residential and commercial cleaning needs. However, before launching your business, it's essential to understand the local market and target customers based on their needs and preferences. Doing this will help you create an effective marketing plan and build relationships with your clients, giving you a competitive edge over other companies.
It's essential to identify your target market before getting started, as this will determine many facets of your business. Don't limit yourself in terms of the services you're willing to provide; think broadly about different types of people and all their various needs. For example, some people might be looking for thorough deep cleans while others may just need regular light housekeeping tidying up after children or pets.
Take the time to research what is available in Cheras regarding customer expectations for professional cleaners, including areas such as price comparison, customer service expectations or specific market trends you should know about before starting your business. Additionally, consider using customer surveys or focus groups that can get qualitative data from potential customers about their preferences when engaging a cleaning company.
By carefully examining the needs of your target market and understanding these requirements, you can create cleaning packages that meet their specific desires while also ensuring that they have value-for-money options available which puts your firm in good standing within the local market. 
Remember that any promotions or discounts should also be benefits-focused – so rather than simply reducing prices by large amounts for bigger jobs or one-off specials; try offering small luxuries like scented candles or extra complimentary finishing touches like window washing that clients often appreciate but don't often get from other cleaners
Create a pricing structure that is competitive and fair to both you and your clients.
When starting a cleaning services business in Cheras, it is important to create a pricing structure that will be competitive and fair to you and your clients. Prices should be set according to the services you are offering. The team from Ultra Cleaning Services Cheras suggests weighing up the following factors before determining the price of each job:
Cost of labour: determine what wage is going to be paid to staff members and factor this in when setting prices.
Cost of materials and supplies: ensure they are within budget when factoring into total cost.
Competitor's pricing: research competitor's pricing and use this as a guide when deciding on your own prices for all services offered.
Additional charges, such as travel time, service fees or any other additional costs associated with providing the service – if applicable should also be included in your final fee structure.
As long as these costs cloudn't seem excessively high compared to competitors, they should prove profitable for your business while still being fair on customers' wallets. Be sure to keep checks in place regularly so that all charges remain competitively priced. This will ensure that loyal clients continue choosingyour cleaning services over others!
Develop a strong marketing strategy to promote your cleaning services
When you want to start and run a successful cleaning services company in Cheras, you must develop a strong marketing strategy. The right marketing plan will let your customers know who you are and just how great your cleaning services are, so they can decide whether or not they should hire you.
There are a few key ways to market your cleaning services. First, you'll want to find ways to reach out to potential customers through both online and offline channels. A website is essential for an online presence, but social media and SEO platforms provide many promotion opportunities. Additionally, direct marketing, such as promotion in newspapers, bulletins or magazines, can help boost the recognition of your business.
Positive word of mouth is also essential for success in the cleaning business – referrals from satisfied customers can be more effective than any advertising campaign! To make this happen, consistently deliver high-quality cleaning services that exceed customers' expectations every time. Additionally, conduct customer surveys every now and then – you may receive honest feedback with ideas on how to further improve customer satisfaction.
Don't forget that it takes perseverance and dedication to create awareness about your business amongst potential clients. However, paying attention to details and considering different points of view often leads to success when it comes down to marketing your business effectively in Cheras and its surrounding areas!
Train your employees on proper cleaning techniques and customer service
Having trained employees are essential to a successful cleaning services company. Your staff must be able to provide customers with professional, courteous, and reliable service. Training should include proper cleaning techniques, safety guidelines, and customer service etiquette. Employees must also be familiar with the products used in their cleaning jobs.
When training your employees, ensure they understand the importance of proper sanitation when cleaning homes or businesses. For example, educate them on the best methods for deep sanitizing surfaces, such as vacuuming carpets and using approved disinfectants to kill germs and bacteria. Also, make sure they understand how to properly use personal protective equipment (PPE), such as gloves, face masks and eyewear, required for certain jobs to protect themselves and customers.
Moreover, emphasize the need for good communication skills when dealing with clients by teaching them proper customer service techniques, such as being polite and informative when answering questions from clients about their needs or preferences. They should also be taught how to promptly handle customer complaints or disputes while finding solutions that satisfy both client and business needs. Finally but equally important is instructing staff on maintaining high standards of cleanliness while keeping themselves safe in terms of physical health due to rigorous tasks associated with the job like lifting furniture or carrying supplies up stairs etc.
Implement a system for scheduling and managing your cleaning services
To ensure the success of your cleaning services company in Cheras, it is essential to implement a system to handle scheduling and to manage your clients. It can be difficult to keep up with which clients have requested what services, when and where, which is why having a solid booking and management system in place is key.
A good scheduling system will help you plan the jobs for your staff and stay organized, including assigning and tracking employees' hours to provide specific instructions for each job. You may want to purchase software or apps specifically created for this purpose, or you can create your own custom systems. This system should also cover an appropriate payment processing solution that makes invoicing simple and maintains accurate customer information records.
In addition to scheduling and managing, having clear guidelines surrounding payment expectations, pet policies, eco-friendly cleaning solutions, safety protocols, etc., can make all parties involved feel comfortable and secure with the services being provided—which should lead to repeat customers! Investing in a professional website with detailed information about products used, services offered, customer reviews, certified certifications that you may hold (such as green cleaning certifications), etc., can set you apart from competitors as well as inspire prospective customers to trust that their home/office cleaning needs are in reliable hands.
Focus on building and maintaining strong relationships with your clients
If your goal is to start a successful cleaning services company in Cheras, you must focus on building and maintaining strong relationships with your clients. They are the backbone of your business, so make sure that not only do they keep coming back, but they also recommend your services to others.
To build trust and loyalty with your customers, you must take the time to understand their needs. With each new client, be sure to spend time discussing their expectations in detail so you can deliver the highest quality service. It's also essential that you keep open lines of communication for any future requests or questions.
To maintain strong relationships with customers, always show them respect and kindness even when something isn't going quite right. Communication is key; be clear and honest when talking about any issues or concerns they may have. If they have a suggestion or complaint, don't be afraid to listen and find out more information on how you could improve their experience next time around. Finally, offer incentives such as discounts for repeat clients or refer-a-friend programs to ensure they stay loyal.
Building solid relationships with customers is essential to running any successful business and is key for staying competitive in today's market; it will ensure customer satisfaction and boost sales in the long run!
Conclusion
As you can see, starting a cleaning service in Cheras is both an exciting and daunting task. It is important to plan for the operational costs that will be incurred and think about how to grow your business over time. Taking into account the tips mentioned above should help to inform the best course of action when it comes to financing, marketing, and hiring staff for cleaning services in Cheras. Ultimately, this is a business venture that requires research, planning and dedication if you want to make a success. That said, it could prove very fulfilling and enjoyable in the long run as you gain more experience with business growth and clientele success stories. Good luck!
You may also like: What Does It Take to Start Up a Car Repair Shop
Image source: stock.adobe.com