Click here to get this post in PDF
When you're looking for new investments, you have several options. One option is secondary securities, which is one of the most common ways to buy stock. Learn more about secondary securities and how you can get started investing in the secondary securities market. 
What Are Secondary Securities?
There are both primary and secondary securities. While primary securities are security investments that are purchased from an issuing entity, secondary securities come after an initial public offering and are security investments, including stocks and bonds, that you would purchase from another investor. Because you are not purchasing the security at the point of origination, it's referred to as a secondary security.
5 Characteristics and Features of the Secondary Market
Some features of the secondary market include:
There are lower transaction costs compared to the primary market.
Heavy regulations mean all investment money is secure.
Diversification is possible through stocks, bonds, mutual funds, certificates of deposit, derivatives, commercial paper, and exchange-traded funds.
Investors can liquidate their security for cash because there are a lot of buyers.
Price is determined by the supply and demand of the market and can fluctuate often, meaning that investors can purchase the security when the time is right for them.
Examples of Secondary Securities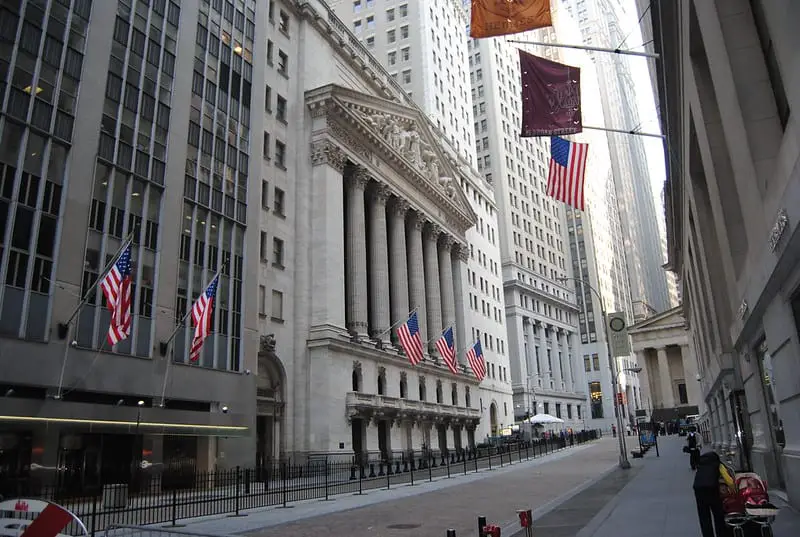 Image via Flickr by The Timeless Gentleman
While it may seem like a foreign concept, you're probably more familiar with secondary securities than you realize. Some examples of the secondary market include:
New York Stock Exchange.
Nasdaq.
London Stock Exchange.
Over-the-counter markets like the Foreign Exchange Market.
How to Get Started With Secondary Securities
Starting with secondary securities can be very easy, even for the individual who is unfamiliar with investments. The most traditional and simple way to get started is by signing up with a brokerage that can help you navigate your investments and build your portfolio. Brokerages will charge a commission on the money they earn for you (although some charge flat fees) and they'll suggest securities based on a number of factors. You may also purchase secondary securities from banks in the form of mutual funds and bonds. 
Advantages of Secondary Securities
There are many advantages to investing in the secondary market, including:
You do not have to make a large investment. Primary market securities already have a set price that is often higher than what you may find in the secondary market. 
Secondary securities are available to anyone. There is a certain asking price per security, which can vary by the security and demand, but as long as you have the funds for your investment, there is nothing stopping you from finalizing the purchase.
Investors can liquidate their investments. Liquidation means you can always sell your securities for cash whenever you want. 
The secondary market is highly regulated. Heavy regulations mean that your money is more secure. 
If you are interested in investing, consider starting in secondary securities. With a little time and research, you can start investing in secondary securities on your own, or you can get advice from a brokerage. 
You may also like: Can You Learn to Trade with Warrior Trading?