Click here to get this post in PDF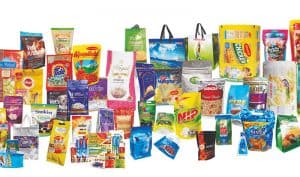 If you are in a manufacturing business, you may already know what flexible packaging is. Flexible packaging has changed the way of marketing and maintaining product quality of many products including food products, toys, tobacco, sports items, household cleaners and more.
Marketing Made Easy With Flexible Packaging Materials
The use of flexible packaging materials such as plastic pouch has made life easier for marketers to make their products look smart and attractive. First of all, flexible packaging allows companies to use digital printing on product packages to make the products most attractive and different from competitor products. You can convey all the information on the product packages about the product. Additionally, you can give the product unique looks being creative with the size of the products. Just go to any superstore around you and you will see how beautiful the products on shelves look when packaged with flexible packaging. In a nutshell, the advent of flexible packaging made marketing easy allowing marketers to be creative with product look and size.
Product Quality Assurance With Flexible Packaging
Flexible packaging is made of Polyethylene (PE), Low-Density Polyethylene (LDPE), Polypropylene (PP), and High-Density Polyethylene (HDPE) and similar other materials are perfect for ensuring the quality of many products especially food products over time. Use of these materials for packaging ensures the food items do not get exposed to the natural environment and get rotten quickly. Products do not mix up and maintain its quality over time for not getting exposed. Additionally, customers can see the products inside packages when a portion of the package is left unprinted. This allows customers to be sure of the quality of the product inside. When products are transported from one place to another, flexible packages ensure the non-breakage of the products. You may have noticed that food products are packed with air. So, even when a large product package falls from the hand of a worker, all the products don't get broken. This is a huge advantage of unthinkable without flexible packaging.
Lessening Packaging Costs With Flexible Packaging
Flexible packaging does not just make marketing easy and ensure product quality over time, it also allows companies to cut packing cost by large. Think about the cost of paper bags, cardboards, glass bottles, plastic boxes and other common packaging materials and the cost of flexible packaging materials. So, flexible packaging allows companies to save big in both packaging costs and marketing.
Conclusion
If your business is yet to adopt flexible packaging, maybe you should rethink your packaging and marketing strategy.  If your company operate on a large scale, you can have your own packaging section and buy flexible packaging printers to print on the packages of your products. Especially if your business is in the food industry, we highly recommend you to adopt flexible food packaging.