Click here to get this post in PDF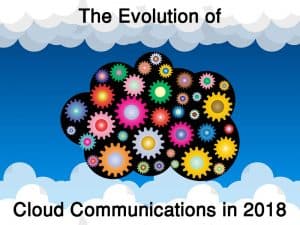 For tech-savvy businesses and IT executives, cloud computing is more than just an industry buzzword. More and more companies are turning their attention to how they can leverage technology cloud-computing tech to accomplish their business objectives, including reduction of overheads, cost savings, increased business flexibility, attention to the latest security measures, and more.
2018 is slated to be a big year for cloud communications and, as the numbers show, nearly every business that wants to remain competitive is utilizing cloud computing to expand its business model. Let's take a look at some of the ways that the cloud is evolving.
More Cloud Storage Capacity
Nearly every industry is shifting its business model to the cloud, which, in turn, is increasing the number of companies looking to service this ever-expanding demand. Service providers are bringing more data centers online and increasing their storage equipment. According to a recent Cisco survey, it was estimated that the total amount of data stored worldwide in data centers would be 370 exabytes (EB), while global storage capacity would be 600 EB. For 2018, these numbers are expected to hit 1.1 Zettabytes ZB), more than twice the space available in the previous years.
This exponential growth of available storage hasn't gone unnoticed by businesses that are looking to embrace the zeitgeist and utilize the new capabilities of cloud computing. As an example, businesses that embrace a Big-Data-based approach can analyze larger-than-before data sets and derive invaluable insights into how their target markets behave, where costs are expected to grow, how to optimize the "human component" of a company's infrastructure, and strategic financial investments that produce a favorable ROI.
Best of all, small businesses and startups can utilize the same cloud-computing services of the larger companies, leveling the playing field for emerging services, products, and technology. SaaS-based tech, or Software as a Service, via the cloud, has opened a flexible solution that provides cost-effective possibilities to experiment and integrate these new cloud services. Similarly, cloud computing is encompassing infrastructure (IaaS) and platforms (PaaS), which can allow public and private sectors the ability to manage their businesses in a cloud-centric way.
Unprecedented Growth in the Cloud Computing Industry
The aforementioned Cisco survey also had a number of forecasts that are coming true:
SaaS will account for 60% of all cloud-based workloads in 2018
PaaS solutions will experience a 5% percent growth rate in 2018
IaaS solutions are set to grow by 13% in 2018
While these projections were made in 2016, recent data has shown this to be modest, though prescient prediction in the cloud-computing industry, with IaaS actually tripling in Cisco's study. Therefore, businesses that want to step-up their efforts while simplifying their operations can look to SaaS, IaaS, and PaaS as the new trends to follow.
Enhanced Internet Quality
With the expansion of global storage capacity by service providers set to increase by 2018 (and showing no sign of slowing down), it also follows that the quality of the Internet and emerging tech that can give individuals and businesses the ability to integrate cloud-based services such as virtual phone numbers will increase. After all, consumers want faster connections and better service from their network providers. With companies like Qualcomm Snapdragon leading the way towards this ever-accelerating trend, 2018 should see a number of industry players looking to work on these improvements, especially in regards to the emerging technology of full 5G networks. This enhanced quality of networking will increase the demand for faster load times, highly-responsive services, and never-before-seen apps. Smart organizations have already begun to reevaluate website platforms to be more responsive, but emerging technologies, like the Internet of Things(IoT) and the Internet of Everything (IoE) industries are set to explode in growth due to these faster and more efficient network speeds.
The Cloud and the Internet of Everything (IoE)
For those who were paying attention in 2017, IoT and AI (artificial intelligence) played a pivotal role in the changing forecasts of the tech community. Industry innovators like Elon Musk have made a number of comments on the potential that these technologies can not only benefit businesses but also towards the general quality of life of people globally. Industry experts have been anticipating IoT's own growth due to the continuous innovations that cloud computing can offer. This has pushed innovation for IoE to take center stage, as cloud computing can facilitate IoE's efficacy in machine-to-machine communication, data processing, and how humans communicate with nearly everything in their environment. In short, cloud computing aims to simplify the world in all interactions, thanks to the cloud.
As end-users, consumers can potentially interact intelligently with every device in a network — and how humans interact. As an example, Google's Pixel Buds are a wearable headset equipped with the ability to translate around 40 languages in real-time for its user. Similarly, the IoE provides businesses with an increased insight into how consumers interface with their products or services, yielding data that can help simplify customer experiences through automation. Considering that automated procedures, like Japan's introduction of smart robots into the hospitality industry, can facilitate a positive experience for those staying in hotels, it goes to follow that savvy startup will seek to bring IoE and the cloud to every aspect of our lives in 2018.
Bringing Security Measures with the Cloud
2017 was a challenging year for security breaches and cyber attacks, which have included the likes of WannaCry ransomware, the CIA Vault 7 attack, and the hacking of Big 3 credit bureau Equifax. 2018 is expected to have even more security challenges of this nature as cyber attackers become more sophisticated. Therefore, security analysts in nearly every sector and industry (government, public, and private) will have to modernize their methodology to encompass more and more sophisticated strategies as malicious entities infiltrate their organizations.
Cloud computing services have already begun to play a role in mitigating these attacks through facilitating the use of tools like SEIM services (security information and event management) as necessary defense mechanisms because budget-conscious organizations may not have the resources, manpower, and know-how to prevent such advanced security breaches on their own.
About the Author
Tom Senkus is known as a freelance writer and author of over 9 books that are available now on Amazon.  Some of Tom's work includes articles in the financial, tech, and telecom sectors.  In his spare time, he likes to play music, stay up to date on some of the latest technology, and read books of Russian literature.