Click here to get this post in PDF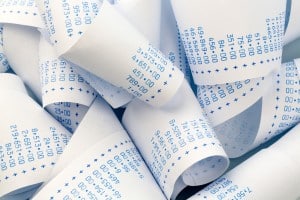 Some business owners that operate as sole proprietors or entrepreneurs may think to only accumulate all of their receipts and keep track of their income. They plan to hand it all over to the accountant at the end of the year. This is a huge mistake. The information that you gain from accounting information is not only good for taxation purposes. There is so much more than you can learn from the information. You can decide whether or not to raise the price of a service that you provide, order more of the products that you sell a lot of, and much more. You want to have the information that you need to make the best decisions.
There are two main kinds of accounting software that you can choose. The first is a generic program that can be used in just about every industry. When choosing one of these, you are more apt to have a lot of options, however, there will be a lot of things that you don't use. The second is the industry-specific model. If you choose an industry-specific accounting program, you can expect it to be more geared towards your business, however, you will have fewer options. These programs are usually more expensive as well. You can save money with the generic accounting programs and have the ability to mold it into what you need. However, there will be limitations and you will need to find ways to get the information that you need.
Size of your organization
The size of the organization matters. If you are a small organization with only one or a few employees, there is no need to choose a software program that is very advanced. You may not have a lot of expenses or inventory that you have to track. Therefore, you only have to have a basic accounting program.
Industry based
There are some industry-based programs that may work well for certain industries. Some programs are better than others for certain reasons that work well with certain companies.
Elements analysis
Make a list of the program elements that are important for you. If you don't have an inventory, you may not want to choose a program that concentrates on keeping track of the inventory. You may want one that focuses more on tracking invoices.
These are some of the things that you should think about when you are choosing accounting software. Here is a review of three of the most popular accounting programs for entrepreneurs.
Intuit QuickBooks Online
Intuit QuickBooks Online is a generic program that is cloud-based. It is a great program for small businesses like service providers, restaurant owners, store owners, freelances, and online merchants. The best part is that it can start off as a basic program and then grow as your business grows. Since it is cloud-based, you have access to it wherever you are. You can access it from your mobile device or your computer. It is very versatile.
Intuit QuickBooks Online is also very inexpensive for a growing business. It will be able to start off at an affordable price for your first few years and then you can add more advanced capabilities as your business grows. The basic program with one user starts off at $9.99 per month.
The program is also very easy to use. It can create a customized dashboard that will help you with your specific needs. You will be asked about your company so that you can pull out the elements that you might need. It helps to make it beneficial for your business. It is really easy to use as well. You won't be spending hours trying to figure out how to put in an invoice or whatever you need. It is easy to connect your bank accounts or credit cards to the program. It will show you the when invoices are due and how much of a profit that you make.
The most important aspect of this program is that it can save the business owner time. It is what most business owners are concerned about. They want to make sure that they are getting the information that they need when they need it. It should make things easier and not add to the stress in business. This program helps to alleviate some of that pressure and make it easy to handle small business accounting.
Wave Accounting
This free accounting software program is an ideal choice for small businesses. This is a cloud-based program that is easy to use and saves time. It will assist you in the management of your business's finances. There are not all of the elements like the paid options, however, it does a lot and can do everything that you need it to do for many small businesses. It can create reports, track expenses, create and send invoices, and link to bank accounts.
This is the ideal starter software program for small businesses. It is the perfect program for freelancers, consultants, and entrepreneurs. If you have less than ten employees in your business. It is easy to set up and start using. You can store your information so that it shows up on invoices and other documents. The only major downfall is that it doesn't have mobile capability.
FreshBooks
FreshBooks is your ideal pick for individuals looking for accounting software that is compatible with Android and iOS devices. It is a mobile app that works great for small businesses. It is a comprehensive app that includes common features that most business owners need. The best part of using this app is its time-saving tools. You can perform a wide variety of tasks from your tablet or phone. It allows you to organize and track your expenses, create invoices and send them out, and manage projects. You can track your customers and generate some reports as well. It is a perfect mobile app for small business owners.
When it comes to choosing the perfect accounting software for your small business, this is the information that you need.
You may also like: Tips for Keeping Your Small Business Accounting on Track
About the Author
Tim J. loves to tinker with electronics. He is an innovative in his field and works for Equustek Solutions Inc. When he isn't tinkering, he loves to write and spend time with his dog, Lucky.