Click here to get this post in PDF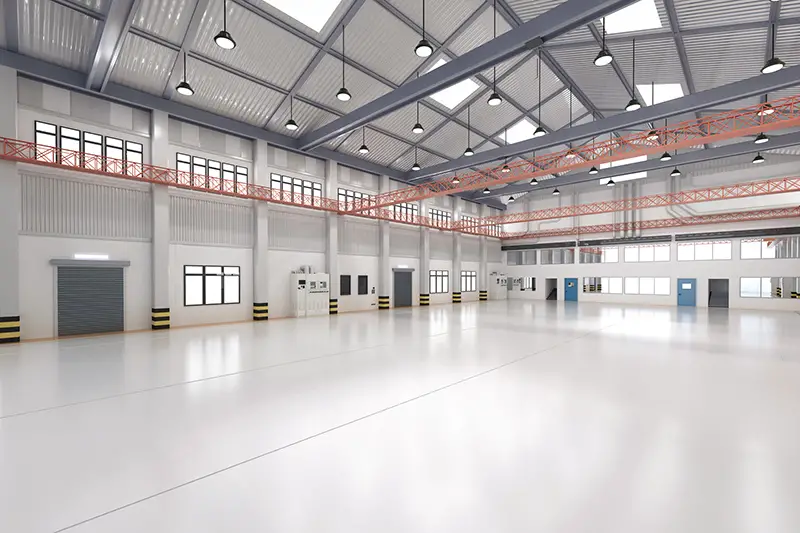 The process of building a warehouse is not difficult, but it can be overwhelming. To help simplify the process and provide an overview of what you need to do, we've outlined a step-by-step guide on how to build your own warehouse or other commercial structure. A well-experienced metal buildings contractor will look at every aspect of the project from beginning to end so that you can make it as easy as possible on yourself while ensuring your building is safe and secure. They'll provide solutions and guidance no matter where you are in the process of building.
Hire the right people
Hiring the right people is an important part of any project, but it's especially vital when building a warehouse. You'll want to hire experienced and knowledgeable people about the construction industry and ensure they have a good attitude. This might require extensive searching and interviews; however, this effort is well worth it!
Once you've hired your team members, make sure to give them plenty of opportunities for professional development by sending them on training courses or giving them time off work so they can learn new skills.
Plan your budget
This may seem like the most obvious step, but it's also one of the most important.
Before you start building your warehouse, you need to know how much money it will take. Then, you'll have to plan out all your costs and ensure they don't exceed your budget. This includes legal and construction fees as well as taxes and insurance costs.
Acquire Land
Find a suitable location to build your warehouse through land surveying. At this stage, it's important to consider the following:
The land should be flat and level so that you can easily set up equipment and store inventory.
It should also be free from debris, such as rocks and trees.
And it should have access to utilities like water and electricity
Seek Building Consultant
Seeking a building consultant is one of the most important warehouse planning steps. A building consultant like this tilt up construction consultant will provide you with access to their expertise and knowledge of the construction process. They can help guide you through all of the decisions you need to make before breaking ground, including choosing vendors, estimating costs, and laying out blueprints.
A certified architect or engineer may qualify as a building consultant. If they don't have experience building warehouses, they should be able to recommend someone who does.
When interviewing prospective building consultants:
Ask what kind of projects they have done in the past (some may specialize in residential buildings while others focus on commercial work).
Look for experience working with clients like yours in your area (if this person has never worked with warehouse owners before then there may be a reason for concern).
Choose the right construction materials
Materials that are durable and long-lasting will save you money in the long run.
Materials that are easy to maintain will reduce your maintenance cost.
Materials that are environmentally friendly should be considered, especially if they make sense for your company's mission statement or corporate culture. It can also help improve employee morale when they know their employer cares about sustainability and environmental issues.
Consider cost-effectiveness in the choice of materials, as well as how much each material costs per square foot/meter of space it takes up (e.g., $2 per square foot). This will help ensure that you don't overspend on some areas while skimping on others—which might lead to problems down the road!
Hire a Roofer
If you are building a warehouse, there is one thing you shouldn't go cheap on the roof. The roof of the warehouse is one of the most important parts of the building, and it needs to be done right. You can either hire professionals to do this for you or do it yourself if you have some experience in construction projects.
Either way, it will cost some money and take up time, but it's worth investing in a good roof like these corrugated steel roofing sheets because it protects everything inside from weather conditions like rain and snow as well as temperature extremes (hot summers versus cold winters). A great roof will last for decades if properly maintained over time.
Secure with Fencing
Initially, your warehouse may be small—just a few thousand square feet. But as you grow, it's important to consider safety and security. Fencing like this industrial fencing is one of the most effective ways of keeping people out of your business area.
Perimeter fencing helps prevent theft by keeping people from stealing products or materials in storage or being loaded onto trucks. It can also help prevent unauthorized access to areas where products are being manufactured or processed so that employees don't have to worry about intruders disrupting their workday.
Storage area fencing should be used to protect valuable tools and equipment that are stored outside the building by keeping them off-limits to curious passersby who might want to take something without paying for it first.
Begin building your warehouse
Here are the steps you need to take:
Start with the foundation. Before building your warehouse, it's best to start with a solid foundation. If possible, choose a site that has good drainage and is not prone to flooding or erosion. For example, if you plan on building in an area with frequent rainfall or snowfall—near the ocean or a river—you may want to consider using pilings as part of your foundation instead of just digging down into dirt or sand as many other buildings do.
Build the walls and roof. Once you have finished laying down pilings and setting up forms for pouring concrete around them (usually done in sections), pour concrete into those forms until they're filled level with a ground level above them; this will form part of what becomes your warehouse walls later on when they're finished being built out completely by adding materials such as block or brickwork atop these initial forms once poured upon which then become embedded within themselves permanently due at least partially because most types of cement used today contain some type of steel inside them during production so as not only provide structural integrity but also help prevent corrosion from moisture getting onto surfaces where contact could occur between metal exposed like this versus one which isn't exposed directly inside any kind of a container such as our case here).
The steps to building a warehouse are straightforward, but they involve a lot of work
The steps to build a warehouse are straightforward but involve a lot of work. The steps are outlined in the article. Below is an overview of these steps:
Conclusion
Building a warehouse is a time-consuming process that requires careful planning. However, if you have the right people on board and adequate funds in place, then it will be an enjoyable experience.
You may also like: 4 Helpful Tips for Running an Effective Warehouse
Image source: Depositphotos.com