Click here to get this post in PDF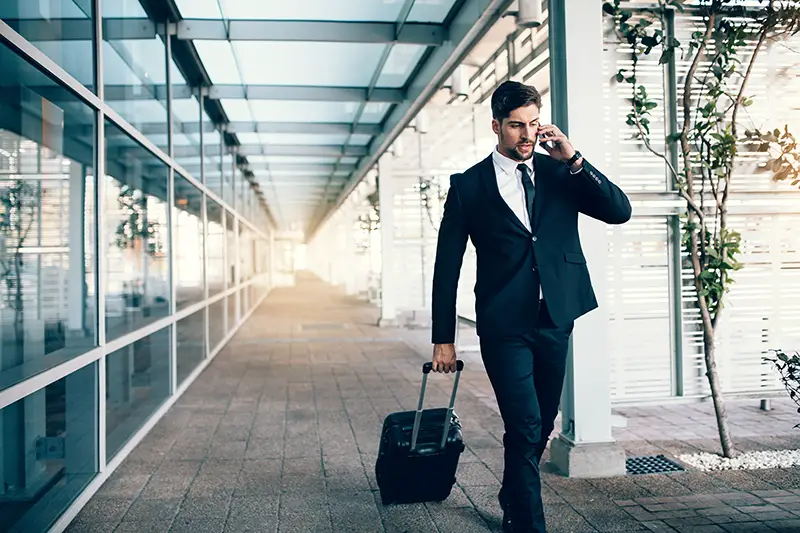 Has your company recently requested that you plan an out-of-town work trip? It may seem daunting if this is your first opportunity to travel for business. With many facets to prepare for and a plethora of chances for something to go wrong, we recommend taking a deep breath and following this step-by-step guide to planning a successful business trip. 
Step By Step Guide to Planning a Successful Business Trip
1. Understand the Company's Business Travel Process
If this is your first time heading out on a business trip, it is vital to understand your company's guidelines. For example, is the assistant booking flights and accommodation, or are you? Does the company pay upfront with a company credit card, or do they pay you back? Are you allowed a stipend? Are there any restrictions on where you can stay, what you can do, etc.? We recommend having an in-depth chat with the person in charge of this sector to ensure you always adhere to the company's requirements. 
Suppose you are in charge of booking and paying for your travel expenses, and the company has a payback program. In that case, you can get the biggest bang for your buck by using a travel credit card and establishing membership programs with airlines, hotels, and other services. 
2. Book Convenient Travel
We recommend three things if you are in charge of booking your travel and have some flexibility. First, book flights that allow you to continue with your normal day. Skip the red eyes or flights that force you to land at midnight in favor of flights where you can sleep throughout the night or land at a convenient time. 
Second, choose hotels close to your primary meeting grounds. This will limit transportation time and possible delays, ensuring you can get to and from your destination easily. 
Third, schedule a private airport shuttle. Rather than attempting to get a rideshare, hailing a taxi, or waiting hours for a hotel shuttle, a scheduled private car is the way to go. You will be transported in an efficient, clean, and timely manner with the ultimate professionalism. Plus, it is cheaper and easier than many assume.  
3. Get Your Documents in Order
When traveling for business, you should always have paper and electronic copies of all your reservations, tickets, and identification. We recommend having a physical paper folder and an electronic folder you can access from your phone with airline tickets, hotel reservations, transportation reservations, identification (i.e., driver's license or passport), itinerary, and any conference or event tickets you may need. 
4. Know the Details of Your Destination
Before setting off, we highly recommend having a good overview of your destination. Take a look at a map to get a layout of the city, check the weather forecast, and pick out a few restaurants or places you want to visit during your downtime. Plus, if you are heading out of the country, you should investigate if any pressing cultural or language differences may affect your trip. 
5. Pack an Appropriate Business Bag
When starting to travel for business, many professionals overpack, but that isn't necessary. To keep it simple, you should have the following for a typical 3-day business trip:
3 tops
2 bottoms
1 dress / evening outfit
1 blazer
4 sets of socks and undergarments
1 set of pajamas
1 professional pair of shoes
1 casual pair of shoes
1 athletic outfit
Set of toiletries 
Required medication
Phone & charger
Headphones / earbuds
Laptop & charger
Adapter (if international)
Presentation materials (if needed)
Business cards
Of course, the duration of the trip may expand these numbers, but that doesn't mean you need to go overboard. Remember that you should also bring entertainment and comfort items for flights and downtime.  
6. Plan for Transportation Delays
Even the best planning in the world can't fix transportation delays. Prior to your trip, have a plan and clear expectations with your company on what you are to do in the event of travel delays. What happens if your flight gets canceled? What do you do if you can't get to your event on time? What should you do if your return trip gets delayed? What actions are you allowed and not allowed to take in the event of any of the above? Understanding company expectations and limitations will help fix any problems that arise appropriately. 
7. Remember to Enjoy Yourself
Most business travel includes downtime, whether a mid-day lunch break, an evening off or a whole weekend day. We advise taking advantage of this time to explore your destination, try new things, eat yummy food, and get in some shopping. You never know when you will be able to return, so enjoy it while you can. 
You may also like: Making the Most of Your Next Business Trip
Image source: Shutterstock.com