Click here to get this post in PDF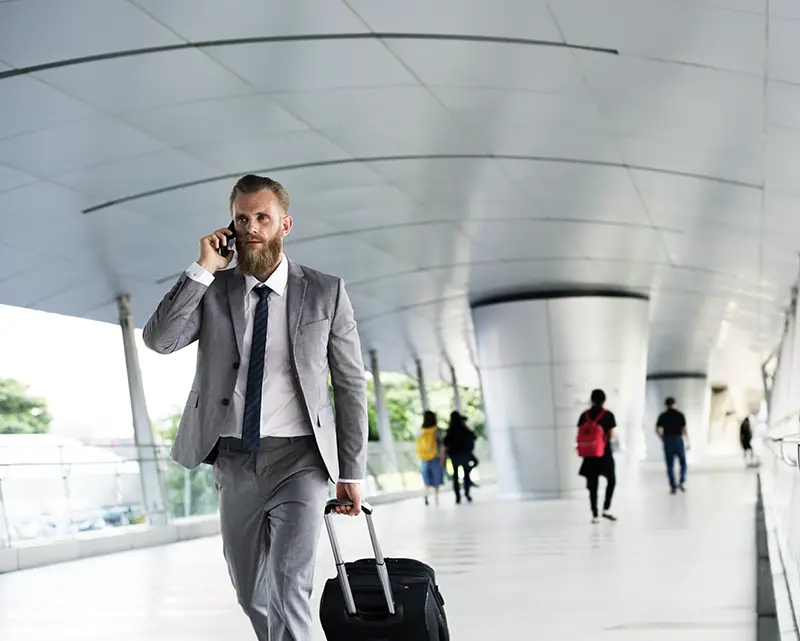 If you're someone who has to travel for work, it can often be tiring. Maybe you're spending hours in the car to get to your location, or you're spending all your time waiting in line at the airport. Then you get to your destination and you barely get to see the place because you're so busy with work. When you finally make it back home you're exhausted.
It doesn't always have to be this way, however. There are a few things you and your business can do that might make the trip a little more enjoyable, allowing you to get the most out of it. Here are some things you can try:
Travel in Style
First, look at how you're getting around. If you're doing all your traveling in the coach section of a plane, or on a crowded train, there are better options. First look to see if you can upgrade your seats for any flights you have to take. If not, at least try to secure your preferred seating option, perhaps along the aisle or near the front of the plane. If your business has the funds to spend, an even better way to travel is through a private jet charter.
You should also look to upgrade your transportation for closer trips. Book yourself a better seat on that train, or rent a car that's a little nicer. A good chunk of your business trip is spent traveling from one spot to the next, so do everything you can to make this part of your trip a little more bearable.
Research Hotel Options
Next, think about where you'll be staying. The last thing you want to do is get off a long flight and head to a hotel or motel that is run down or uncomfortable. Spend some time before your trip looking at all the different accommodation options in that area and pick the best one that fits your budget.
In many cases, everyone at your business who is traveling will stay at the same place, so you may not have a choice. In this situation, look for ways to improve your own room at least. Perhaps you can book a room with a larger bed or request one with a nice view. You should also look to see what amenities the location might have, such as a swimming pool, gym, or spa, then pack accordingly.
Find Things to do Nearby
If you're going to be traveling somewhere, you should try to find something fun to do while you're there. Rather than spending your evening in the hotel room with room service, find a great local restaurant or bar you can have a nice meal at. This is the perfect opportunity to get a sense of the culture for that city, and wherever you go will likely have better food than the hotel.
When you have a little extra time in your schedule, you should also look for some fun things to do. What are some of the nearby tourist attractions? Where can you catch a movie? Are there any activities nearby that would make for good team-building exercises, like an escape room? Whenever possible, try to make your business trip a little less about business and a little more about having fun.
Have a Family Member Come with You
Business trips can be a little lonely, especially if you're traveling alone or don't know your co-workers that well. If possible, you should try to bring someone along with you. For example, if you have a meeting in New York City, consider bringing along your husband or wide. They may have to pay their own way, but it's a great way to save some money on a trip for the two of you. Then you may be able to extend the trip an extra day and enjoy the city, just the two of you.
---
Packing Essential Checklist for Business Travelers
---
Take Safety Precautions
Finally, it's important that you take some safety precautions to get the most out of your trip, especially lately. Make sure any place you are visiting or staying at is taking proper precautions to clean out their establishment and protect their customers. If you're traveling with valuables, be aware of where they are at all times and consider requesting a safe in your room.
You should also have some emergency numbers written down and know where to go if you get into any trouble while traveling. A few safety precautions could prevent your business trip from becoming even more unpleasant.
So, the next time you have to travel for work, use the ideas above to try to get a little more out of it. Traveling for work isn't always fun, but with a few small tweaks, you may actually enjoy some of it.
Image Source: Rawpixel.com