Click here to get this post in PDF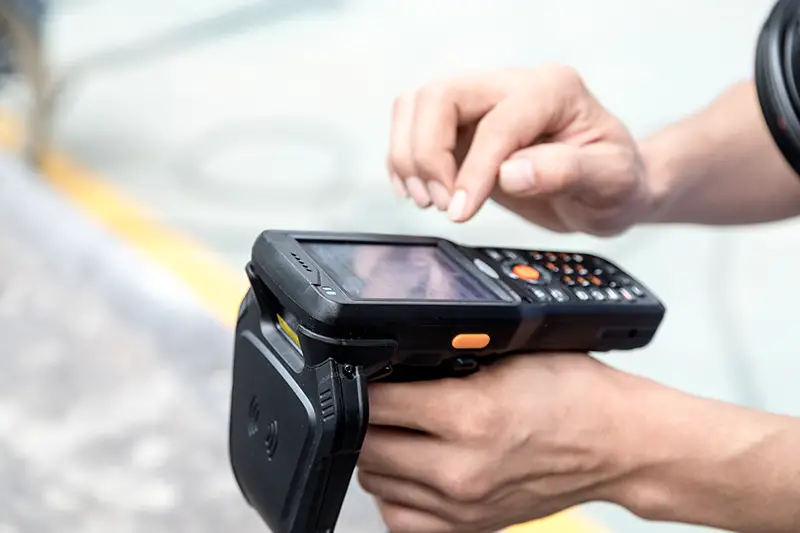 If you have a warehouse to support the growth of your business, or at least to house your products, it is crucial that you have the right technology installed to protect your goods and property. You need to ensure you have a warehouse management system in place to get products out efficiently to the right customers. 
The more products you have in your warehouse, the likelier it is that you may make a mistake when it comes to organising them. This may include where they are placed and how often they are bought. 
It might then, be the right time to invest in a handheld terminal for your warehouse – and below, we explore some of the reasons why.   
1. Money and mistakes
As the old saying goes, time is money. If you make a mistake in relation to a product in your warehouse, it can cost you time and money to have the mistake rectified. 
For instance, if you miscalculate how much stock you have of a certain product, and end up buying more, this could mean you spend too much and waste your money if you are unable to sell the product. A handheld terminal could therefore help keep an eye on the input/output of your stock in your warehouse, so that you do not make numerical mistakes so easily. 
2. Quick barcode scanning
If your handheld terminal breaks down, you should get in contact with a handheld terminal repair specialist as quickly as possible. That way, you can always have a device on you that can scan and read your products quickly and efficiently. 
Having a barcode scanner on a handheld terminal can ensure that you always know where certain products are placed. That way, you can find products more easily and not waste time. 
Barcode scanning can also help with your data input on spreadsheets and organisational documents. This can enable you to see where you are spending your money and what products in your business are selling well. 
3. Mobile data
Warehouses are infamous for not always having the best Wi-Fi conditions. That's why you will be happy to know that handheld terminal technology can rely on a mobile signal. Therefore, if you need to hook up your terminal to a computer system, you will not need to rely on your Wi-Fi. Instead, you will always be able to access the records you need.
4. Additional apps
Don't forget that you aren't necessarily restricted to using the software that might have already been downloaded onto the given handheld terminal. These devices can be extremely flexible in how they can be used.   
You can download additional communication applications that can help keep you in contact with your team, as well as extra scheduling software to allow you to keep updated about your meetings and commitments.
5. Eco-friendly handheld terminals
Back in the day, you would have printed off a list to keep an eye on your stock. Instead of doing that, you can save paper and be eco-friendly by relying on a handheld terminal for your warehouse. You can have the lists of your stock on your terminal and can easily tick them off as you locate them and use them accordingly. 
There you have it – a great summary of some of the factors that may drive you to embrace the use of a handheld terminal in your own warehouse. And when such terminals on your premises need to be repaired, don't forget that here at Mobile Computer Repair, we are always available to assist. 
You may also like: Benefits of Using Wireless Scanners
Image source: Shutterstock.com