Click here to get this post in PDF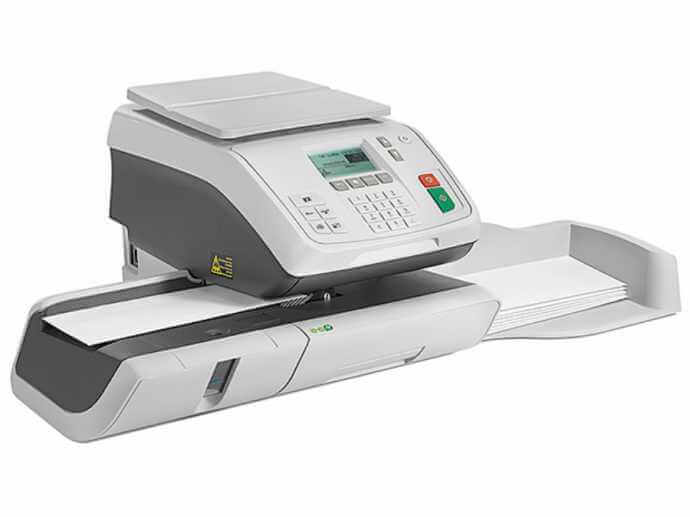 What if we say that you can gain efficiency while saving money? Do you like it? Of course! In addition to preventing you from going back and forth to the post office, franking machines allow you to take advantage of preferential postal rates.
It is, therefore, an excellent way to optimize your expenses and your working time as much as possible. Gone are the hours of putting dozens of mails in envelopes!
But you still have to choose your stamping machine. Unfortunately, choosing the wrong postage meter for your business can quickly turn out to be expensive and counterproductive. Why? Because the franking machine is only available for rental: you are therefore bound for a certain period.
So to make the right decision, follow our guide! We explain everything you need to know about renting a postage meter so you can make the right choice for your business.
The different types of franking machines
Note that companies sending less than 15 pieces per day do not need to rent the same stamping machine as companies sending 150 parcels per day. It is why you need to be aware of the type of stamping machine that will best suit your needs.
There are three different types of postage meters:
Very-small connected franking machines (tpMAc).
Small connected franking machines (pMAc).
Intelligent franking machines (MAi).
Very-small connected franking machines (TpMAc)
This type of franking machine is for businesses with small needs. It allows small structures to benefit from the services of large ones! Renting a TpMAc machine is ideal for establishments sending only about thirty letters per day. These compact, easy-to-use machines have a weighing pan that allows mail to be frank at the right price. 
Rental price: The rent of TpMAc is around £25 per month.
Small connected franking machines (pMAc)
Typically aimed at companies spending between £1,000 and £1,500 per month on postage, these postage meters come with handy accessories to save even more time.
Small, connected postage machines are ideal for small to medium-sized businesses that send between 30 and 200 mail pieces per day. They contain letter scales which, in general, can also be used to weigh small parcels.
Rental price: The rent is from £40 per month.
The intelligent franking machines (MAi)
We recommend intelligent franking machines from 200 items sent per day. An actual concentrate of efficiency, these machines can insert, sort, and frank letters and parcels in a few moments.
Despite a higher rental price, these stamping machines are ideal for businesses handling a high volume of mail. Connected to the internet, they are regularly updated so that you can always take advantage of the most current postage rates.
Rental price: The rent starts from £150 per month.
The rental of a franking machine: Suppliers approved by the Post Office
The post office authorizes only four suppliers to rent franking machines to professionals. They are:
Quadient
Francotyp Postalia
Doc'Up
Pitney Bowes.
Quadient
Better known under the name of Neopost, this French company is one of the world leaders in the sector.
The most famous model? The IS-280, a very small stamping machine, is extremely popular with small businesses.
Why choose Quadient-Neopost? The company has an impeccable Trustpilot score because customer satisfaction is its priority. It is also a forward-looking company that today associates its franking machines with a digital service called Neopass.
Francotyp-Postalia
Francotyp-Postalia franking machines have always been famous for their robustness and their many integrated accessories.
The most famous model? The Postbase Mini is by far the most popular franking machine of the machines offered by Francotyp Postalia! This very small stamping machine provides the same service as the large ones (personalization of mail and shortcuts to save time) at a low price.
Why choose Francotyp Postalia? The strong point of Francotyp Postalia franking machines is that they are complete solutions. They always have a detail that makes the difference and that other competitive stamping machines do not have.
Doc'Up
Trusting Doc'Up (formerly called Frama) means having an experienced partner who is both modern and ambitious.
The most famous model? The best-known Doc'Up model is undoubtedly the PowerMail franking machine. This touch-screen pMAc postage meter has always stood out for its ease of use.
Why choose Doc'Up? Doc'Up is not just stamping machines. This supplier approved by the post office also offers devices for placing under envelopes, dematerialization of mail, and destruction of documents. 
Pitney Bowes
Inventor of the postage meter, Pitney Bowes, has unparalleled experience and expertise. Today, the company offers solutions combining franking machines with digital resources for more modernity and efficiency.
The most famous model? Its big sister, the DM55, has now replaced the DM50 franking machine. However, its monthly remote statement to control spending makes it an ultra-popular device.
Why Choose Pitney Bowes? Among other things, for his experience, of course! But also for its Inview solution, an online tool that allows you always to do more with your franking machine.
You may also like: Texting Landlines: A Useful Form of Communication for Businesses?