Click here to get this post in PDF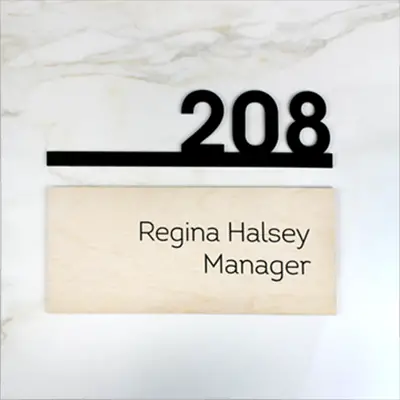 The most important and invaluable resource in the modern world is undoubtedly our time. Everything revolves around saving time, doing everything in a shorter time and reducing the processes that solve certain tasks as efficiently as possible. Navigational, informational door signs in buildings of any purpose are a direct saving of your precious time, since your guests, clients, colleagues or friends do not have to spend their important resources searching for certain offices, rooms or bathrooms, because this requires the use of special room sign boards and placard plates.
Bsign knows exactly how to save your time, starting from the fact that we will help you choose exactly what your door room plaques inscriptions, label signs should be on each room, ending with a quick and timely execution of an order of any complexity. Also we can confidently guarantee that you will not regret working with us as soon as you can hold at least one of our door number plates in your hands. The perfect execution of every detail, the elaboration of small elements, the unique, original design of each product — this is what we are proud of. In our work we prefer the use of natural materials that do not harm the environment, and also do not have a negative impact on humans. 
Natural materials for best sign boards
Therefore, we chose to the use of three types of raw materials:
wood;
acrylic;
stainless steel.
All these materials are simply designed to be a decoration of your room. On the Bsign website you can see various collections with apartment door numbers from our specialists, which were developed taking into account all the modern and actual needs of the average customer. If you don't like any of the products presented, or if you have a specific suggestion, sketch or design project for how your door lettering should look, we will be happy to help you bring your ideas to life and put them into practice with high quality. 
We offer to make your door lettering for a company, showroom or beauty salon a full-fledged part of your branding and even marketing. To do this, we offer additional personalization services for each product. Using a special UV printer, we can apply a special wear-resistant print on your plate in the colors of your corporate style, as well as provide you with a QR code, logo, and company name on the plate. We offer an ideal option for equipping your space with branded, high-quality inscriptions on the doors of cabinets, bathrooms, certain lounge areas, as well as interesting inscriptions, signs and symbols in a single style.
No matter what idea you have of your perfect door lettering, Bsign craftsmen can bring your idea to life most accurately and intelligently. As for the shape and size of most door number plates, we have absolutely no restrictions, so you can order classic rectangular, square or interesting oval, round icons, or offer to make an extravagant, creative, exclusive sign for you. As numbers or inscriptions on the bottom layer of the plate, we offer the application of three-dimensional acrylic letters, numbers or symbols that can be made in different colors. Also popular is high-quality UV printing, which we reproduce directly on the bottom layer of a room door sign's name plate made of acrylic, steel or wood.
Choose ideal door signs to provide great space orientation
Depending on what kind of interior design is present in your space, you can buy the appropriate Room number signs lettering from a specific collection in the Bsign store. At your service, we have developed a huge number of sign designs, each of them deserves to decorate your building. 
If you prefer classics, naturalness or eco-style, we suggest you pay attention to wooden signboards with inscriptions. Natural wood can be stained in several contemporary shades, depending on the desired result. It would also be appropriate to combine several materials in one product. Let the virtuosos at Bsign bring your unfinished door lettering projects to life and you'll be delighted with the end result.
You may also like: Why signage is important for your business