Click here to get this post in PDF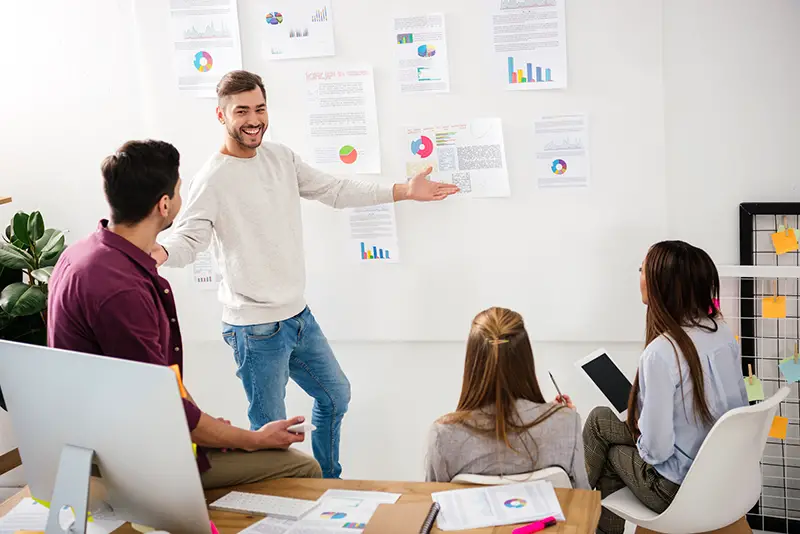 In today's competitive business world, making your brand stand out from the crowd is more important than ever. However, with so many businesses vying for consumers' attention, creating a promotional campaign that truly resonates with your target audience can be a challenge.
In the U.S., companies follow various marketing campaigns and strategies for promoting their brands and products. According to Statista, the marketing services expense in the U.S. is around $250 billion annually. Telemarketing and sales promotion account for most of the total marketing expenditure.
You can run a successful promotional campaign following simple yet effective strategies. These effective strategies can help you rise above the noise and capture the attention of potential customers.
Here six proven techniques are given that you can use to make your business stand out in promotional campaigns. By implementing these strategies, you can differentiate your brand, build a loyal customer base, and drive sales and revenue for your business.
1. Find Out What Your Customers Want
As a business owner, it's crucial to understand what your customers want and need. You can tailor your products, services, and marketing efforts to better meet their expectations by gaining insights into their preferences, pain points, and priorities. It can lead to increased customer satisfaction, loyalty, and retention, as well as improved sales and revenue.
According to Forbes, user-generated content will be helpful for marketers to promote their products. It is one of the hottest trends that marketers should follow in 2023. Marketing professionals can take advantage of these trends by interacting with users on their social media platforms. They must also encourage customers to leave reviews, feedback, and ratings on their social media channels.
They can also conduct surveys, analyze customer feedback, monitor social media, and track website analytics. By leveraging these tools, you can better understand your customers and use that information to make data-driven decisions that benefit your business and your target audience.
2. Invest in Personalized and Branded Merchandise
It effectively builds brand awareness, loyalty, and customer engagement and provides a tangible and memorable connection between your business and your audience.
If you do not understand where to start and how to invest in personalized merchandise, you can look at a very popular marketing strategy called company swag.
It is a marketing strategy where businesses create and distribute branded merchandise to customers, employees, and other stakeholders. The merchandise includes various items such as t-shirts, water bottles, pens, bags, and other items that prominently display the business's logo and brand identity.
There are many benefits to using company swag as a marketing tool:
It helps to create brand awareness as it is typically used in public and can reach a wide audience.
It creates a sense of unity and belonging among employees as they feel part of a team.
It can also be a way to show appreciation to customers and employees, which can help to build brand loyalty.
You can elevate your brand and deepen your customer relationship by investing in personalized and branded merchandise.
3. Offer Special Deals
If you want to attract new customers and retain existing ones, start offering special deals and offers. By providing discounted prices, limited-time offers, and other promotions, you can encourage potential customers to try your products or services and create a sense of urgency that can increase sales.
Special deals can also be used to reward loyal customers, such as offering exclusive discounts or early access to new products. By making your customers feel valued and appreciated, you can build a strong relationship with them and encourage repeat business.
When designing special deals, it's important to ensure they align with your business goals and target audience and provide value to you and your customers. By offering special deals, you can boost sales and revenue and create a positive perception of your brand that can lead to long-term success.
4. Gather Feedback
Gathering feedback from customers is a crucial aspect of running a successful business. You can gain valuable insights into customer preferences, pain points, and expectations by soliciting feedback through surveys, online reviews, social media, and other channels. This information can help you make data-driven decisions that improve your products, services, and overall customer experience.
Additionally, actively seeking feedback demonstrates to customers that you value their opinions and are committed to continuously improving your business. 
Therefore, it's important to ensure that the feedback is collected in a structured and organized way and that the insights gained are used to drive meaningful changes in your business. With proper feedback, you can create a more customer-centric approach to your business and build a loyal customer base.
5. Be Where They Are
Being where your customers are is critical to any successful marketing strategy. Therefore, it's essential to understand your target audience's habits, preferences, and behaviors to identify the channels they use most frequently. It could include social media platforms, email, mobile apps, or physical locations. For instance, TikTok users are increasing quickly and are expected to cross 1 billion users.
As per the forecast by Intelligent Insider, TikTok will have 834.3 million monthly users globally by the end of 2023. It has now become the third largest social media platform amongst the top five largest platforms, after Facebook and Instagram. It means that TikTok will be an effective marketing platform to reach potential customers, particularly when you're targeting younger generations.
It can also help you to tailor your message and content to suit the specific channel and audience rather than using a one-size-fits-all approach.
6. Create a Visually Appealing Campaign
Creating a visually appealing campaign is an effective way to capture the attention of your target audience and stand out from competitors. In addition, a visually attractive campaign can help convey the value of your products or services and reinforce your brand identity.
Several key elements to consider when designing a visually appealing campaign include color schemes, typography, graphics, and images. It's essential to ensure that the visual design aligns with your brand and target audience and is consistent across all platforms and materials. 
A visually appealing campaign can engage your audience and leave a lasting impression, leading to increased brand awareness, customer loyalty, and improved business success.
Conclusion
In today's crowded marketplace, businesses must find ways to stand out and capture the attention of their target audience. By implementing the six effective strategies discussed in this article, businesses can differentiate their brand and create more meaningful connections with customers.
Personalized and branded merchandise, special deals, and visually appealing campaigns can all contribute to building brand awareness, loyalty, and engagement. Additionally, gathering feedback and being where customers are can help businesses understand their audience and create a more customer-centric marketing approach.
By leveraging these strategies, businesses can create a competitive advantage and ultimately drive success in today's dynamic business environment.
You may also like: Setting Up a Promotional Business Event: What You Need to Know
Image source: Depositphotos.com