Click here to get this post in PDF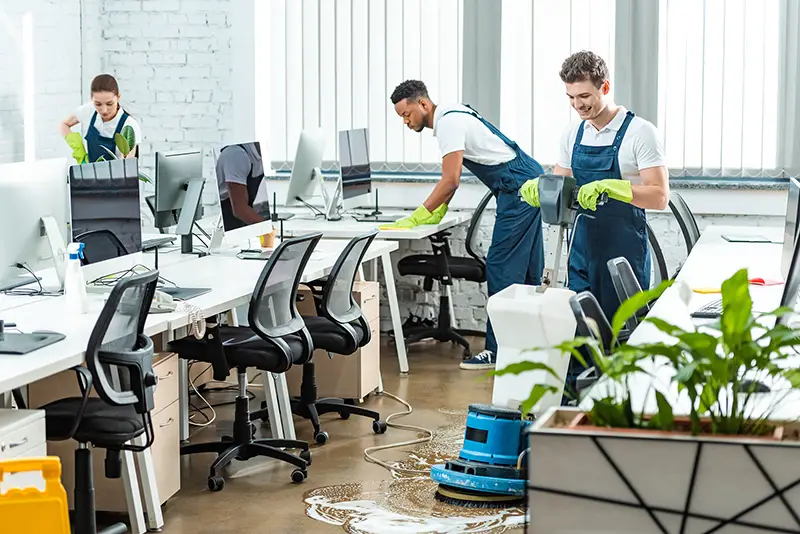 Commercial floor cleaning equipment like sweepers and scrubbers are a cost-efficient way of eliminating germs, dirt and grime. As per various researches, the labour cost a business spent on its cleaning and maintaining floors is around 90% of its total cost. However, by using a cleaning machine you cut down that cost and time utilized for maintenance of your floors.
Once you have acknowledged the importance of a commercial sweeper or scrubber, the next query that arises is either to go for a walk-behind or a ride-on machine? The following article will help you out in making the right decision as per your needs.
Walk-behind vs ride-on machine
Walk-behind machines are operated with forwarding motion reducing the fatigue caused by cleaning work and allowing to cover more space. Contrary to this, ride-on scrubbers enhances productivity to almost four times as compared to using any manual cleaning machine.
Pros of using a ride-on cleaning machine
One of the primary reasons, that motivate people to purchase a ride-on machine, is when you have a large space to clean. A ride-on scrubber or sweeper allows you to cover a large space by putting in minimal effort. The productivity of a ride-on machine is almost 60% more than that of a walk-behind machine. Whereas, you might have to spend more money if you are purchasing a ride-on machine as it is costly as compared to a walk-behind machine but you are cutting down the cost in terms of labour. Paying labour every month to operate a walk-behind machine will cost you more at the end of the day as compared to spending one time purchasing a roll-on machine.
Advantages of a walk-behind cleaning sweeper or scrubber
A walk-behind machine is the right option for you if you have to clean an area with narrow pathways or obstacles. For areas with ramps or stairs, walk-behind machines are preferred as roll-on cleaning equipment will get stuck in them.
How to choose a right cleaning machine
Choose a machine that you can accommodate in the available space. A big machine will need more space, more electricity or large batteries and more water. Evaluate the cleaning space you want to use the machine for, whether the space contains obstacles, ramps etc. Calculate the cost of labour and time it will need to clean that space. Evaluate the productivity of your labour and the cost you will spend on purchasing any machine. If you have a space, that needs continuous cleaning and labour, then roll-on scrubbers or sweepers are worth your money. On the other hand, if you have a small area, with numerous obstacles and ramps that a single person can clean, then go for walk-behind cleaning equipment and save your money. However, if you think none of these cleaning machines is beneficial for the area you need them for, do not worry; many other options are also available in the market, like stand-on sweepers or scrubbers.
You may also like: What's the Best Commercial Carpet Cleaning Method – Steam Cleaning or Dry Cleaning?
Image source: Shutterstock.com