Click here to get this post in PDF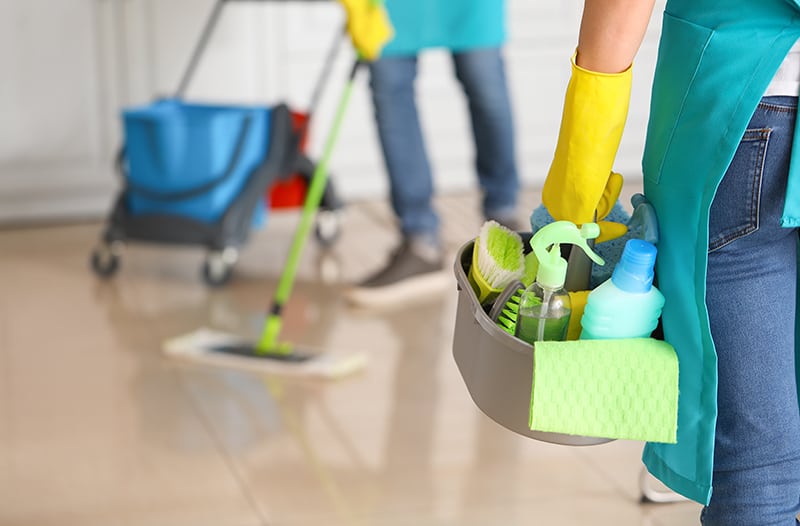 One of the most important things you can do to ensure your employees are in a clean and productive environment is to provide them with a clean and healthy office. Not only do most employees spend about 40 hours each week in their office environment, but with the current pandemic, keeping the office space clean and healthy is a necessity. It's common for offices to rely on their employees to keep the office clean, which is fine for basic, everyday tidying up, but hiring a professional office cleaning company will make a big difference in the cleanliness and safety of your employees and it will save your business time and money. Here are just three reasons why you should have a professional office cleaning service.
Productive Workplace
Studies have shown that office employees are more motivated and have better concentration when they are working in a clean environment. Dust, clutter, and messes can be a distraction for office employees and may reduce their productivity. Generally speaking, small construction and remodeling jobs in office spaces are the biggest reason for dust and clutter. We recommend you click here to know more about post-construction cleaning of your office space. Office spaces that are clean and organized make it easier for employees to find the things they need and move around the office without fear of touching a contaminated phone or computer. Hiring a commercial office cleaning services means you can expect in-depth cleaning. These professionals will follow a checklist that is customized for your office which ensures you receive quality services and cleaning that has been customized specifically for your office space. Professional office cleaning services will clean, sanitize, disinfect, and organize your office space, which provides your employees with a clean, healthy working environment and provides you with more productive employees. Finding local janitorial services like Philadelphia cleaning service will help you maintain your facility fresh and clean, impress not only your staff but also potential customers coming for a visit.
Reduce Your Carbon Footprint
If you are searching for ways to reduce your carbon footprint, a great place to start going green is with an office cleaning company that uses green cleaning supplies. These types of cleaning supplies are non-toxic and clean without releasing harmful fumes. Your employees will have noticeably fewer allergy symptoms and feel encouraged to come into the office, which will reduce call-in's and employees requesting time off for illness.
Saves Time and Money
When the office cleaning duties are the employee's responsibilities, the time they spend cleaning can significantly impact their working schedules.  This also puts pressure on the employees to juggle between cleaning and working. Hiring professional office cleaning services, such as Maid in Hoboken, will allow you to reduce the stress put on your employees because they will no longer need to juggle their time just to ensure the office is clean. In the long run, this will help to increase production and they won't have ill feelings about having to stop working in order to go clean the restrooms. When utilizing the services of professional cleaners, you don't have to hire a full-time staff of in-house cleaners; you can simply request their services a few times each week, which ultimately saves you time and money.
Professional office cleaning services are customized for your specific cleaning needs, including the number of days you'll need the services and what types of cleaning you want to be done. For instance, you can hire professional cleaning services in Bellevue to come in after office hours to empty trash cans, vacuum, and dust, or hire these services to come in once a week to do a deep cleaning of carpets, flooring, restrooms and etc. It is completely up to you and your specific needs as to the type of cleaning services you receive.
Also read: What You Need To Know About the Differences Between Cleaning, Sanitizing and Disinfecting
Image source: Shutterstock.com