Click here to get this post in PDF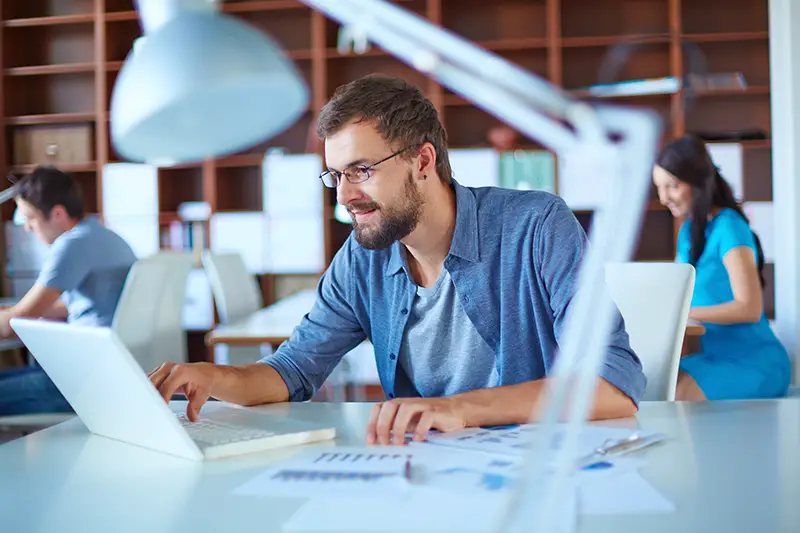 In the ever-evolving arena of learning and development, instructional designers utilize E-learning authoring tools to develop training materials that match the pace with increasing learners' demands. An instructional design authoring tool can be as sophisticated as a graphic design program or as simple as Microsoft Word.
Whether you are a novice or a pro, the right instructional design authoring tool can help in designing onboarding, specialized skills, leadership skills training, and everything in between. Without these authoring tools in hand, the course creation will not have that expertise and ease in design. But with a plethora of instructional design authoring tools available in the E-Learning market, trying, testing, and finally choosing the most suited is quite intimidating. To ease the pain of this daunting task, here is a quick guide below:   
Types of instructional design authoring tools
Instructional design authoring tools come in a lot of variety that can be divided into four categories 
1. Based on flexibility and features- 
Based on the features instructional design authoring tools can be divided into two categories further:
a.) LMS built-in authoring tool- have predefined templates and is easy to use.
b.) Standalone authoring tool- have creative flexibility for customizing content.
2. Based on deployment 
a.) Desktop-based- can work offline too.
b.) Cloud-based- can work while online.
3. Based on supported formats – includes SCORM, xAPI/TinCan, HTML5, AICC, cmi5, and LTI. 
4. Based on the type of content
a.) Content authoring tool
b.) Video and audio recording authoring tool
c.) LMS compatible authoring tool
d.) Live webinar authoring tool
e.) Creative graphic authoring tool
Why do you need an instructional design authoring tool?
You're not sure if you require an instructional design authoring tool to achieve your course goals. Our top five reasons for using an authoring tool are as follows:
You can customize your content and take an instructional design strategy that is focused on people.
You can effectively collaborate with your team, allowing designers, vendors, and clients to work together fluidly while maintaining brand consistency.
You can instructionally design and easily launch out E-learning courses in different places and change content to comply with new regulations and language.
You can improve your course design over time by evaluating data and utilizing reviews on how content performs.
You can react to new requirements and create interactive content to support them.
Criteria for evaluating the best instructional design authoring tools
Easy-to-navigate interface
The instructional design eLearning authoring tool must have a simple-to-use User Interface. A drag-and-drop system allows you to easily move things, create pages, and change the final output.
After-sales support services
Consider an instructional design eLearning authoring platform with built-in support services or add-ons such as 24/7 phone help, an online tutorial library, and so on.
Equipped with ready-made libraries
Some eLearning platforms have thousands of media assets, while others have a smaller collection. As a result, you must decide if an online asset library or a more basic instructional design is more important.
Individualization
This is a high priority for companies that want to integrate their branding into their dashboards, as well as those who want to change the layout, display panel, and color palette.
Features of Mobile Responsive Design
Instructional design with a responsive design You may create and launch mobile-friendly online training courses using eLearning authoring tools that have a built-in previewer.
Online Collaboration Tools Included
With this capability, you may collaborate with distant eLearning teams, submit eLearning content, discuss eLearning comments, and edit the eLearning material without the need for third-party involvement.
Integration of eLearning Content
Your current suite of eLearning software should be compatible with the instructional design eLearning authoring tool.
Formats of Delivery
Is it possible to export your eLearning content to your LMS? Is it Tin Can or SCORM compliant? Is it possible to immediately publish learning materials to video-sharing and social media sites using the instructional design eLearning authoring tool? These are the questions you ask to confirm this crucial trait.
Assessment capabilities
Some eLearning authoring tools for instructional design provide built-in LMS reports and analytics. The ability to track employee engagement, performance, and involvement, as well as generate reports, is provided by reporting capabilities.
Costing
The instructional design eLearning authoring tool comes with everything you'll need to produce high-quality content on a tight deadline. Is it, however, possible to incorporate it into your budget? Is it, more crucially, really worth the money? Are the cost of the support services, asset library, and personalization features justified?
Check out the Adobe Captivate Pricing model to gain insights into the industry's best eLearning authoring tool. You can make an informed decision based on their cost and your budget.       
Conclusion:
Instructional design eLearning authoring tools are only a worthwhile choice if they work out as planned. These are only a handful of the most important factors to consider. Every organization, on the other hand, has its own set of aims and objectives. So, get together with your eLearning team to iron out the details and figure out what's essential to get the desired ROI.
You may also like: Should E-Learning Videos Include Transcriptions?
Image source: Shutterstock.com