Click here to get this post in PDF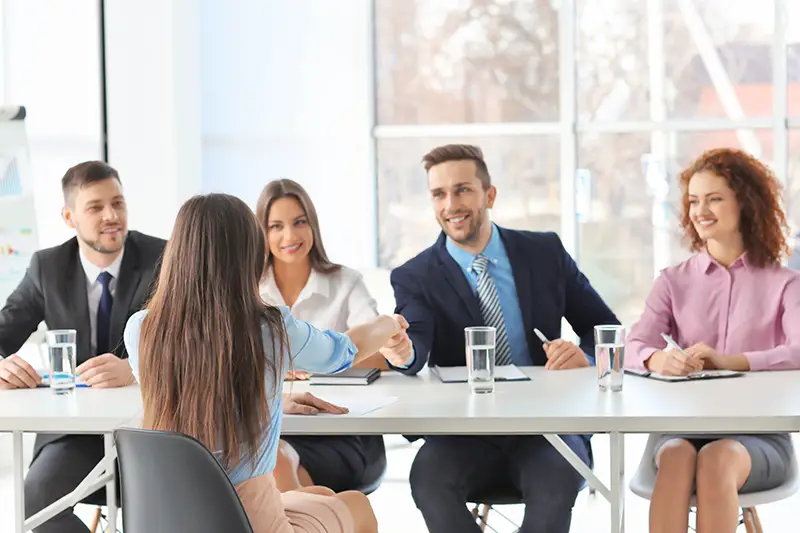 Are you in the process of hiring a new employee? If so, make sure you ask the right questions! Today, we're going to discuss six essential questions that will help you determine whether or not the candidate is a good fit for the job. Remember that these questions are just a starting point – you should constantly tailor your interview questions to fit the specific role and company culture. Damon Becnel understands that the key to any successful business is its employees and ensuring they are in the right environment to excel.
What Are Your Career Aspirations?
Asking candidates about their career aspirations during an interview can give insight into their long-term goals and how they see themselves fitting into your company. This question can also help you gauge their commitment and motivation level. For example, if a candidate expresses a desire to move up within your company, it shows that they are ambitious and willing to work hard to achieve their goals. On the other hand, if a candidate says they are looking for a job that will provide stability and security, it indicates that they may not be as willing to take risks or accept new challenges. In either case, this question can help you better understand a candidate's goals and aspirations, which can help make hiring decisions.
What Are Some of Your Greatest Strengths?
This question is often asked during interviews to understand what the interviewee feels they do well. For example, Damon Bencnel hopes to learn more about the interviewee's skills and abilities by asking about their strengths. This question can also help him understand how the interviewee perceives. Suppose the interviewee lists qualities not relevant to the job they are interviewing for. In that case, it may indicate that they do not clearly understand the position. On the other hand, if Damon Bencnel focuses on qualities that are not strengths, it may show that they are humble and able to self-reflect. Ultimately, this question allows him to understand better who the interviewee is as a person and whether they would be a good fit for the job.
What Are Some of Your Greatest Weaknesses?
This question is often asked during job interviews to assess a candidate's self-awareness, honesty, and ability to improve. Everyone has weaknesses and being able to identify them is an essential first step in addressing them. However, this question can also be challenging to answer, as no one wants to list qualities that could make them seem less qualified for the job. The key is being honest while highlighting weaknesses you have been working on improving. For example, if you are shy, you might say you are working on developing your networking skills.
Or, if you tend to procrastinate, you might say that you have been learning to manage your time better. By showing that you are aware of your weaknesses and taking steps to improve them, you can demonstrate your self-awareness and dedication to professional development – two qualities that any employer would value.
Why Are You Interested in This Position?
Damon Becnel is a well-known businessman and entrepreneur. In addition to his successful career, Damon is also known for his dedication to philanthropy and community service. As such, when Damon is hiring someone for a position, he always asks questions that will give him a better understanding of the candidate's character and qualifications.
For instance, he might ask about the candidate's experience working with different types of people, their commitment to public service, or their ability to handle difficult situations. By asking these questions, Damon can get a better sense of who the candidate is as a person and whether or not they would be a good fit for the position. In this way, Damon's questions help ensure he hires the best possible candidate for the job.
Do You Know About Our Company?
For several reasons, "What do you know about our company?" is a great question to ask in an interview. First, it allows you to gauge the level of interest and research the candidate has done on your company. This can help determine whether or not the candidate is genuinely interested in the position.
Second, it allows you to get a sense of the candidate's knowledge about your company. This can help determine whether or not the candidate can effectively represent your company to clients and customers. It allows you to get a sense of the candidate's communication skills. Asking this question in an interview can help you determine whether or not the candidate would be able to communicate with other members of your team effectively. Asking this question in an interview can help you gather valuable information about a potential employee.
Why Did You Leave Your Last Job?
The candidate is asked a question about their previous job during an interview. They should avoid giving negative information about their former employer, coworker, or employment. Instead, they should focus on positive reasons why they left, such as wanting to pursue a different career path or take on more responsibility. The candidate should also avoid discussing personal issues that may have led to their departure from the job. Ultimately, the goal is to present themselves positively and show they are motivated and ready for the new opportunity.
What Are Your Salary Expectations?
The interviewee's salary expectations should be based on their qualifications and experience. They should also consider the geographical area and the cost of living there. The company's size, industry, and budget are important factors when determining salary expectations. It is essential to have realistic expectations and to justify those expectations with specific qualifications and experience. The interviewee should also be prepared to negotiate if the first offer is not in line with their expectations.
Conclusion
Regarding hiring questions, there are a few key things to remember. First, always ask questions that are relevant to the job at hand. Secondly, avoid questions that could potentially discriminate against applicants. Finally, carefully listen to the answers and consider them when making your final decision. By asking these simple questions, you can ensure that you find the best possible candidate for the job.
You may also like: Top HR Interview Questions and Answers
Image source: Shutterstock.com