Click here to get this post in PDF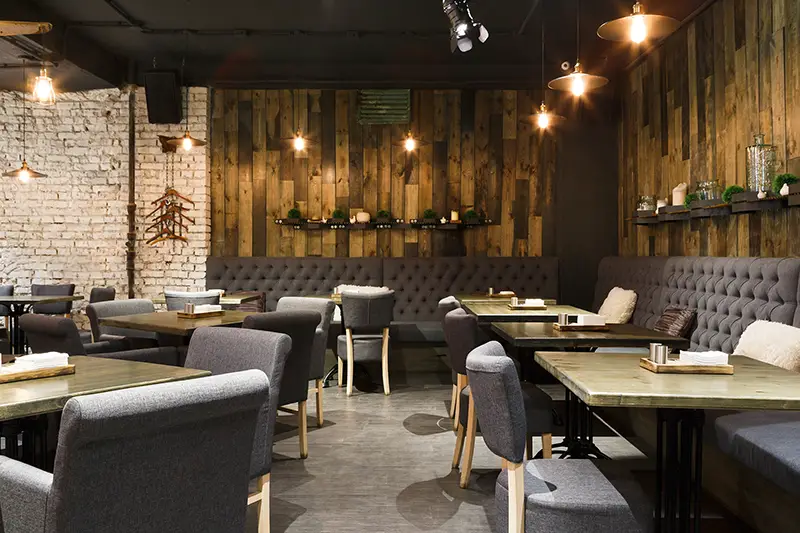 Despite the high cost of operating a fine dining restaurant, this type of establishment provides diners with the highest possible level of food, service, and ambiance for the most expensive possible price. Several factors are taken into consideration when choosing where to eat, including a variety of factors such as the menu, service, price, and atmosphere. This distinction between a fine dining restaurant and a casual dining restaurant is also the primary difference between the two types of restaurants. Formal dining or fine dining establishments distinguish themselves from their competitors by offering their customers an upscale environment and a pricey menu.
Are your Customers Sitting Comfortably?
The perceptual aspects of your furniture design, such as the comfort and style of the furniture, as well as the color and feel of the upholstery fabric, may have escaped your attention during the design process. Which of the following statements is true: How many people are aware that the layout of a restaurant has a much greater impact on customer satisfaction than you might think? The seating arrangement in your restaurant can have an impact on everything from whether or not customers enter to how long they stay and even how much money they spend. Discover our restaurant design tips and learn how you can use the psychology of restaurant design to influence the behavior of your customers by following our recommendations.
What is the Intended Use of your Restaurant Furniture?
There can be no doubt that it is critical to match the specific design features of your chairs with considerations of physical need and the purpose for which the guest will use the chair. It is possible to create personal spaces for reading, working, and relaxing while also creating more sociable areas to sit, for example, in a busy bar where a large number of people come and go on a regular basis.
You should consider how long you expect a customer to be seated in your establishment when designing your seating layout. This will influence the ergonomics of your seating design. The use of an upright, low-backed, shallow-seated armchair or ottoman would be an excellent choice if you are trying to persuade customers to sit for a short period of time before moving on (for example, in a reception area).
The longer your guests will be seated, the more it will be necessary for you to maximize the amount of space and seating you have available to you. A larger, deeper-seated, and softer upholstered lounge chair would be a better choice for a customer who wants to remain seated, sink into the chair, and enjoy a few drinks while socializing in the bar lounge rather than standing up.
Also important is to think about how you want your customers to transition from one space to another. Is there a time limit on how long you'd like them to eat before you call it a day? The ideal amount of time for them to spend at their table in order to be enticed to order another bottle of red wine has been determined. There is no doubt that there is a sound science behind the psychology of restaurant design and how it can contribute to the success of your business. You can use these restaurant seating layout ideas to help you make the most of your available space while also encouraging your customers to spend money.
What Furniture to Consider When Designing a Restaurant
Providing your customers with comfortable dining room furniture is critical to the success of your business, and this is a fact that no one can dispute. It is critical to select the appropriate furniture for your restaurant. If you are developing a seating strategy for a restaurant, prioritization of the furniture is just as important as the furniture itself. Following the determination of the size and capacity of your restaurant space, you'll want to make certain that your furniture is not only aesthetically pleasing but also functional and durable. Several important factors should be considered when designing the interior of your restaurant, including your customers' requirements and how much time (and money) you would like them to spend in that particular area of your establishment.
During a restaurant redesign, you may find it necessary to rethink your restaurant seating layout in order to capitalize on the psychology of restaurant design. Some examples of furniture that you might consider using to create specific areas of interest within a bar, lounge, or restaurant include restaurant chairs, banquette seating (also known as restaurant bench seating), and bar stools, among others.
Restaurant Seating Arrangements
For those of you who are thinking about redesigning the seating arrangement in your restaurant, you have several options to consider. Each of these factors has the potential to have an impact on how your customers interact with you and your business. Do you want to keep your customers conversing with one another for an extended period of time? High-back chairs and luxurious fabrics are excellent choices for seating arrangements in restaurants that encourage customers to relax. While this ensures your customers' comfort, it also provides your staff with an opportunity to upsell coffee and other beverages, thereby increasing your profits and increasing your bottom line.
Is the success of your company dependent on the ability to respond quickly? instead of this, choose a simple and stylish restaurant seating strategy that invites customers to come in for a quick bite but does not allow them to become too comfortable on a sofa or armchair, causing you to miss out on potential customers who come through the door after them
Banquette or Fixed Restaurant Seating
With banquette seating or fixed restaurant booths for sale, it is not only possible to draw attention to key features in your restaurant, such as wall features, but it is also possible to provide a welcome layer of privacy for your customers. A booth is more of an enclosed, relaxed space where a group of customers can congregate to share their dining experience and enjoy it as a collective. As well as serving as natural walkways for diners and waiting staff, banquettes can also help to facilitate the free flow of foot traffic through the restaurant space itself.
In a large restaurant, providing guests with a more private or intimate space, such as banquette seating, can help them feel less exposed, which may encourage them to stay a little longer in the establishment. Aside from being more comfortable, people tend to spend more money when they are able to relax their backs against comfortable fixed seating and settle into the experience. The amount of money spent per minute by customers in full-service restaurants has been proven to increase when they are seated in booths, which is why so many large restaurant chains encourage the use of banquettes in their establishments, as has been demonstrated.
Bar Stools
Your customer's first experience in your hospitality environment could be as simple as mingling over a drink, and that first impression will be the most lasting. Alternative seating options include relaxing at the bar before or after their meal, which means your bar stools must be comfortable enough to sit on for extended periods of time without becoming uncomfortable.
Conclusion
It is critical to understand how to make the most of every square foot of available space in your restaurant, which is one of the secrets of psychology in the design of restaurant spaces. In addition to taking your customers' dining experience to an entirely new level, it will also significantly increase the number of covers and revenue generated by your restaurant. With any luck, this brief guide has provided you with a better understanding of how you can customize your restaurant seating strategy in order to influence the behavior of your customers.
You may also like: 5 Tips to Modernize Your Restaurant
Image source: Shutterstock.com