Click here to get this post in PDF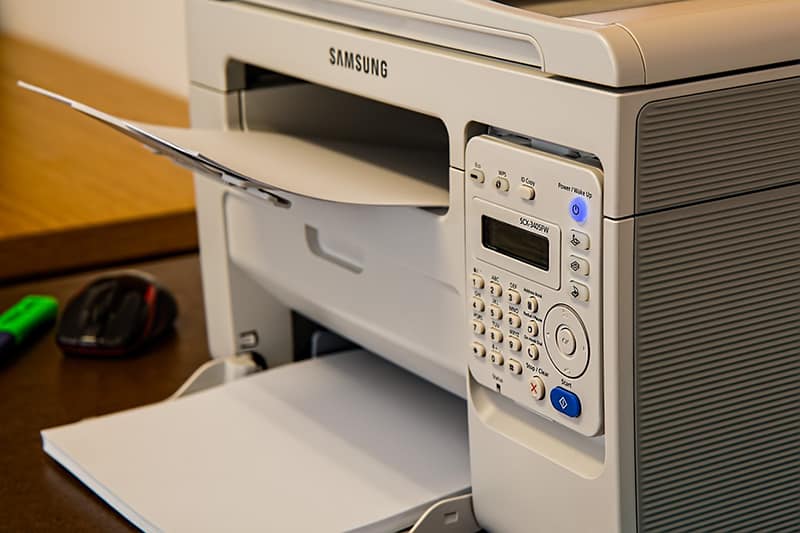 All printers require proper care in order to survive the rigors of daily use. Like computers, printers too are notorious for nagging health issues that consume both time and money. If you want to avoid costly repair bills and boost the longevity of your printer, you have to be diligent about maintaining it. Following a few simple guidelines on a regular basis can help you preempt several common printer problems and ensure it lasts as long as possible.
Clean the Machine on a Regular Basis
Open up your printer each fortnight and gently remove excess paper dust or other debris. Dust buildup on the printhead and the platen can abrade the printhead glaze, resulting in printhead failure. Never touch the printhead element surface or a sensor with your fingers. Brush or blow the dust instead. Use a lint-free cloth (possibly with isopropyl alcohol) to clean the platen. This is one of the easiest things that you can do to extend the life of your printer.
Remember to shut down and unplug the device, and let it cool for at least 30 minutes before you start cleaning the machine. Do not use ammonia-based cleaners to wipe down the exterior. Use a clean, dry piece of cloth instead.
Some printer models have built-in self-cleaning tool for printhead maintenance. Check the product manual for specifics.
Remember to Close the Manual Feed Tray
If you print labels, posters, legal-size pages or other wide-format documents, your printer almost certainly has a manual feed tray. This paper tray protrudes from the device when opened and can easily be knocked over by someone passing by. So, remember to fold the manual feed tray when not in use.
Preempt Paper Jams
Damaged papers can result in paper jams. Each time there's a paper jam, it can further lead to breakage of a delicate printer component. Make sure the paper you load into the printer's input tray isn't bent, torn, dog-eared or larger than the standard size requirement.
Fanning a stack of paper before loading it in the printer tray can help prevent paper jams and misfeeds, especially in really humid environments. However, overdoing it can at times develop static electricity due to friction between the paper and result in additional paper jams.
Systematically Resolve Mechanical Errors
Dealing with mechanical issues 'right away' is critical to the long term health of your device. For instance, an incorrectly resolved paper jam today can lead to another, more serious issue tomorrow. What if some torn bits of paper are left behind? They can damage the insides of the device later on. Instead of losing your cool and forcefully yanking the jammed-paper free, refer to the printer model's instruction manual.
Avoid Faulty or Low Quality Replacement Ink Cartridges
Good quality compatible ink cartridges and toners can help save a great deal on ink costs. However, you should strictly avoid using low-quality replacement inks. A second-rate cartridge can clog your printer up. Avoid buying ink cartridges and toners from anonymous sources and sellers who offer no guarantees or have no industry accreditations and ISO certifications. Rely on reputable sellers only.
If you've to remove a cartridge for some reason, put it back in immediately so that it doesn't dry out; be sure to never touch the bottom of the cartridge when checking/replacing it. A clogged cartridge can easily damage the printhead.
When you purchase ink cartridges and toners in advance to prevent business interruption, remember to store them in a cool, dry place. Direct sunlight exposure should be strictly avoided. It's best if you keep them stored in the original packing.
Place Your Printer in the Right Environment
Avoid placing your printer in a high-traffic area where people are more likely to bump into it or spill a liquid over it.
Do not place a printer near heat sources such as radiators/vents or machines that emit a lot of heat.
Direct sunlight can adversely affect the ink cartridges. So, place the printer away from a window.
Use the Power Button to Turn the Printer Off
Before you kill the power supply to the device or unplug it, remember to turn it off by using the power button. This allows your printer to move the printhead into a position where it's better guarded against clogging; the cartridges too move into a capped position.
About the Author
My name is George Mendelson. I am the PR Media Manager at InkjetsClub.com, a nationwide leading ink and toner retailer. One of my passions is educating and helping people through all the issues related to Printers, Ink Cartridges and Toners.