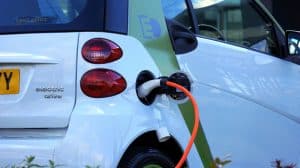 The government is stepping up its bid to encourage Britons to adopt electric vehicles, with the release of its Road to Zero report in July. With aims for at least 50% of cars sold being ultra-low emissions models by 2030 and a plan to ban all petrol and diesel cars from being sold from 2040, the electric revolution is just around the corner. But with EVs comprising only 6.5% of new car sales in June, it's clear that there is some way to go. Here are some ways that you can prepare your business for the electric revolution.
The government offers money off all EVs, depending on the category of car that the vehicle falls under. Cars in Category 1 (with CO2 emissions under 50g/km and which can travel at least 70 miles with zero emissions) are eligible for a 35% contribution towards the cost price, to a maximum sum of £4,500. Category 2 cars are those that generate emissions of under 50g/km and which can travel at least 10 miles with zero emissions. Cars that fall under Category 2, along with Category 3 (50-75g/km and which can travel at least 20 miles with zero emissions) are eligible for a rebate of up to 35% of the price of the car's value, capped at £2,500
The workplace charging scheme offers a £300 contribution towards the installation of a charging point, to a maximum of 20 points. In order to qualify for this, the business must offer off-street parking to its employees. The business must also demonstrate its need for electric vehicles – whether this is at present or in the future. In return for the grant, the charging point must be maintained for 3 years and the usage data made available to OLEV.
There are many benefits of making the switch to electric vehicles from a business owner's perspective. Being seen to adopt policies that are beneficial to the environment will project a positive image of the company amongst its clientele and within the market. The road tax for zero emissions vehicles is waived, which, in the case of company cars, not only saves the business money but the savings are passed on to the employee. Because electric cars comprise fewer parts than vehicles with combustible engines, this saves on maintenance costs when getting services or parts repaired. For businesses that operate from major urban centres, such as London, there is the added benefit of EV's exemption from the congestion charges and discounts.
With innovations in technology and more and more models available, it's no surprise that according to the Society of Motor Manufacturers and Traders, the number of electric vehicles being registered has risen by well over 20-fold in the past 3 years alone. Forward-thinking businesses are starting to consider the benefits of investing in the infrastructure at the heart of the electric revolution and the long-term advantages.