Click here to get this post in PDF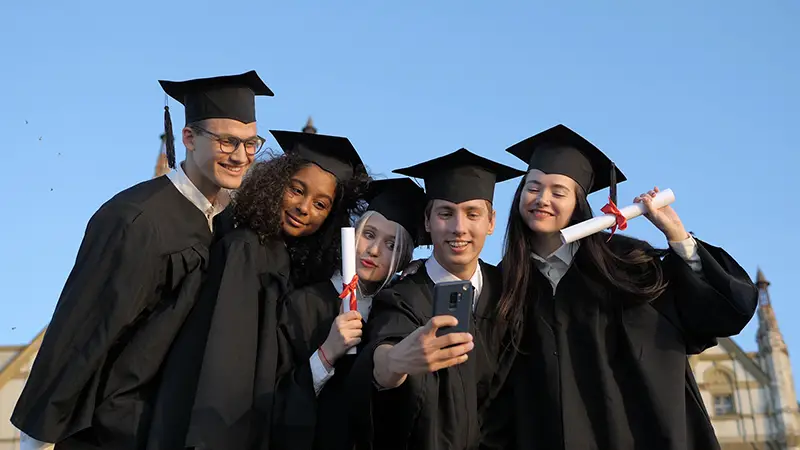 Background: Study in Australia
The aspiring overseas student community is well aware of the current ongoing travel ban and lockdown in Australia. Well, this, of course, doesn't rhyme with today's post topic to study in Australia.
We will get into the details later in the blog post. But first…
We assume that the student community has done their research on studying in Australia and must be well versed with the basic, yet vital points.
This preparation should include: –
University enrollment & confirmation
Course of study
Student health insurance (OSHC)
Visa lodging
Student accommodation
Post-study work opportunities
Scanning universities, comparing overseas student health cover (OSHC) quotes from either Ahm, Bupa, or Medibank OSHC, checking on/off-campus student accommodation, etc., is just the part & parcel of the game.
But, besides everything, an aspiring overseas student is looking to gain much more beyond the theatrical on paper research.
Most importantly, they are driven by an unknown thrill to experience a new culture, visit places, expand student networks besides just gaining an international degree.
Let's draw your attention back to the current situation of students wanting to study in Australia.
COVID, International Students & Study in Australia
Majorly, international students planning to pursue higher education from Australia are looking to work & build a career in Australia. The only handful of students would either be thinking of coming back to their respective home country or migrating to some other.
Take a look at the below table showing "Student Visa Lodged Rate".
Courtesy: data.gov.au
Obviously, there was a reduction in the total number of visas lodged in 2020-21 as compared to 2019-20 due to the global pandemic.
Another report from the same source also suggested that the visa grant rate from the Department of Home Affairs stood at 94.4% for 2021-20 as compared to 91.4% in 2019-20.
This means that the number of students who preferred Australia as the No. 1 destination still kept going irrespective of the COVID situation. This is major because, Australian education system and its value are recognized throughout the world, irrespective of whether you study online or offline.
Let's take another perspective towards the numbers.
Those students who were keener on acquiring an international degree got through and continued with the online curriculum. These students must have left the Cultural, Places, and other experiences for the later time to explore when the border opens.
And this seems to be a good strategy for those who are clear with their life & especially, career goals.
Post-Pandemic Time: Why Choose Australia to Study?
The Australian government was one of the very first ones to take stringent steps against the spread of COVID-19 by implementing a travel ban & lockdown.
The borders are still not open for overseas students or otherwise but massive vaccination drives have begun. A certain movement is visible within states and authorities along with the government bodies are trying their best to control and eradicate the COVID.
There is a light at the end of the COVID tunnel. As the government is analyzing the situation and it might be the case the travel ban may be lifted and the borders will be open for all by the first quarter of 2022.
Amid all these, one cannot see how it is different for overseas students to not continue with Australia as their student destinations. Additionally, most of the universities and institutions have already proposed scholarships and another form of financial assistance for not only the current students but also for the aspiring ones.
Not continuing with your plan to study in Australia just because of the travel ban will do more harm than benefit. If you have missed the last academic year with the same notion in mind then think what if the border opens up in a couple of months?
At the most, you would have studied a few semesters from home but as soon as the border will open, all you have to do is just book a flight. Your student visa is valid, your overseas student health cover will be active, etc.
Contrary, if you have skipped the year in the wake of gaining cultural and places experience then the time you would have wasted is not worth it.
Moreover, many students who found their niche and passion at a later stage in life also struggles with the point system when it comes to being eligible for PR after their study and work duration.
More so, you would also be jeopardized with the industry experience. Students are eligible to work up to 20 hours per week but the pandemic opened up work opportunities only in the critical sectors.
Thus, if you would have decided to continue the study and be an off-shore student, we think, you wouldn't have missed much on experiencing the culture and places to visit part. 
This brings us to the last part in our blog post to guide the aspiring overseas student community to do not dismantle your dream of studying in Australia. Or as a matter of fact to change the destination entirely.
Lately, due to the world-renowned infrastructure, health system, industrial training, exposure to various culture, and beyond everything, opportunities for students has made Australia rank as one of the most sought after destination for aspiring international students.
Wrap Up:
We hope that this post will shed light on why to continue with your study in Australia dream. When it comes to choosing overseas student health cover (OSHC), you can visit GetMyPolicy.online to compare and choose the best student health insurance plan. Moreover, you could compare the plans by price, features, etc., and receive an instant health policy certificate. Get back on the wagon of studying in Australia dream. Get updated student health insurance quotes on GetMyPolicy.online and get free 15 PTE practice tests. Try today!
You may also like: How To Prepare For The US, UK Admissions
Image source: Shutterstock.com