Click here to get this post in PDF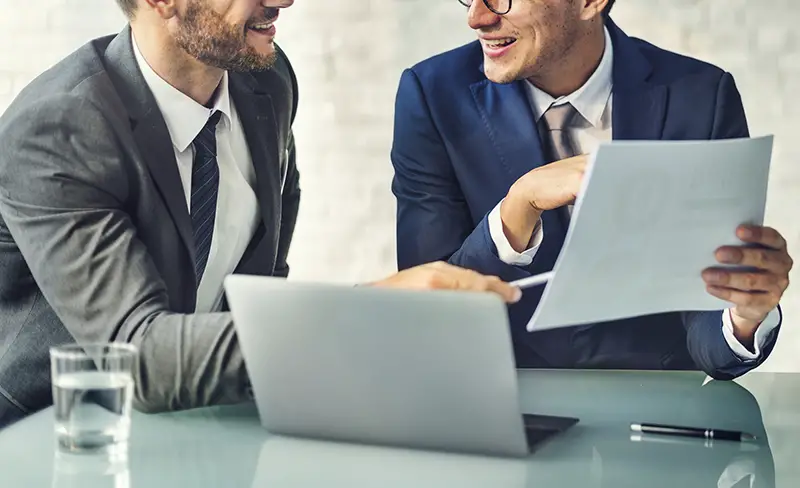 If you're thinking about outsourcing, you don't have your own IT/dev department in your own company, your existing in-house team might not have the scope to handle another large project – or work with the technology required. This might seem like an obvious thing – why start a short guide this way?
Because many managers and CEOs are nervous about making the decision to outsource a front-end project internationally, even if it means saving a lot of money and getting better experts. In reality, it's much easier and less of a hassle than you think to hire a software development company to become your partner throughout the development process.
Working with local developers – what are the chances?
Remote work has become a standard in the IT industry, especially over the past two years. The fact is, even if you hire someone who's relatively close, chances are you're not going to see them in an old-fashioned roundtable meeting. And chances are that a local company is outsourcing experts from all over the country or all over the world in the first place.
If you're working on a large project, then the chances that you can find the right front-end developers in your immediate area are slim. Most businesses don't live in an IT hotspot like Silicon Valley – and more and more so, every business you start, in any location in the world – needs to be a competitive online business with a dedicated development team for most of its projects.
There are a few paths that companies in need of web development outsourcing choose, according to Forbes.
Outsource internationally – but close to home
This is a choice that a lot of European companies make. Countries in Eastern Europe, like Ukraine or Poland, are a hotspot for software houses that specialize in front-end development services. You can use Clutch to find a tested software development company that will essentially become just like an in-house development team that can handle full-cycle development.
The Time zone is almost identical
Easy communication in English
They are world-renowned and easy to find on Clutch
There are a lot of front-end agencies with international experience – and a proven track record with US, Canadian, or UK projects for large businesses
Significant cost savings on an experienced tech talent pool
While similar time zones are a great plus for European companies looking to outsource, a lot of US, Australian and Canadian companies come to Eastern Europe as well – software development companies will arrange meeting times with you and your dedicated team according to your normal working hours.
While India still remains the largest market for outsourcing front-end development, there are a lot of countries where front-end web development is top of the line in countries you probably haven't even thought of.
Top countries for front end development outsourcing by region:
Asia
China
India
The Philippines
Africa
Europe
Ukraine
Poland
Romania
Hungary
South America
As you can see, you can find a good and tested outsourcing destination that's close to you, no matter where you are. For companies who want to outsource front-end development projects but have the comfort of staying within their own (or close to) timezone, the playing field is wide open.
Recruitment process – what kind of company should you hire when doing project-based outsourcing?
I think that it's easy to outsource front-end development projects and it doesn't only make sense financially – it helps us to realize that the world is a smaller, friendlier place with endless possibilities. But, just like hiring front-end developers at home and in person, the vetting process for hiring an overseas or just-over-the-border service provider should be intense. So you don't get any unpleasant surprises later.
There are a few steps in your frontend development outsourcing journey you shouldn't skip.
Check out their portfolio
See their reviews on Clutch, as well as other sources
Contact their past clients
Book a meeting
Talk to your development team and know who you're working with before you get started.
Taxes, payroll, and all that jazz – the boring side of outsourcing
There are usually 3 most popular types of contracts that companies work with when they outsource anything. They are:
Fixed price contract
Time and materials contract
Flexible Scope
What type of contract is best when outsourcing front-end development? It all depends on your project and the methodology you want to pursue. Each type of contract has its own pros and cons, but whichever one you decide to go with, make sure that everything is clearly discussed, in writing, and official.
Fixed price contract
This is a classic, and most popular "you get what you pay for" type of contract, with more emphasis on the specific project, time management, and tight project management. You move in and you move out – get the work done and be finished with it. 
There are lots of pros to this way of working – control over unexpected costs being an important one of them. But one important con is the lack of flexibility during project ups and downs.
If you realize that another solution is better or that you want to take the project in a different direction, you can't change the project scope easily with this type of contract.
Time and materials contract
Here, you basically pay for each team member's time and the materials that they need to complete tasks. This might include but not be limited to tools, hardware, office space, and vacation pay. 
The problem with financing such a team is that the scope can change wildly without it being pre-written into a contract. There is a danger of holding on to a full team of people longer than you want to throughout a long development process. 
On the other hand, the pros are also there – this is a flexible contract that can take into account rapid changes in goals, scopes, and project requirements. You basically have a team that's close to what an in-house team would look like.
Flexible Scope
This is best for those of you who want a long-term outsourcing partner for many projects and you have gone through the proper research and trust-building to know that they can manage a fully blown, Agile-oriented project with you. This allows big projects to be managed, changed, and steered well by two competent partners. It's best to pick companies that have proven experience in Agile.
Outsource your next development project
If you're still reading this, it might mean that you're just waiting for the right "go ahead" in order to begin outsourcing your projects. Don't be shy – you're going to be working with remote development teams even if you hire in your own town. Might as well seek out the experts who can help you with your project and have experience in the technology stack that you need. 
Many companies have found steady and true partnerships this way, and have an extension of their in-house team abroad. There's nothing better than having people who know your product and bring their own voices and ideas from the design process to later stages of the project. 
You may also like: Why Outsourcing Your Software Development Could Give Your Business an Edge?
Image source: Rawpixel.com