Click here to get this post in PDF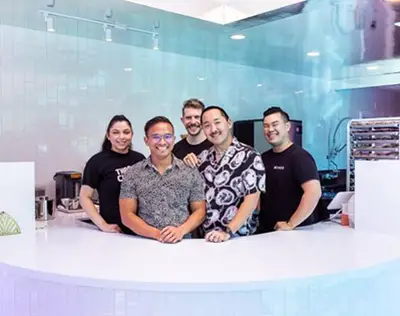 In April 2022, Third Culture Bakery had reason to celebrate. It was our fifth anniversary. We survived, even though 45% – 51% of all businesses fail within the first five years of operation and despite the extraordinary challenges the world has faced since the start of 2020.
It has been a wild and exciting ride, and we have much to be grateful for. We look back in wonder at how this all started. We've come so far and couldn't have done it without our Bay Area community, our staff, and all those who've shown their support through the years.
Building Third Culture Bakery on the Foundation of Our Cultures
Chef Sam Butarbutar and Wenter Shyu's journey began on the grounds of Berkley, but the bakery's foundation starts much earlier. Our parents were from Indonesia and Taiwan, and though we grew up in a culture much different from our parents', their cultures are a strong influence.
When we first began this journey, we wanted to create a business that reflected our ancestry and yet embraced our love for our community. What better way to do so than to bake unique, delicious pastries inspired by the flavors of two island nations and sell them to coffee shops, the heart of Bay Area culture?
Growing Third Culture Bakery From the Ground Up
After much discussion and planning, we took the leap to start a bakery business in 2016. Sam created the mouth-watering Mochi Muffin®, butter mochi donuts, and other culturally inspired foods and drinks, with Wenter happily offering his support in tasting the recipes and providing input.
Initially, we sold these goods to just six Bay Area wholesale bakeries. During this time, we burned the candle at both ends. Sam spent his days in the kitchen while Wenter held a full-time job. In the evenings, Wenter joined Sam in the Third Culture Bakery kitchen to help him finish up with the baking and do the dishes.
We were lucky to catch a few hours of sleep before making the delivery rounds while most of the world still slept. Watching the sunrise every morning is one of our favorite memories of that first year. We were exhausted, but with each new dawn, we felt a renewed sense of excitement and hope as we dropped off each batch of goods.
Finding Our Third Culture Bakery Family
You may think that blood creates family bonds, but for the Third Culture Bakery, it was the Mochi Muffin®. The muffin's popularity took off, creating a stir and bonding people in the Bay Area community. We could never have predicted how successful a muffin could be.
After two years in business, the bakery provided goods to more than 60 wholesale locations and had a team of more than 20 people. Third Culture Bakery is more than a business. It's a family, and it's the best kind of family because everyone here chooses to be a member.
You may also like: The Top Tips You Need To Know To Be a Successful Business Owner