Click here to get this post in PDF
Nornickel, a global mining company and the largest producer of high-grade nickel in the world, has announced the release of its first batch of certified carbon-neutral nickel. 
Carbon-neutral nickel production is a part of the company's efforts to fulfill its environmental and climate strategy. Nornickel is focused on mitigating environmental damage related to nickel production in general and reducing greenhouse gas and sulphur dioxide emissions.   
Nornickel has been actively engaged in realisation of its strategy to upgrade its energy assets to comply with the global urge for environmental protection and climate change mitigation since 2018. This strategy covers: 
the upgrade of hydro and thermal power producing facilities providing for the Norilsk Industrial District, 
pertinent alteration of energy equipment and other machinery, 
setting up automated control and metering systems, 
cutting down the heat loss in constructions, including pipelines, 
and shutting down outdated power facilities. 
Nornickel declared its extensive strategy on environment and climate change, which targeted the cut of environmental damage and pollution in 2020. This strategy intends to:
to keep the total Scope 1 and 2 greenhouse gas emissions below 10 mtpa, pursuant to the GHG Protocol, 
to preserve the company's place in the bottom quartile of the global nickel producing industry regarding specific carbon dioxide emissions per unit of the nickel produced, based on Wood Mackenzie's assessment.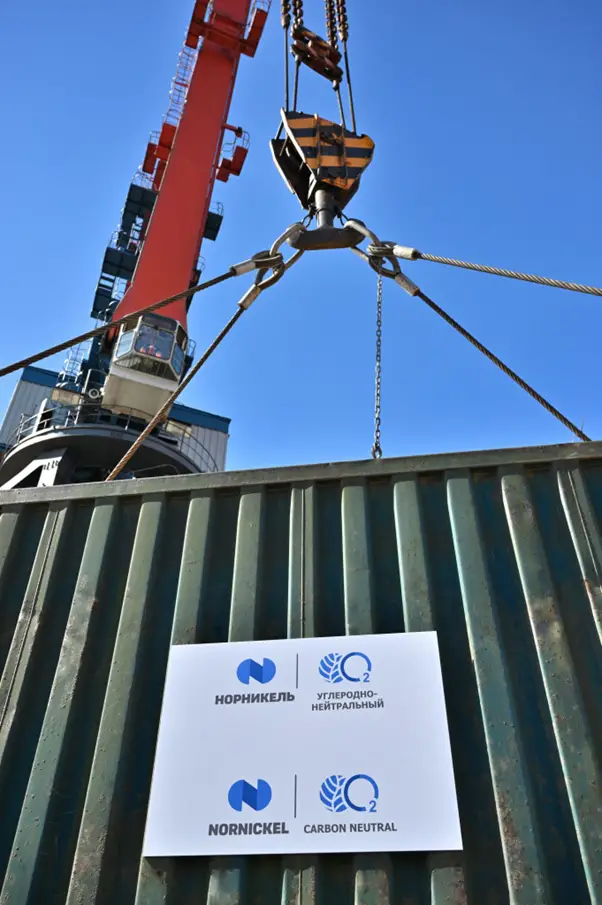 As affirmed by Ernst & Young, Nornickel Group managed to decrease its CO2 emissions by almost 47 kT in 2019-2020, due to energy efficiency advancements. Also, with the assistance of a top international independent consultant, Nornickel measured the carbon footprint of its nickel produced under international standards ISO 14040 and 14044, which equaled 8.1 tonnes of carbon dioxide per tonne of the finished nickel produced. This enabled Nornickel to receive an international auditor's certificate confirming its efforts to reduce the carbon footprint across the Group. 
Nornickel's efforts to curtail greenhouse gas emissions led the company to set off thousands of tonnes of saved carbon dioxide emissions towards carbon-neutral nickel production. The Group's Kola Division managed to produce the first batch of carbon-neutral nickel, amounting to 5 kt. This product will be shipped from Murmansk to a Rotterdam LME-certified warehouse, the largest logistic hub of Europe. 
Total production of carbon-neutral nickel will rise as Nornickel's CO2 emissions continue to scale down, which is validated by an independent auditor. Nornickel aims to produce up to 10 kT of carbon-neutral nickel in 2021. 
The company plans to tokenise the carbon-neutral nickel on Atomyze, a Blockchain platform, and list tokens on the Vienna Stock Exchange via Global Palladium Fund, Group's EU-based establishment. Nornickel will also tokenise the certificate verifying the cut in CO2 emissions, so this information could be securely stored and used in new products' releases and smart contracts. 
Nornickel's commitment to continue reduction of CO2 emissions, pollution and carbon footprint and to grow carbon-neutral nickel supply was confirmed by Anton Berlin, Nornickel's Vice President, Sales and Distribution.
You may also like: Driving Down Carbon Emissions with Bio-LNG Trucks