Click here to get this post in PDF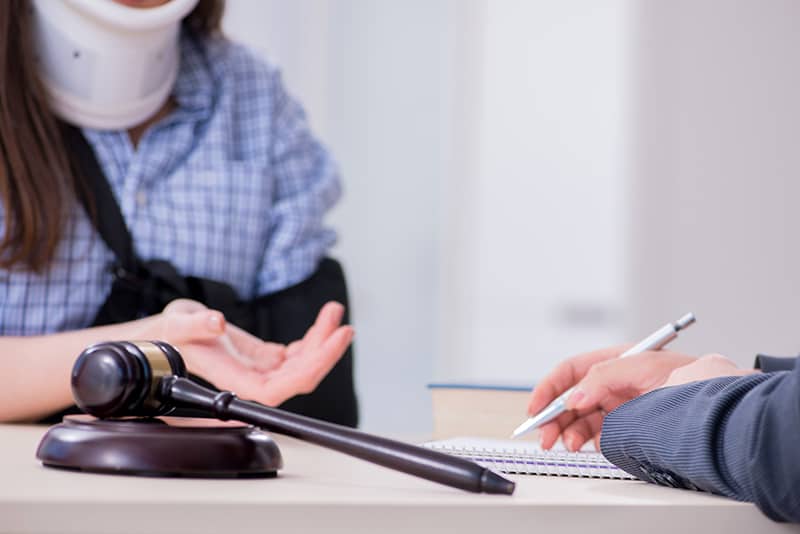 When we think of work injuries, we often think of construction sites and factories as dangerous places, but there are many places where you could be injured on the job. Offices, highways, hospitals, mail routes are also some of the places where workers can be injured on the job. Sometimes accidents just happen, but when you are hurt because of unreasonable demands, a lack of proper training, or shortcuts on safety were taken you may be entitled to some compensation. If your injury was caused by negligence, contact a personal injury attorney and see if compensation can be won in court.
The most common injury
The leading cause of worker injury or death in the private sector is vehicle crashes, but that counts people going to and from work who are not on company time. The most common injury in the workplace, regardless of where it is or what industry, according to OSHA.  Most personal injury lawsuits also result from falls at work.
In the construction industry falls accounted for 1008 of 4779 total fatalities in 2018, which was virtually unchanged from recent years. In the construction industry, electrocution, struck by an object, or caught between something, were the leading causes of fatal accidents. Those four types of accidents accounted for 58 percent of total fatalities on the job in the construction industry. If you have had a family member killed in a work-related accident, you may be able to sue them if wrongful death can be established.
Non-construction injuries
According to the National Safety Council, there are 4.6 million injuries on the job each year and 104 million lost days of work. Many of these injuries are serious, and many are caused by the company's negligence.
Falls were among the most common injuries in non-construction jobs but was not No. 1. Overexertion was the leading cause of work injury at 33 percent, according to the National Safety Council. Being struck by an object was second at 26 percent and falling was third at 25 percent. These types of injuries can happen anywhere in any kind of job.
Types of injuries
In the private sector, in non-construction jobs, sprains, strains, and tears were the most common injury at 31 percent. Soreness or pain accounted for 14 percent. Bruises, cuts, and fractures accounted for eight percent each, and most resulted from falls.
Again, these types of injuries could happen anywhere. They could happen in a quiet office with few people around, or in a busy restaurant.
OSHA violations
It is not too surprising that the leading OSHA violations mirror the most common injuries in the workplace.  This may suggest that many businesses are negligent and ultimately responsible for injuries suffered by workers.
According to OSHA statistics, fall protection, especially in the construction industry, was the leading violation recorded for 2019. Scaffolding was No. 3 and that relates to falls in the construction industry. Also related to falls was training regarding fall protection, which was No. 8, and ladders were No. 6.   Four of the top 10 OSHA violations were related to falls, both in the construction industry and all other industries.
Hazard communication was the second most common OSHA violation, and this is where employers may be negligent in providing a safe working environment. This could relate to falls, but would also relate to other kinds of injuries.
Other top violations included worker protections, such as face guards, hazardous materials or energy, face, and eye protection, and general machinery safety guards.
Workmen's compensation
In Maryland Workmen's Compensation is designed to be the solution for workers injured on the job. This makes it a little harder to sue your employer, but if negligence can be established, or if you can prove you were fired because you reported an accident, you may have a legitimate claim.
Many employers do not want to see you get hurt and will help you get your workman's compensation. Not all are like that, however, and some will try to claim the accident didn't happen or have some other excuse to deny your claim. Insurance companies can also get involved and dispute your right to compensation.
---
How to Get Through a Workplace Injury as a Small Business Owner
---
Why you need an attorney
Don't try to go it alone. Insurance companies have plenty of lawyers, and if your employer is contesting your claim, they will have some as well. There are also time limits for when you must file a claim for it to be considered. There are a lot of intricacies in the law that companies and insurance companies can use to their benefit. Having an experienced attorney on your side will level the playing field to help you get a fairer hearing for your claim. There are also different kinds of compensation, such as time off from work, medical bills, and if the injury is serious there may be disability involved. Partial or total disability are also big issues where you should have an attorney on your side. An accident can happen at any time at any place. If you are injured contact a personal injury lawyer to get a free consultation to see if you have a case that can be won in court. 
Image Source: Shutterstock.com