Click here to get this post in PDF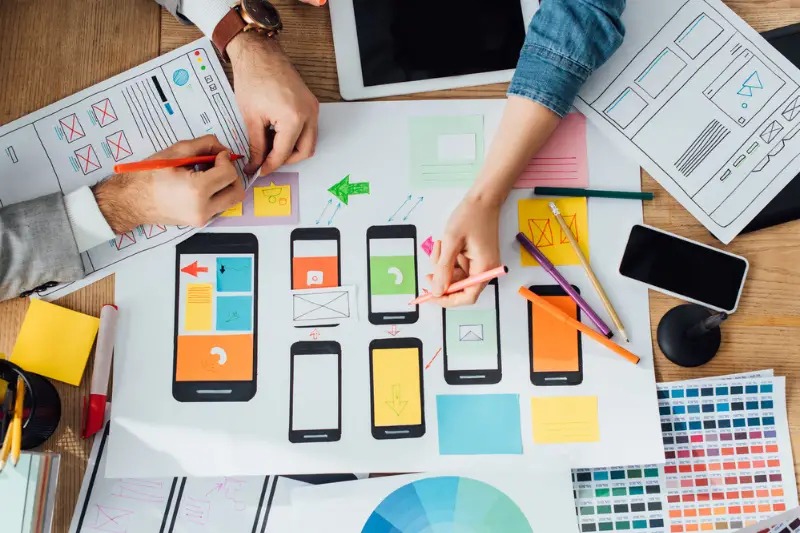 Mobile devices have become an integral part of our lives in today's digital landscape. With the ever-increasing number of mobile users, businesses need to adapt and optimize their websites for mobile devices. This is where mobile-first web design comes into play. In this article, we will explore the concept of mobile-first web design and discuss strategies to optimize your site for mobile users.
Understanding Mobile-First Web Design
Mobile-first web design is an essential strategy that every business should consider, as it allows you to create a captivating online presence that engages your audience and sets you apart from the competition with the help of a trustworthy web design company. Traditionally, web design focused on creating desktop versions first and then adapting them for mobile devices. However, as mobile usage surpassed desktop usage, this approach became outdated.
By adopting a mobile-first approach, designers and developers ensure that the mobile version of a website offers a seamless and optimized user experience. This means considering smaller screens, touch navigation, and slower internet speeds. In addition, mobile-first design emphasizes simplicity, readability, and ease of use, enabling businesses to better engage with their mobile audience.
Why Mobile-First Web Design Matters
1. Mobile Usage Dominance: With most internet users accessing the web through mobile devices, businesses must prioritize mobile experiences to effectively reach and engage their target audience.
2. Improved User Experience: Mobile-first design ensures that your website looks and functions flawlessly on mobile devices. It enhances usability, reduces loading times, and offers intuitive navigation, resulting in a better user experience.
3. Better Search Engine Rankings: Search engines like Google prioritize mobile-friendly websites in their rankings. By implementing mobile-first design principles, you increase the chances of your site ranking higher in mobile search results, driving more organic traffic.
4. Faster Loading Speed: Mobile-first design encourages optimizing image sizes, minimizing code, and leveraging caching techniques, leading to faster loading times. This is crucial for retaining mobile users who have limited patience for slow-loading websites.
5. Responsive Design: Mobile-first design often goes hand in hand with responsive design. A responsive website automatically adjusts its layout and content based on the user's screen size and device, ensuring a consistent and visually appealing experience across different platforms.
Key Strategies for Mobile-First Web Design
1. Simplicity and Minimalism: Focus on delivering key information and declutter your mobile website by removing non-essential elements. Use concise and engaging content that is easy to read on smaller screens.
2. Responsive and Flexible Layouts: Employ a responsive grid system and fluid layout to ensure that your website adapts seamlessly to various screen sizes and orientations.
3. Touch-Friendly Interactions: Optimize your site for touch gestures by using larger buttons, avoiding small clickable elements, and implementing swipeable carousels or menus.
4. Mobile-Friendly Navigation: Simplify navigation by using collapsible menus, sticky headers, or hamburger icons. Aim for intuitive navigation that allows users to find what they need quickly.
5. Optimized Images and Media: Compress and optimize images for mobile devices to reduce loading times without compromising quality. Consider using adaptive or lazy loading techniques to load images as users scroll.
6. Fast Loading Speed: Minimize HTTP requests, leverage browser caching, and optimize code to improve the loading speed of your mobile website. Test your site's performance regularly using tools like Google PageSpeed Insights.
7. Mobile SEO: Conduct thorough keyword research and ensure that your mobile website is optimized for relevant search terms. Pay attention to mobile-specific SEO elements such as mobile-friendly tags and structured data.
8. User Testing and Feedback: Regularly test your mobile website on different devices and collect user feedback to identify areas for improvement. Incorporate user suggestions and make iterative changes to enhance the mobile user experience.
Conclusion
In today's mobile-driven world, optimizing your website for mobile users is no longer an option; it's a necessity. Mobile-first web design allows businesses to cater to growing mobile users and deliver an exceptional user experience. By adopting a mobile-first approach, simplifying designs, implementing responsive layouts, and optimizing for speed and usability, you can stay ahead of the competition and effectively engage your mobile audience.
Remember, the key to successful mobile-first web design lies in understanding your users' needs, preferences, and behaviors. Then, continuously monitor and adapt to the evolving mobile landscape, keeping your website up to date with the latest trends and technologies.
FAQs (Frequently Asked Questions)
1. Why is mobile-first web design important?
Mobile-first web design is crucial because most internet users now access the web through mobile devices. Optimizing your site for mobile users ensures a seamless user experience, better search engine rankings, and increased engagement.
2. Can I have a mobile-first design without a responsive layout?
While a responsive layout is not mandatory for mobile-first design, it is highly recommended. Responsive design allows your website to adapt and provide an optimal viewing experience across different devices and screen sizes.
3. How do I optimize images for mobile devices?
To optimize images for mobile devices, compress them without compromising quality. Use image formats like JPEG or WebP, reduce file sizes, and consider lazy loading techniques to improve loading speed.
4. Is mobile-first design only for new websites?
No, mobile-first design can be implemented on both new and existing websites. However, if you already have a desktop-focused site, you can gradually transition to a mobile-first approach by prioritizing mobile optimizations during updates and redesigns.
5. How do I test the performance of my mobile website?
You can test your mobile website's performance using tools like Google PageSpeed Insights, GTmetrix, or WebPageTest. These tools analyze your site's loading speed, performance metrics, and provide suggestions for improvement.
Remember, mobile-first web design is an ongoing process. Stay informed about emerging trends and user preferences, conduct regular usability tests, and leverage feedback to continuously enhance your mobile website's performance and user experience.
By prioritizing mobile users, you are setting your website up for success in an increasingly mobile-centric world. Embrace mobile-first web design, optimize your site for mobile devices, and connect with your audience wherever they are, ensuring a positive and engaging experience on every screen.
You may also like: Web Design: 10 Tips for Small Business
Image source: Depositphotos.com