Click here to get this post in PDF
After more than a year of closed borders and quarantine measures, people have realized that it's necessary to learn to live under the current restrictions. One of the solutions is the development of apps for safe travels, which will make this activity available again. What types of such programs do healthcare software development companies offer? What solutions are popular on the market today?
Check & Fly
Entry rules differ from country to country and change frequently, which makes it difficult to follow them. Airport personnel spends a lot of time checking health documents. Solutions for these problems are mobile medical apps that are being actively developed.
In August 2020, Airports Council International (ACI) launched its app for iOS – Check & Fly. According to Luis Felipe de Oliveira, ACI World Director General, it's crucial that travelers feel confident about their safety. The mobile software provides tourists with information on COVID-19 sanitation and hygiene measures that are in place at airports. Having been informed via the service, passengers arrive at the airports prepared and can avoid unforeseen situations.
Travel Pass
The International Air Transport Association (IATA) is working on an app for safe travel. The emphasis is laid on storing important documents that may be required during the flight: convalescent certificates, test results, green passes, etc. 
It is implied that partner organizations, i.e. laboratories and medical institutions, will be able to send test results and vaccination confirmations through the app. Users will be able to share this data with airport staff using a QR code. Basically, it's a digital medical pass with advanced features. Tourists can look through test information before traveling, find labs and testing sites upon arrival in another country, and learn about entry requirements and current measures. To do this, you only need to specify your route and date of travel.
App in the Air
This app is similar to the ones above but has a unique feature. Along with information about travel and safety rules within a particular country, App in the Air offers advanced booking functionality. There, you can see regular updates of flights, cancellations, and flight postponements. The developers also made sure that the traveler is offered alternative routes if the flight schedule changes.
Over six million users have already joined the App in the Air community to navigate over 20 million routes. Interestingly, the company that developed this app takes care of the environment, planting a tree for each booked flight. There is already a fairly large forest of more than 15,000 trees.
Sitata Travel Safe
Sitata – an international traveler support service – was one of the first companies to respond to the coronavirus infection spread. When the customer support line could no longer cope with the volume of incoming calls, the company developed a tool to inform people whether they could travel abroad.  
Sitata Travel Safe is a global source of information on any question about traveling during the coronavirus pandemic. Artificial Intelligence is tracking events associated with COVID-19 around the world. The mobile app provides detailed up-to-date information on transport schedules, restrictions, airport and border closures, and so on. Sitata Travel Safe is based on data provided by the World Health Organization, the International Society of Infectious Diseases (ProMED), Johns Hopkins CSSE, and other scientific and public health organizations.
The app includes a TeleMedicine consultation feature. Anyone located in a foreign country and feeling unwell can enter their symptoms into the app. The program will recommend a local doctor and offer consultation options: online, house call, or a clinic appointment. When communicating with the doctor online, the user can ask questions in chat, share photos and videos, and so on. The database of specialists includes health workers from over a dozen countries.
Contact-tracing apps
There is a mobile contact-tracing app to contain the pandemic in almost every country: CovidSafe in Australia, Covid Alert in Canada, StopCovid in France, and so on. These programs are not 100% reliable, of course, but they can significantly reduce the likelihood of catching the infection when combined with other measures: masks, social distancing, and hand sanitizing.
Tripset
This application is designed to make flights safe and convenient. This app will provide you with up-to-date flight information: countries that are open for flights, measures that are in place on board, and anti-COVID rules in the destination country.
The borders of countries differ by status: open, with entry restrictions, and closed. The app notifies you on how to get to the airport and when boarding begins. The software was developed by Airbus – an aerospace corporation.
Semic Eye-scan 
Among novel solutions for contactless mass screening of COVID-19, Semic Eye-scan is worth highlighting. The app takes pictures of the user's eye and, based on the parameters of the image – in particular, the color of the sclera – deduces whether this user has COVID-19. The developers added more than two million shades of sclera color to the app, and based on this data, Artificial Intelligence determines whether a person is infected by scanning their eyes.
It's possible that this innovation will help travelers test themselves for COVID-19 at home and send the information to the airport. 
Nowadays, self-care is closely linked to the health of everyone else. Custom medical software will help people travel around the world without endangering their own and others' health.
About the Author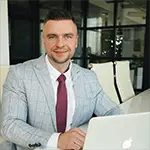 My name is Sergey Avdeychik, and I am passionate about using technology, learning new skills and being always up for a challenge. Currently, I work as a Director of Healthcare Technologies at Andersen. Being a part of the IT family for years, I aim at transforming IT processes in support of business transformation.
Linkedin: https://www.linkedin.com/in/sergeyavdeychik
Email: s.avdeychik@andersenlab.com 
Profile: profiles.forbes.com/u/91e701c7-77dd-4224-9cd6-4258bc2ade26
You may also like: How to Use Tablets in the Healthcare Industry