Click here to get this post in PDF
Marketing a new online store can be a daunting task. With so many options and platforms to choose from, it's hard to know where to start. However, there are a few basic principles that all successful marketers follow. Here are 11 tips to help you market your new online store:   
Start With a Strong Foundation
A strong foundation is essential for any business, but it's especially critical for a new online store. A few key components to a strong foundation include a well-designed website that is easy to navigate, compelling product descriptions, and straightforward shipping and return policies. You also need to have high-quality products and excellent customer service.
Define Your Target Market
Getting the word out about your product is essential, but it's just as important to ensure you're targeting the right audience. When it comes to online clothes shopping, defining your target market is a crucial first step. Who are you selling to? What age group? What style of clothing? 
Once you have a clear idea of who you want to reach, you can tailor your marketing strategy to appeal to that demographic. For example, your marketing should be youthful and hip if you're selling trendy clothes for young adults. But if you're selling formal wear for an older clientele, your approach should be more refined and sophisticated. 
By taking the time to define your target market, you'll be able to create a more effective marketing campaign – and that will lead to more sales and higher ROI. 
Create Compelling Content
Content is king when it comes to marketing your online store. High-quality, compelling content will attract new customers and keep them coming back for more. When creating content for your store, make sure to focus on topics that are relevant to your target audience. For example, if you sell children's clothing, write blog posts about parenting tips, children's fashion trends, or fun activities for kids. 
In addition to informative articles, you can create How-To guides, product reviews, or even just share your personal style journey. It is essential to be authentic and genuine when creating content. Your customers will appreciate your honesty and transparency, encouraging them to shop with you again in the future. 
Invest In SEO
Search engine optimization is optimizing your website to rank higher in search engine results pages, and it's an integral part of any online marketing strategy. There are several ways to optimize your site for SEO. 
These include adding keyword-rich titles and descriptions, creating informative and keyword-rich blog posts, and building backlinks from high-quality websites. Investing in SEO ensures that your clothing store will be visible to potential customers searching for new clothes online. 
Develop A Unique Selling Proposition
Countless clothing stores are vying for attention, making it difficult to stand out from the crowd. One way to make your store more unique is to develop a unique selling proposition (USP). 
USP is a statement that clearly articulates what makes your store different from other retailers. It could be as simple as "the best selection of plus-size clothing" or "free shipping on orders over $50." By clearly defining what sets your store apart, you can more effectively market your business and attract potential customers. 
Build Up Your Social Media Presence
Building up a solid social media presence will help you reach a wider audience and connect with potential customers who might not be aware of your store otherwise. There are a few different ways you can go about this. First, make sure you have a strong profile on all the major social media platforms (Facebook, Twitter, Instagram, etc.). 
You also need to ensure your profile is complete and up-to-date and that you're regularly posting interesting and relevant content. You should also consider running ads on social media to help raise awareness of your store. Finally, don't forget to engage with your potential customers. Respond to comments and questions, and join in on relevant conversations.  
Run Targeted Ads
By targeting ads specifically to potential customers interested in the type of clothing you sell, you'll be able to get your message to people who are more likely to make a purchase. You can target ads based on location, age, gender, interests, and other factors. 
To get started, create a list of target keywords that potential customers might use when searching for clothing like yours. Then, create ad campaigns around those keywords and use them to drive traffic to your website.  
Get Involved in Community Forums
By participating in community forums and relevant online platforms, like Mercari, you can reach out to potential customers who might be interested in your products. You can also learn about the latest trends and developments in the industry, which can help you to adjust your marketing strategy as needed.
Furthermore, establishing yourself as an active participant in the community can build trust and credibility with potential customers, which is essential for success in e-commerce.  
Keep Track of Your Progress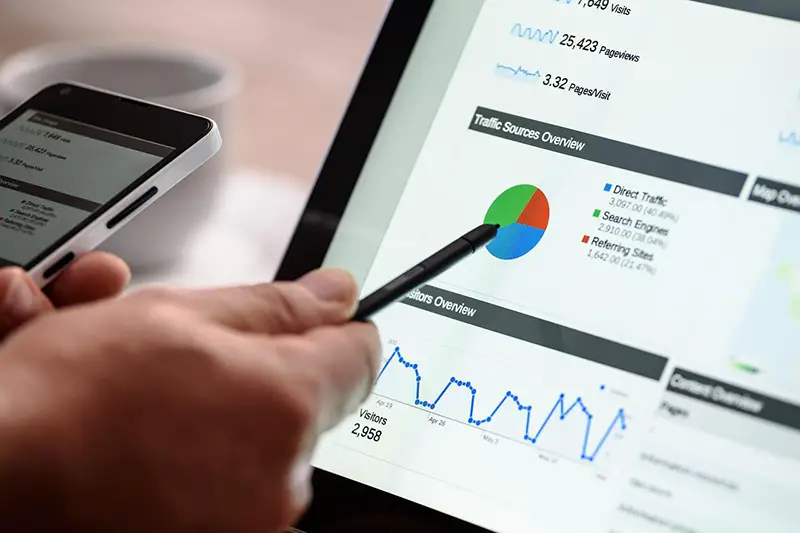 By regularly evaluating your marketing campaigns and objectives, you can see what's working and what isn't. This allows you to adjust your strategy accordingly and make the most of your marketing budget. 
Tracking your progress will also help you build a case for future investment in marketing initiatives. By demonstrating the impact that marketing has on your business, you can secure buy-in from stakeholders and ensure that your marketing efforts are given the attention they deserve.  
Provide Excellent Customer Service
Good customer service is essential for any business but crucial for online businesses. Since customers cannot physically see or touch the products they are buying, they rely on the quality of customer service to ensure they are making a good purchase. There are a few key ways to provide excellent customer service. 
First, respond to customer inquiries promptly and courteously. Second, ensure all orders are processed and shipped quickly and correctly. Finally, always be willing to go the extra mile to resolve any issues. You will build trust with your customers and foster loyalty to your brand by providing stellar customer service. 
Ask For Customer Feedback and Reviews
Asking for customer feedback lets you understand what people like and don't like about your products and what they want to see in the future. Furthermore, it shows that you care about your customer's opinions and are willing to listen to constructive criticism. 
Asking for feedback can be as simple as sending out a survey with each purchase or setting up a dedicated page on your website where people can leave reviews. By taking customer feedback into account, you can make changes to your business that will help you to attract more customers and build brand loyalty. 
Wrapping Up
With a well-executed marketing plan, your online clothing store can quickly become a success. Try out some of the tactics outlined in this blog post and see how they work for you. Keep in mind that it may take a little experimentation to find what works best for your unique business, but with a little effort, you should be able to create an online presence that drives traffic and sales.
You may also like: Five Reasons Why You Need Digital Marketing For Your Small Business