Click here to get this post in PDF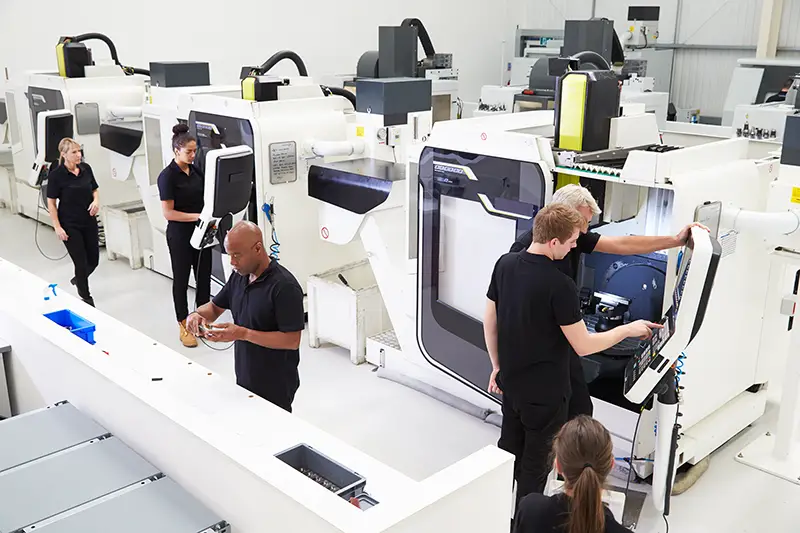 You may be unfamiliar with manufacturing business brokers and their services if you've never sold a manufacturing firm before. These dealmakers may be able to assist you in selling your manufacturing firm by bringing together potential buyers and sellers.
They serve as a central point of contact for a collection of manufacturing businesses that frequently work together to create quite sophisticated products. They are either paid by the manufacturing business like a salesperson or charge a percentage on top of the manufacturers for their time. They frequently serve as a conduit for your products and cash.
You may not need to hire manufacturing business brokers if you have all your supplies in your manufacturing businesses. However, if you are paying someone an annual salary to manage all of your current vendors, outsourcing to a broker might save you money.
A business broker, like salespeople, is frequently reimbursed by the manufacturing businesses, and you do not pay more for it. Finding a reliable manufacturing company broker enables you to create your product for less money than hiring workers or doing it yourself. They already have relationships with manufacturing businesses and may occasionally be able to aid you in directing your project.
A good manufacturing business broker will always have backups for their clients. This has the potential to save a startup project. For example, many Kickstarter projects have experienced problems because a manufacturer closed its doors between the time of launch and the period of production.
Role of a Manufacturing Business Broker
As you prepare to sell your manufacturing business, a manufacturing business broker will handle responsibilities that you may be inexperienced with as a business owner. A manufacturing business broker may set up and publicize deals by linking sellers and qualified customers. This makes it possible to sell the business for maximum value.
A skilled business broker, also known as a merger and acquisition expert, will offer you more possible buyers and higher bids than you would obtain on your own for you to sell your business for maximum value.
Manufacturing company brokers are expert negotiators who will advocate for your best interests during the mergers and acquisitions selling process.
Benefits of Selling Without a Manufacturing Business Broker
So what exactly are the advantages of selling manufacturing businesses without an intermediary?
• You will save money since you won't be paying a commission. That implies you'll save about 10% off the final selling price.
• You will control the timeline: You will be free to go forward at speed.
• You gain knowledge: If you want to establish other manufacturing businesses, selling your current one might be a beneficial learning experience. 
Set-Backs of Selling Without a Business Broker
Set aside time to do all the chores necessary to publicize your business for sale or your manufacturing business and negotiate with potential consumers. For this kind of transaction, you'll need to retain legal counsel and a seasoned accountant. You, therefore, won't be able to sell the business for maximum value.
To acquire the correct price for your business for sale, you must also objectively analyze how much your firm is worth. If you set an unnecessarily high price for your business for sale, you may not receive any offers. However, you also don't want to undersell your manufacturing businesses. Lastly, you'll need to remove yourself from the procedure emotionally, and this might not be easy given all your efforts in creating your firm.
Why you should consider Hiring a Manufacturing Business Broker
Selling your manufacturing business without a manufacturing business broker can be a complex procedure. On the other hand, working with a business broker who has shown manufacturing experience gives several important advantages. It is therefore important to hire the best business broker available.
A broker can:
• Help you get your business objectively valued: It is not as simple as adding up your income, expenditures, assets, and debts to determine your manufacturing business value. To study the numerous factors at play and arrive at an accurate sale price, financial professionals' help is essential. A business broker will collaborate with a group of knowledgeable experts who focus on this, giving you the assurance that your company is valued fairly. 
• Help market your business for sale: A business broker has a wide network of people they can talk to about your firm. They also know how to present your business in the best possible light to optimize the sale price and what buyers are looking for.
• Help keeps the sale confidential: A business broker will promote your firm anonymously so that your competition and clients are unaware of your ambitions.
• Enable you to focus on your business for sale: You don't want the business for the sale process to divert your attention and cause your business for sale or manufacturing business to stall. A broker handles the marketing and selling, so you may focus on running your manufacturing business and ensuring its long-term worth. You, therefore, sell the business for maximum value.
• Help speed the process: With years of expertise selling manufacturing businesses, a broker can ensure the process works smoothly, and the business for sale is completed on schedule.
Get Expertise Support
All things considered, selling your manufacturing business yourself is achievable — but it might not be the best course of action. Although you might avoid paying the 10% charge, a professional business broker would certainly be able to negotiate a considerably greater price than you could on your own. It's therefore essential to hire the best business broker available.
You may also like: Things to Take Care of Before Selling Your Business
Image source: Shutterstock.com