Click here to get this post in PDF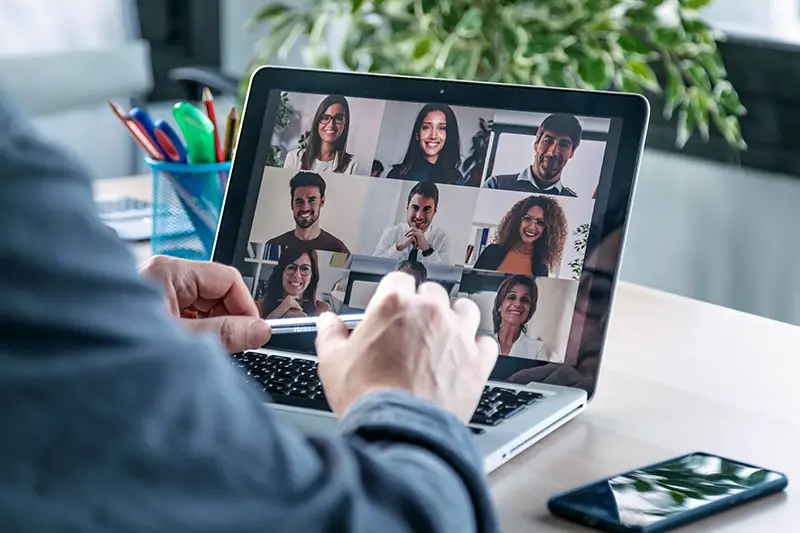 Virtual conferencing is one of the most popular solutions for communication today. This format brings people together by combining video, audio, and interactive features, making communication and collaboration much more accessible. This is all possible thanks to WebRTC technology. This technology is evolving rapidly to meet the ever-growing expectations for video call services. Numerous leading video conferencing providers, such as Digital Samba (https://www.digitalsamba.com/video-api) continue following the main WebRTC trends to keep up with the improvements in this technology.
Key Trends in Web Real-time Communication
What is WebRTC exactly? This abbreviation stands for Web Real-Time Communication, one of the latest technologies allowing P2P communication online in real-time. This communication is possible using a variety of devices and operating systems without having to download and install programs or browser plugins.
This technology was first introduced in 2010 and has been developing rapidly ever since. Each year brings a handful of new major trends as all modern technologies are constantly evolving. Thanks to the fast and efficient development of WebRTC, video conferencing solutions improve daily. Here are some of the current trends you can see in WebRTC:
Expanding video meetings – it has been possible to communicate one-on-one or in a small group of people using video calls for some time now. However, new advancements in WebRTC allow gathering much more people within one call. The goal is to increase the number of video conference members simultaneously without compromising video quality, sound, and speed. Another use for video conferences is hosting all kinds of virtual events. While there are usually a few hosts and all the other people are only viewers, having thousands of them requires powerful solutions to keep the stream going.
Handling noise and backgrounds – when people work from home or in any place other than the office, finding a quiet and uncluttered space for a video meeting becomes challenging. It is often impossible to have a completely convenient space for remote work. WebRTC continues to search for solutions to reduce background noises without buying special equipment or building soundproof rooms. Replacing backgrounds with pictures or simply blurring them is an option that is already available.
User privacy – securing your data online is extremely important. It is so simple to compromise your personal data if you do not use reliable video conferencing software or do not follow privacy rules and recommendations. Therefore, one of the key objectives for WebRTC technology is strengthening user security to protect their data from hacking and video call software providers.
Digital gaming – with gaming, it is often a huge issue to enjoy more demanding titles if you do not have the proper hardware. With WebRTC, there is a possibility to use less powerful equipment to play all kinds of games. Servers can be used for heavy lifting, in this case, allowing players to access games previously unavailable to them because they did not have powerful computers. However, using this method for gaming is not perfect as there is often a delay. In many video games, it is crucial to have a fast reaction, and this issue must be fixed in the future.
These are some of the main trends ongoing with WebRTC technology. New ideas emerge daily to improve this technology and enhance the video conferencing experience.
Video Conferencing Solutions Using WebRTC
Thanks to WebRTC, it is now possible to benefit from the latest video conferencing services in many ways. People use video calls in all areas of their lives, and thanks to the diverse functionality, their handiness might even increase. Digital Samba is one of the leading video conferencing providers in the industry. It is securely encrypted with E2EE and is GDPR-compliant to guarantee maximum user safety. Here are some of the common uses for video calling technology:
Casual communication – modern video conferencing solutions do not require special equipment or installing programs. This takes a few moments to join a video call online, and you can talk to your friends and family whenever and wherever you want.
Work – one of the most common uses of video conferencing technology is communicating with colleagues, employees, and clients. The corporate environment relies heavily on video calls as they are extremely convenient and often crucial for remote work and hosting digital events.
Education – virtual education is also experiencing numerous changes, and it is for the best. Studying is becoming more entertaining and interactive, which allows students to learn efficiently even if they are not in a classroom. Both students and teachers have numerous tools that will facilitate the educational process. They include screen sharing, virtual whiteboards, separate discussion rooms, polls, quizzes, and more.
Entertainment – all types of events are now possible online, from book presentations to concerts and weddings. Any celebration and public event can be broadcasted for many people across the world to see and participate in. This makes events more accessible as many people cannot enjoy concerts, presentations, lectures, etc. for many reasons. Whether you are quarantined, living abroad, or unable to visit an event physically because of your health condition, you can easily do so from the comfort of your home.
Healthcare – telehealth is not new by any means, but the latest video conferencing solutions make healthcare more accessible, precise, and helpful. This is more affordable, too, as, in many cases, you will not need to drive to a hospital when you can simply join a video call with your doctor.
As you can see, video conferencing technology is so important these days. Thanks to WebRTC, it is possible to improve all related services and think of new ways to make the technology better.
You may also like: Seven Basics to Video Conferencing In Business: 7 Things to Note
Image source: Shutterstock.com