Click here to get this post in PDF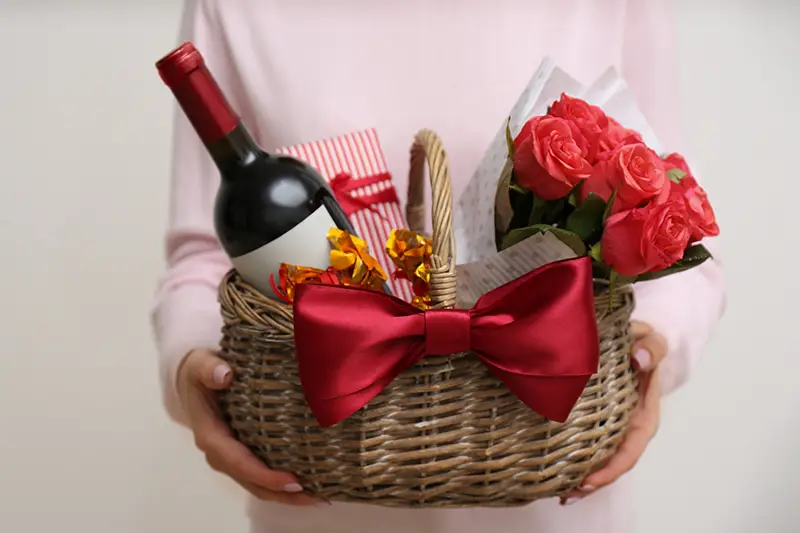 You can put almost anything in a basket to turn it into a luxury hamper. Add a few artistic touches here and there, and there you have it! Your recipient will surely love the thought – and the goodies inside the bundle. But before we move on with these stylish baskets of goods, we have to cover some fundamentals first. What is a hamper? What occasion is best when sending one to a friend, family member or corporate client? How much does it cost to make one? What makes it luxurious at all? You better stick around to find out more!
Some Hamper Basics
A food hamper is a basket of food and drink that comes with some additional goodies. These baskets are ideal if you want to send someone a present no matter what time of the year it is. In addition, food hampers do not have to be a gift for someone else at all. You can have one for yourself – take it to the beach or a local park. No one will be the wiser! 
You can locate food hampers in most groceries and gift shops around your vicinity. It will not be that challenging to find a place that sells one at all. The neat part about that is you can have the shop customize your food hamper. Make it look artistic, luxurious, or down-to-earth – you name it. 
There is also the option of making your food hamper. All you have to do is pick some goods from a local supermarket, set them up in a basket, and send it to someone. It's that easy.
Hang On For A Moment
You can make a food hamper no matter what. But you still have to consider some points when making a basketful of goodies. Here are some of them:
If you plan on sending it to someone, consider their likes and dislikes first. Sending an all-meat food hamper to your vegetarian pal Sam might not be the best idea.
Consider your recipient's medical attributes as well. Take note of allergies and such. You do not want to send Sam to the hospital, forgetting that she is allergic to dairy, right?
The delivery time also comes into play. You have to make sure the company that will take your basket does so in time. Sam does not want to see a basket full of expired or turning things. 
What Makes A Hamper Luxurious?
By the term alone, a luxurious hamper is a basket of expensive goods and gives great pleasure. These goods might not have the most budget-friendly prices, so better brace your wallet.
But it is not all about the basket's contents that make them stylish and for the rich. It also pays to learn about packaging and appearance, as these factors also contribute to your food basket's fancy aesthetic outcome.
The brand also plays a crucial role in terms of luxury. High-end food and drink products will garner a tremendous wow factor from your recipient. It also shows how much dedication – and money – you put into the hamper.
Another factor that adds to the luxury is a theme. Turn any ordinary food hamper into an outstanding one by adding the necessary items and components that you think make it shine better. Do not go overboard, though. You do not want your fancy-looking hamper to look like a supermarket cart that is full of random items.
Luxury hampers are the ideal gift if you are in a business. They will be the perfect corporate item you can send to co-workers and close colleagues. Sending one will show that you care about them. 
Are Luxury Hampers Available Online?
You bet! There are thousands of websites and food platforms on the internet. They all showcase food goodies, hampers, and other food and drink-related services. All it takes is for you to pick one that will suit your requirements.
You can even start your searching right now! You will not spend a single dime looking through the numerous company sites and media outlets for your luxury hampers.
Will Luxury Hampers Cost?
The answer might already be obvious. Luxury demands brand and a plethora of other factors. Ordinary food hampers will cost not more than $99. Luxury ones, on the other hand, can start at $999.99. It will also depend on where you get your hamper from overall. Some shops have luxury hampers that cost even way higher.
You can save your wallet from being empty if you try and customize your luxury hamper. You can pick some fancy drinks to put in the hamper. Then go ahead and add some not-so-fancy and yet high-quality food to complete the basket. We are positive your recipient will not mind that one bit.
The Takeaway
A luxury hamper does indeed make one splendid gift. But you have to consider your financial status first if you have plans to send a basket to a loved one. Good thing there's the internet to look for companies that sell luxury hampers that are not too expensive.
You may also like: Tips for Choosing the Perfect Corporate Gift Basket
Image source: Shutterstock.com