Click here to get this post in PDF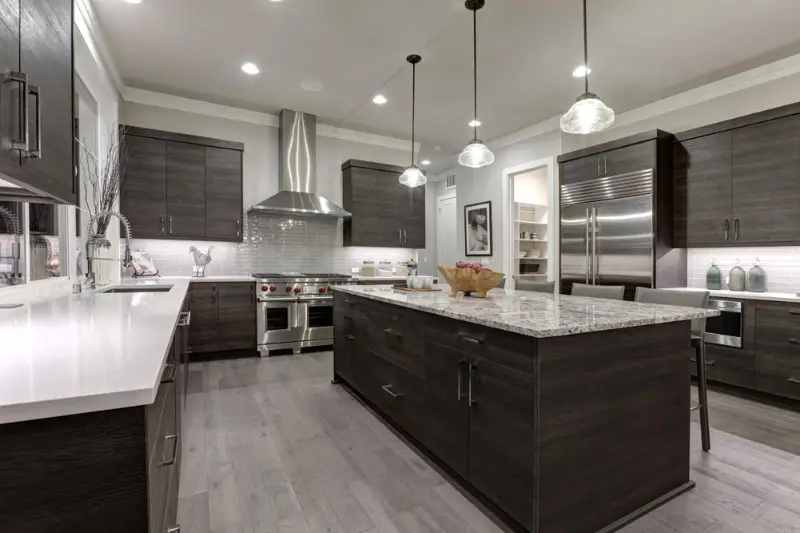 It's decision-making time – which kitchen style will you choose? If you're looking for something modern, the latest trends are pointing toward kitchens with dark gray kitchen cabinets.
With a sophisticated black and white finish, this look provides a bold statement against any kitchen background.
Ready to start your kitchen renovation? Read on for more on how to use this trend to update your space, whether it is your home or a kitchen in one of your rental properties.
Add Contrast to Your Dark Gray Cabinets
Consider utilizing light grays, whites, and other colors to add some contrast and interest to your dark gray kitchen cabinets. Consider adding cabinet hardware in another color, such as chrome or brass. You can also add a backsplash in a vibrant color to make the dark cabinets pop.
To make things more interesting, you can pair dark gray cabinets with gold finishes. This can create an interesting contrast that can make the kitchen look stunning. 
Gold finishes on the handles pulls, and knobs on the cabinets can bring out the warmth of the gray color. To achieve this look, click here for more info. 
Incorporate Dark Gray Cabinetry with Bold Patterns and Accents
Dark gray cabinets create a modern and sleek look, making them the perfect choice for a modern kitchen. To accentuate the gray, pair the cabinet with bold pops of color like jewel tones like aqua, red, or orange.
If you want to add visual interest to the kitchen, you can add a variety of patterned tile backsplashes. From herringbone and chevron to quatrefoil and geometrics, there's a tile that will work with any kitchen style.
Additional accents in the kitchen, like hanging art or potted plants, are a great way to add color and texture to the space. This popular combination creates a timeless look that is equal parts stylish and functional.
Elevate Your Gray Kitchen With Clever Lighting Ideas
If you're looking to elevate your gray kitchen, consider implementing clever lighting ideas. Pendants, cove lights, and under-cabinet lighting are all great choices to create a chic ambiance in your dark gray kitchen. These lighting solutions provide not only a source of light but can also turn a simple gray into a stylish and contemporary look.
You can also use light to bring a sense of openness to your kitchen by choosing brighter shades that bounce off other shades of gray. 
Popular Countertop Materials to Match Dark Gray Kitchen Cabinets
Natural stone countertops, such as granite, marble, and limestone, provide a classic, timeless look that complements the dark gray. Meanwhile, quartz countertops offer durability and a neutral color scheme that works well with the sleek and modern look of the cabinets.
Mixing dark gray cabinets with stainless steel countertops for an edgier look gives a bold contrast that stands out. Laminate countertops are also an option for a monochromatic color scheme with dark gray cabinets. They provide a modern look without breaking the bank.
Whatever countertop you choose, these dark gray cabinets will create a show-stopping kitchen.
Utilize These Trends for Your Kitchen Makeover Today
The latest trends in kitchens with dark gray kitchen cabinets suggest a modern and timeless look. From stainless steel appliances to bold backsplashes, these trends will indeed create a fantastic kitchen. Dark gray kitchen cabinets can help bring any kitchen to life. Try these trends today and see what excellent results you can achieve!
Browse our site to see what other advice on home and commercial property improvement ideas we offer you. Enjoy reading!
You may also like: Benefits of Upgrading your Commercial Kitchen Equipment