Click here to get this post in PDF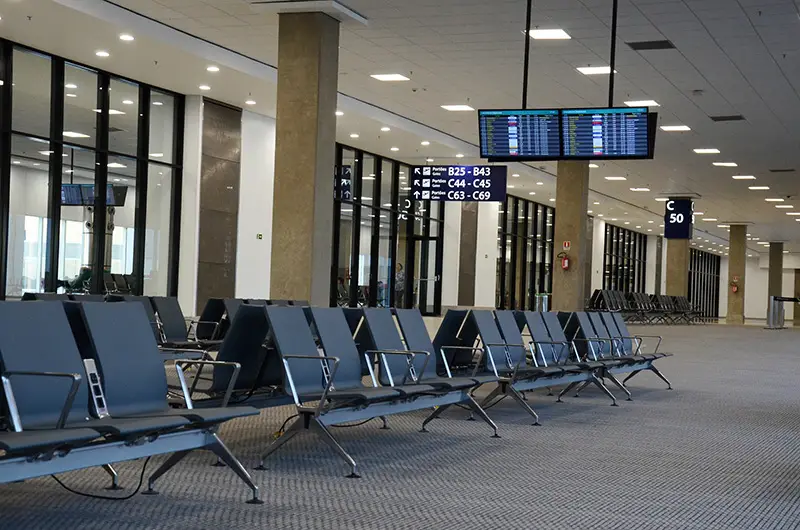 Public spaces such as airports will always be a place of trepidation during such uncertain times as these. Airports will always need regular cleaning regimes in place; however, throw in COVID-19, even during a period when restrictions are being lifted, and it's no surprise that cleaning requirements will be heightened. 
Even the cleanest appearing arrivals and departure lounges will see a huge amount of foot traffic from first thing in the morning through to late in the evening and even through the night. So whether you choose to factor in COVID-19 or not, implementing a commercial level cleaning routine is imperative to ensure the safety of your staff and those who visit an airport. But when it comes to cleaning an airport, there are particular areas that will need to be focused on to minimise the spread of COVID-19. 
Area Of Focus In Airports
While touchpoints are an area of extreme concern, when you consider an airport, you soon realise that numerous areas need to be focused upon to maintain an extremely clean and safe environment. These include…
Lounge Seats
Airport lounge seats are a space that can often get overlooked. A quick hoover and they may appear clean but in reality, they're far from it. With professional airport cleaning however you can ensure the fabrics themselves are thoroughly cleaned and disinfected regularly to ensure clean seating is available at all times.
Moving Walkways
Moving walkways can harbour millions of germs as people touch handrails. The transient nature of moving walkways also means that those germs are immediately moved around and passed on from one person to the next. Grease Gone, who specialise in cleaning airports, ensure moving walkways are cleaned thoroughly in order to prevent the spread of pathogens and airborne droplets.
Electronics
Electronics in airports are often cleaned minimally simply for the fear of damaging them. While basic janitorial services may sweep over them briefly for this exact reason, you can rest assured that professional commercial cleaning companies will have the specialist equipment and cleaning solutions to ensure they're a safe space and not a harborer of germs and viruses.
Conveyor Belts
While this may not be an obvious area for some, it certainly will be when you consider how many people have handled your luggage before you, and then think about the number of surfaces your luggage will touch during its journey from plane to the conveyor belt. Ensuring these areas are continually cleaned is essential, for both a traveller's safety and of course, everyone's peace of mind. It may also be wise to place sanitiser spray for people to disinfect their luggage before moving on.
Contact The Experts
Ensuring an airport isn't just clean, but a safe space for travellers is crucial now more than ever. Thankfully, Grease Gone provides airport cleaning services that will ensure every square inch is cleaned professionally and thoroughly. From food courts to luggage conveyor belts, ventilation ductwork systems, and even fire damper testing – Grease Gone has you covered. For more information, contact them today on 020 88663 413.
You may also like: What You Need To Know About the Differences Between Cleaning, Sanitizing and Disinfecting
Image source: Pixabay.com