Click here to get this post in PDF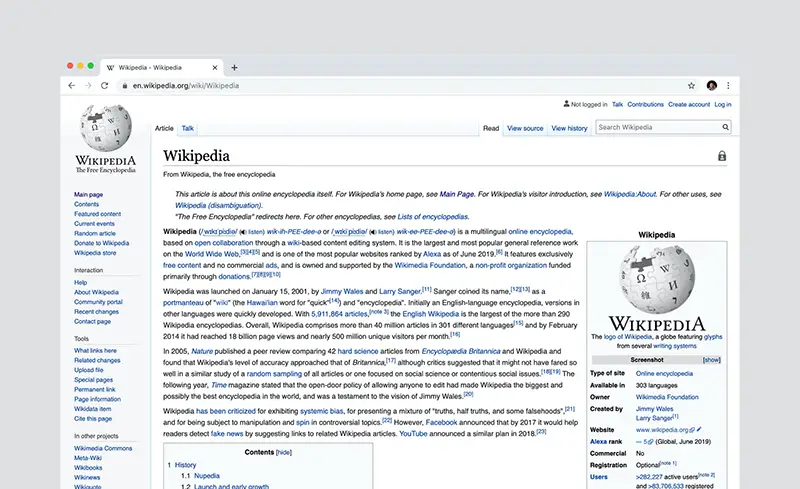 Wikipedia is an all-around good resource to consult when you're curious about who Ralph Nader is or what the Battle of Hayes Pond was all about. But no one can deny that the free online encyclopedia has some underlying flaws. While it is by far the largest online encyclopedia, it doesn't include everything. Some topics need their very own "alternative wiki." 
Fortunately, there are several other free, online encyclopedias that you can use for your research and general reading instead of Wikipedia. Each of these Wikipedia alternatives offers something unique and some of them are geared toward specific topics. 
General Encyclopedias 
This first section will go over alternatives to Wikipedia that still function like a general online encyclopedia — one place for all topics. Each of these examples has something different than Wikipedia to offer, so we recommend checking out each one. 
EverybodyWiki
As the name suggests, EverybodyWiki is a more inclusive version of Wikipedia. They have a broader collection of wiki articles about people, and it's even possible to create a page for yourself if you have some notable references. We recommend checking out Kris Duggan's wiki page on EverybodyWiki if you're looking for some inspiration on what to add to your own page. 
EverybodyWiki operates similarly to Wikipedia, where anyone can write about anything. However, what's different here is that anyone logged in can create a new page about a certain topic. These lower barriers to entry for writing don't lower the integrity of the site, however, as the publishers protect against page vandalism. 
Britannica
First published in 1768 in the U.K, Encyclopedia Britannica has supplied the English-speaking world with information for over 250 years. In 2010, they published their last physical copy of an encyclopedia and fully transitioned online.
All the content you can find on Britannica.com is created by a team of editorial staff, which immediately sets Britannica apart from most of the names on this list — especially Wikipedia. Due to the high level of writing and editing each article undergoes before being published on Britannica, it is a more credible source to use. One thing to note, however: Wikipedia still covers more subjects because their content does not need to undergo review. 
Citizendium
Citizendium was founded by Wikipedia co-founder Larry Sanger, who wanted to create a cross between Wikipedia and the scholarly online encyclopedias (such as Britannica). The site's main differences from Wikipedia are the slightly stricter rules and requirements to making edits. 
Unlike Wikipedia, authors must use their real names when publishing on Citizendium. What's more, all content must be submitted to an editorial staff team for review before it can be posted on the website. 
Fandom Wikis
This section covers "alt wikis" that don't strive to compete with Wikipedia. Because these online encyclopedias focus on one subject or topic, they can offer considerably more information than can Wikipedia. 
All of these wikis are hosted on Fandom.com but have different editorial staff behind each wiki on the site. 
Wookieepedia
If you're a big Star Wars nerd, then get ready to dive deep into this Star Wars fan wiki. Wookieepedia contains over 171,000 articles, with some reaching word counts of 60,000. Because literally everything about Star Wars is covered by Wookieepedia, it's a great place to go to learn more about your favorite Jedi or Sith. 
Familypedia
This wiki has an extensive database of family history and genealogy, showing that not every Fandom wiki focuses on video games or other consumable media. 
The focus of Familypedia is to document the lives of our ancestors, and historical figures. You can easily create pages about your ancestors and link them together to create a network of articles about your family history.
They also have indexes on surnames as well as birthplaces and dates. You can search over 13,000 surnames, so why not see if your family history is already on Familypedia? 
Wrapping It Up
Don't get us wrong: Wikipedia is a fine source of general information, but it's not necessarily the best place for researching in-depth about a particular topic. We recommended these five wiki-alternatives, each of which offers something unique. 
You may also like: 8 Benefits of Publishing Digital Magazines
Image source: Unsplash.com