Click here to get this post in PDF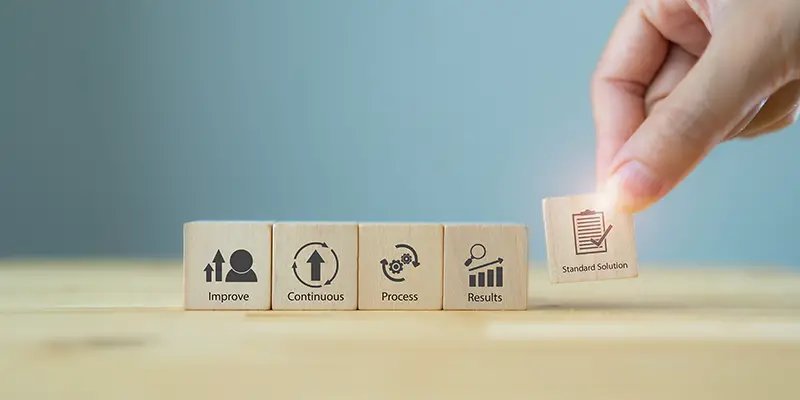 Out of 24 hours, we get approximately eight hours of sleep; the remnant is then chaotically spread across every responsibility and task under the sun, from work to school and domestic chores. The average adult drowns under a gazillion responsibilities every single day, and while some people might argue that a day offers sufficient time to tackle all these mandatory tasks, how many adults get through their weeks sane, happy and satisfied with their weekly output? Not enough. I'll tell you why; most people lack a strategic approach towards their days, and though it may not seem like it, 24 hours are more than enough to check out every task on your to-do list– all it takes is a substantial productivity measure. Ahead, we're exploring five practical ways you can enhance your productivity to get the most out of your day. 
Streamline your workflow
With the help of project management software, communication platforms, filing applications, calendar tools and workflow automation technology, you no longer have to spend twice the time and effort you would working on traditional tasks. Take digital calendars, for instance; these features help you stay on top of your schedule by setting up meetings, reminders, tasks and timers that you can access anywhere, at any time. While all this may not seem like much, it significantly saves you time and energy by steering you off repetitive manual tasks. That energy and time can, later on, be channeled into more demanding duties.  
Turn off distractions
Most people blame their ever-dinging notifications for their lack of productivity. However, let's face it, distractions go well beyond those quick Instagram feed peeks that transcend into hours of scrolling. A little chat with your workmate, the construction noise across your street and that cluttered desk is enough to have you side-tracking. What now? Create that perfect working environment for enhanced productivity by designating a quiet and organized workstation; this is especially essential for individuals working from home. You might also consider turning off your notifications and device during work hours for better concentration.
Utilize the Pomodoro Technique
The Pomodoro technique is a great way to improve your productivity. It can help you focus on your work, and get more done in less time. 
Here's how it works: You set a timer for 25 minutes, and work on one task until the timer goes off. Then you take a 5-minute break. After 4 Pomodoros, you take a longer break of 20-30 minutes. That's it! The benefits of the Pomodoro technique are: 
1) You get more work done in less time
2) You learn to focus and concentrate better
3) You take regular breaks, which helps you avoid burnout
4) You can track your progress and see how much you've accomplished
The Pomodoro technique is simple, but it can be very effective. Try it out, and see how it can help you get more done. 
Tip: If you want to try out the Pomodoro Technique, consider using the Pomotimer. This web app will notify you when it's time to take that well-deserved break or return to work. It also has loads of amazing features like a progress tracker, custom timer and reports that could come in handy for those study/work sessions.
Rest up
Productivity goes hand in hand with healthy habits, for some people, this will look like taking breaks and asking for help when needed. In the face of enhancing productivity, studies have proven that regular breaks between work hours help boost our concentration. Rather than burn yourself out for hours on end working and studying for that paper, you should schedule fifteen-minute breaks between every two hours of study time. This is plenty of time for you to grab a coffee, take a restroom break and refresh your mind before you get back to digging through those books. 
Take baby steps
Consider mapping out your schedule into small manageable tasks; this is the only way you can spread the weight and make those complex chores less overwhelming. Take party planning, for instance; as a standalone chore; it seems intimidating; however, when you break it down into booking venues, confirming menus, sending out invites and drawing seating plans, it becomes a lot easier to work around. Make a point of breaking up your to-do list into small baby steps to see significant progress throughout your day.
Try single-tasking
Unlearn the notion that you can do it all simultaneously because science swears that you can't. According to neuroscience professor Earl K. Miller, human beings cannot multitask; the attempt to do so only leads to half-baked outcomes and subpar results. That aside, multitasking chews up double the time and effort it would take you to accomplish a goal if you'd given it your undivided attention. I know how tempting it is to fold your laundry as you sit through those long zoom calls but is it worth it if you'll have to double back on the call recording to take notes? Think about it.
Wrapping up
Productivity is defined by implementing small, consistent strides towards your goal. Don't be so hell-bent on transforming lifelong learnt habits in a day; instead, learn to ease into the transition by practicing either one of the mentioned hacks at a time until you find what works for you. Frankly, there's no one-size-fits-all solution to improving your productivity; in a way, it all comes down to finding your jam, so take your time, focus and take a chance with these measures to improve your daily productivity. And on the days you find yourself slacking, remember that all days won't always be the same. Don't beat yourself up; you'll find your rhythm soon enough.
You may also like: Tips to Boost Business Productivity
Image source: Shutterstock.com