Click here to get this post in PDF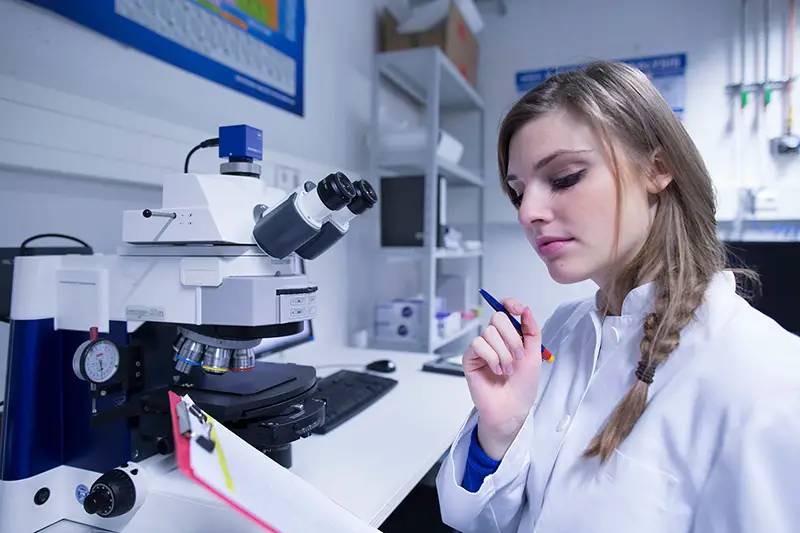 Scanning electron microscopy produces magnified and detailed images of elements by scanning their surface to create high-resolution images. The resulting image shows physical features and information about objects. A scanning electron microscope obtains information about the topography and composition of elements. This article describes six essential things about SEM.
How Scanning Electron Microscopy Works
SEM uses powerful material analysis techniques. SEM has a unique design to capture high-resolution and compelling images of sample surfaces. Images like microelectronics offer invaluable information and topography for companies to analyze potential failure, inform product development, and ensure product quality. 
Why Microscopes Use Electrons Instead of Lights
The distance that the human eye can distinguish between two parts in visible light is 0.2mm apart, but you can increase the length by using a lens. The distance (revolving power of the lens) may magnify the distance multiple times.
Light microscopes have a resolving power of 1,000 times since they are limited by light wavelengths and the number and quality of lenses. On the other hand, an electron microscope provides shorter wavelengths that create better resolution.
Instrumentation of Scanning Electron Microscopy
The vital components of scanning electron microscopy include;
Electron lenses
Electron source
Sample stage
Data/display output devices
Sectors for signals
The infrastructure's requirements include;
Vacuum system
Power supply
Cooling system
A room that's free of electronic fields and ambient magnetic
Vibration-free floor
Scanning electron microscopes can have one detector or more. The particular capabilities of specific instruments are dependent on the detectors they have.
Advantages of SEM
Some of the benefits of using SEM with energy dispersive spectroscopy for failure analysis and materials characterization include;
Resolution
SEM tests provide a high-quality digital image resolution offering instructive data to characterize microstructures like corrosion, fracture, and grains.
Traceable Magnification Standard
Since all imaging can be calibrated to traceable standards, it's possible to apply analyses like coating thickness, particle size, and grain size determination to save images.
Chemical Analysis
With energy dispersive spectroscopy (EDS), SEM can provide X-ray scans, mapping, and standardless quantitative and qualitative element analysis. You can use the data to identify foreign materials' elemental composition, examine defects in products, assess coating thickness, and determine grain and particle size.
Disadvantages of SEM
Even with excellent tests for surface topography and chemical analysis, some specimens aren't good fits for SEM. The factors to consider in various types of material analysis include;
Vacuum Environment
In some cases, SEM samples should be vacuum compatible and solid. But you can use higher pressures when imaging volatile and nonconductive vacuum-sensitive samples.
Artifacts
Strong insulator samples should be coated with carbon or gold before testing. But, the process can lead to artifacts. A knowledgeable SEM/EDS lab can ensure that the artifact's effects on results are minimal.
Does SEM Fit Your Needs for Materials Analysis?
SEM provides high-resolution topographical imaging and quantitative chemical analysis. The benefits are valuable to general manufacturing, food processing, insurance, litigation, medical devices, microelectronics, development, and research industries. 
Lab macroscopy offers multiple services for various companies. For example, the FTIR testing lab can provide X-ray imaging, particle size analysis, and lead paint analysis services. Scanning electron microscopy includes providing high-quality image resolution and chemical analysis. However, samples should be vacuum compatible. 
Should you have any questions, feel free to contact us. 
You may also like: The Essential Factors You Should Consider when Selecting a Can Seaming Machine
Image source: Shutterstock.com