Click here to get this post in PDF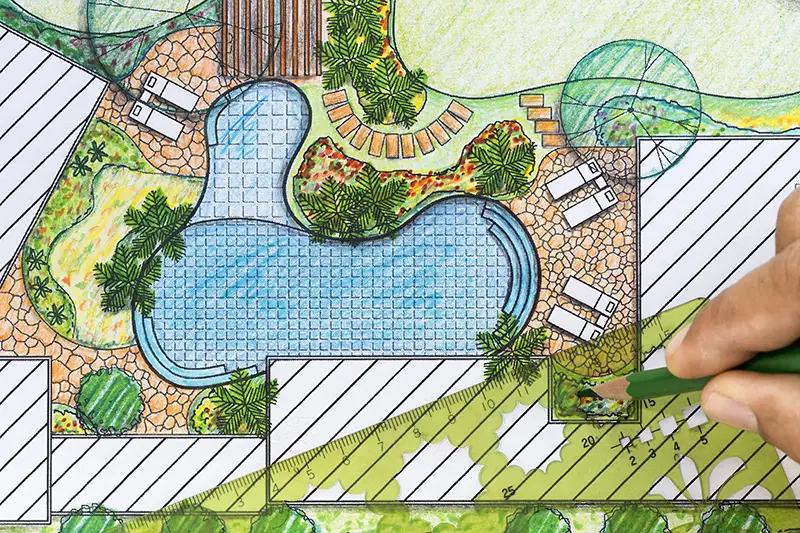 There is no need to explain the need for a multidimensional view of landscape plan. To explain to the client what you are going to do with his site, words solely are not enough. All other documents require a 2-dimensional plan (top view), and a 3-dimensional plan is desirable.
There are many applications for two-dimensional planning, from fairly universal graphics packages CorelDraw, PhotoShop to specific ones.
There are practically no simple, easy-to-learn and understandable programs for building 3-dimensional landscape scenes and obtaining a high-quality result.
They are, but only professional packages that are quite laborious to study, difficult to use, and require large computing resources of a computer, plus everything they have a high cost.
Professional videography studios, private craftsmen, mainly do building projects, that is, architectural modeling. The qualitative and quantitative composition of plants in such plans leaves much to be desired 5.6 species of trees, a couple of species of shrubs, and flowers.
The software
You need the best lawn and landscape business management software. Care businesses with essential features for industry you can streamline the processes and see results in terms of revenue. Create work orders send them to field workers and track progress from the back office. It's so easy to create track and invoice.
Is it easy to manage and track your lawn?
Most companies have to complete scheduled tasks for most of their customers. With the recurring job function, you can create template jobs right away and the rest of the work will be done using the software. Each desired task will come for you at the appointed time.
Plan your lawn and landscape maintenance job easily
The lawn and landscape care software makes it simple to build assign and schedule jobs using the recurring.
Assignments feature allows you to create assignments at the desired interval and due date making it easier for you to manage your ongoing contracts with your regular customers.
More organized and orderly lawn and landscape care work with software.
Customer feedback and satisfaction are of the utmost importance
Capture customer reviews and ratings for each service installation repair and maintenance.
Take pictures of the services performed and send them back to the back office for verification. Track customer satisfaction report on-field performance. Send thank you services by email and SMS to your customers and stand out from others in the market.
Unrivaled features
The field service software offers a wide range of characteristics to help you move from papers to a digital platform. Companies using it can easily automate their day-to-day operations, simplifying business processes, dramatically increasing customer satisfaction, and increasing profits:
billing and  quotes estimates;
work planning inventory management work;
time tracking;
dispatching work;
customer call history and service tracking;
collecting payments in the field;
electronic signature;
customer portal;
contract;
audit;
equipment;
leading management;
expense management;
language support.
Control with a mobile app the field service management lawn and landscape
Service mobile application is designed for performing lawn and landscape maintenance work in the field. Whether it's your employee's location testimonials or customer reports, it's all in the mobile app. equip your lawn and landscape care field worker with the best fieldwork app.
Manage the entire process in just 4 easy steps:
create a lawn care job;
assign to field worker landscape;
maintenance bills;  
receive feedback.
You may also like: The 5 Essential Benefits of Choosing a Good Business Software
Image source: Shutterstock.com