Click here to get this post in PDF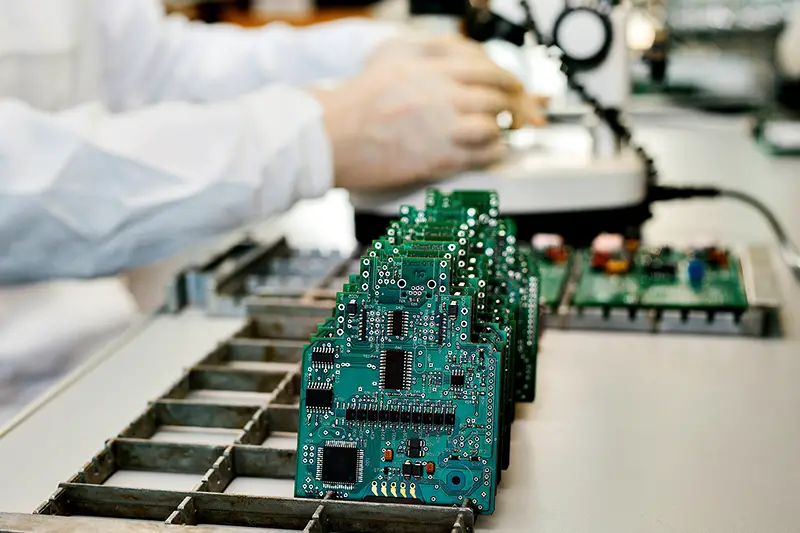 With global revenues rising by 25.1% in 2021, semiconductor companies have asserted their importance when it comes to the development of next generation technologies. One particular domain in which semiconductor firms have established a central role is the 5G industry, where smartphone chip production increased from 250 million to 555 million units over the past year.
In addition to yielding significant financial results, semiconductor firms' innovations have triggered a rippling effect on the performance of the 5G industry as a whole. Let's take a look at some of the most influential semiconductor firms in the 5G race as well as the potential impact that semiconductor companies could have on future 5G applications.
Semiconductor companies leading the 5G rollout
Computer processor developer AMD found its way onto the radars of potential investors and market analysts alike following its $50 billion acquisition of rival semiconductor firm Xilinx in February 2022. A record-high acquisition in the chip industry, this deal sees AMD grow its workforce and research and development capabilities as well as extend its range of processors on offer.
Graphics processing unit specialist Nvidia has made several strides in the push for 5G. In a collaboration with Google Cloud, the company established its AI-on-5G Innovation Lab; the first of its kind in the industry. By providing access to Google Cloud's Anthos platform and Nvidia's accelerated computing software development kit, the lab offers AI software developers and network infrastructure providers the opportunity to develop, test, and roll out 5G applications.
Qualcomm is another example of a company fighting to become one of the best 5G stocks on the market. The semiconductor firm has released an array of 5G developments over the past year, including its Snapdragon X65 5G Modem-RF System — compatible with 5G smartphones, pcs, and 5G networks and capable of downloading data at 10 Gbps. 
Peering into the future
Semiconductor companies are at the forefront of developing the infrastructure that network carriers, smartphone manufacturers, and other electronics companies require when developing products with the capability of honing the full power of 5G connectivity.
Developments such as the aforementioned Snapdragon X65 5G Modem-RF System will provide smartphones, tablets, and personal computers with the hardware they need to access 5G networks. Thanks to this connectivity, these devices will be able to benefit from wider network coverage, lower latency, and greater power efficiency, while their internet-based applications will become more responsive than before.
It isn't just device manufacturers whose devices could receive significant improvements due to the developments of semiconductor firms. Network carriers may also benefit from several improvements to their own infrastructures.
Firms such as Marvell Technology and EdgeQ have developed products to improve network base stations. Marvell's range of Octeon Fusion chips, designed to work on Open RAN (radio access network) infrastructures, provide a new layer of flexibility that traditional base stations lack.
Unlike regular base stations, the Open RAN infrastructures that the Octeon Fusion chips operate on enable network providers to replace individual parts as and when needed, rather than having to replace the entire base station as is typically the case. This move would enable network carriers to scale their solutions as necessary while eliminating unnecessary costs.
EdgeQ's 5G Base Station-on-a-Chip provides network carriers with a new level of simplicity. With all the infrastructure that's needed on a single integrated chip, this innovation makes it simpler than ever to install 5G access points.
By driving the 5G rollout, semiconductor firms are paving the way for an array of new technological developments that were not possible on slower network connections with higher latency and less bandwidth.
One technology that is being vastly explored is augmented and virtual reality. Together with 5G, AR and VR are at the forefront of developing the collection of virtual worlds known as the metaverse.
The metaverse has numerous potential applications for a range of industries. This technology has the capacity to be utilized in healthcare as a teaching tool for medical students, particularly for the simulation of operations and for virtual reality therapy.
Other potential applications include the immersion into virtual workspaces where coworkers can interact with one another remotely as well as training simulations, product designs, and customer service, whereby technicians are able to remotely address customer service queries and provide near real-time assistance.
The next level
As innovations such as those mentioned above continue to emerge, the development of smart cities, smart parking, and smart factories are coming closer to fruition. In fact, initiatives such as Qualcomm's Smart Cities Accelerator Program prove that such ecosystems are well on the path to becoming a reality.
Should you still be unsure whether or not you're willing to invest in 5G, the advancements of semiconductor firms can at least provide you with an indication of the vast potential that this industry has to offer on the front of technological advancement.
For current performance and holdings, please visit defianceetfs.com/FIVG
Important Disclosures:
Fund holdings and sector allocations are subject to change at any time and should not be considered recommendations to buy or sell any security.
The Funds' investment objectives, risks, charges, and expenses must be considered carefully before investing. The prospectus contains this and other important information about the investment company. Please read carefully before investing. A hard copy of the prospectuses can be requested by calling 833.333.9383.
Investing involves risk. Principal loss is possible. As an ETF, the funds may trade at a premium or discount to NAV. Shares of any ETF are bought and sold at market price (not NAV) and are not individually redeemed from the Fund. The Funds are not actively managed and would not sell a security due to current or projected under performance unless that security is removed from the Index or is required upon a reconstitution of the Index. A portfolio concentrated in a single industry or country, may be subject to a higher degree of risk. The value of stocks of information technology companies are particularly vulnerable to rapid changes in technology product cycles, rapid product obsolescence, government regulation and competition. The Funds are considered to be non-diversified, so they may invest more of its assets in the securities of a single issuer or a smaller number of issuers. Investments in foreign securities involve certain risks including risk of loss due to foreign currency fluctuations or to political or economic instability. This risk is magnified in emerging markets. Small and mid-cap companies are subject to greater and more unpredictable price changes than securities of large-cap companies.
The possible applications of 5G technologies are only in the exploration stages, and the possibility of returns is uncertain and may not be realized in the near future.
The "BlueStar 5G Communications Index™", "BFIVGTR™ Index" (collectively "5G Communications Index"), is the exclusive property and a trademark of BlueStar Global Investors LLC d/b/a BlueStar Indexes® and has been licensed for use for certain purposes by Defiance ETFs LLC. Products based on the Global 5G Communications Index* are not sponsored, endorsed, sold or promoted by BlueStar Global Investors, LLC or BlueStar Indexes®, and BlueStar Global Investors, LLC and BlueStar Indexes® makes no representation regarding the advisability of trading in such product(s).It is not possible to invest directly in an index.
The Defiance Next Gen Connectivity ETF is the first ETF to emphasize securities whose products and services are predominantly tied to the development of 5G networking and communication technologies. The fund does this by tracking The BlueStar 5G Communications Index. The Fund attempts to invest all, or substantially all, of its assets in the component securities that make up the Index.
Total return represents changes to the NAV and accounts for distributions from the fund.
Median 30 Day Spread is a calculation of Fund's median bid-ask spread, expressed as a percentage rounded to the nearest hundredth, computed by: identifying the Fund's national best bid and national best offer as of the end of each 10-second interval during each trading day of the last 30 calendar days; dividing the difference between each such bid and offer by the midpoint of the national best bid and national best offer; and identifying the median of those values.
Diversification does not ensure a profit nor protect against loss in a declining market.
Commissions may be charged on trades.
Go to defianceetfs.com/fivg to read more about FIVG, including current performance and holdings information. Fund holdings are subject to change and should not be considered recommendations to buy or sell any securities.
FIVG is distributed by Foreside Fund Services, LLC.
You may also like: What are the 5G trends to expect in 2021?
Image source: Shutterstock.com