Click here to get this post in PDF
Netflix is offering its streaming service in more than 190 countries, but their library differs for each country. Licensing agreements, copyright laws, and broadcasting rights limit content availability. What if I told you there was a way for you to unblock these different libraries?
There is a simple hack that involves subscribing to a VPN service and connecting to a server in different countries like the United States, United Kingdom, Canada, and Australia to access their dedicated movies/TV shows libraries. To learn more about this, continue reading!
How to Unblock Different Netflix Libraries in 2021
The process of unblocking different Netflix libraries relies on subscribing to a reliable VPN; one that has the capabilities of bypassing possibly the best VPN detection system outside "The Great Firewall". You see, using a VPN will not result in a ban, but you will encounter an error message: 
"Whoops, something went wrong… You seem to be using an unblocker or proxy. Please turn off any of these services and try again. For more help, visit Netflix.com/proxy"
This is because Netflix invests a lot in detecting and blocking VPNs in order to protect their licensing agreements with a myriad of production houses. Only the best providers have the capability of bypassing these blocks by adopting obfuscation and RAM-infrastructure servers. 
Click here to learn about the best VPNs for Netflix in the marketplace with a recommended list of servers for unblocking myriad libraries. Once you've selected a VPN that suits your streaming needs and budgetary requirements, follow these steps below:
Download/install the relevant VPN application for your device.
Sign in to your VPN accout by entering your email and password.
Connect to a VPN server for the library you want to unblock. 
if you want to access the US Netflix, connect to a US server.
Visit the official Netflix website and you will be redirected to the required region.
You have now successfully unblocked a different Netflix library!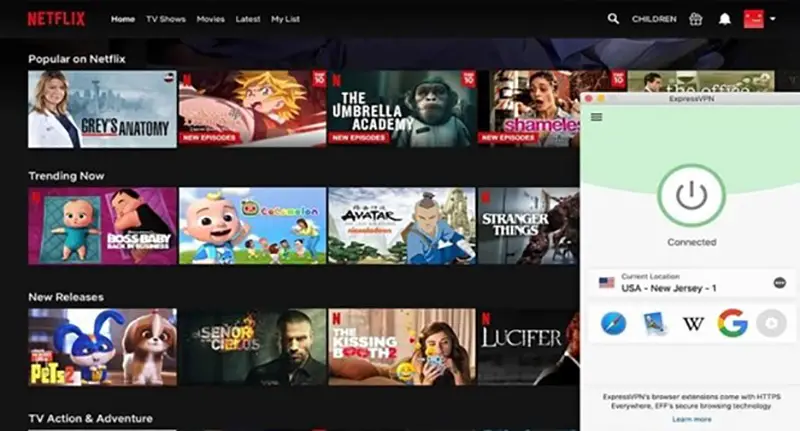 The above screenshot shows how we use ExpressVPN to unblock the US version of Netflix!
How Does VPN unblock a different Netflix library
Netflix uses your IP address to locate your region, and the main function of a VPN is to hide your IP address. When you connect to a server, your IP address changes and Netflix identifies this address. 
For example, if you live in Australis but are connected to a US VPN server, your IP address will indicate your presence in the United States.
Some movies and TV shows are reserved for certain countries. Therefore, when you connect to VPN, you can access the content even if it's not available in your location. 
Therefore, a VPN proves to be quite a handy tool for streamers who want to indulge in region-hopping and even for those who want to leverage privacy/security and more!
Do Free VPNs Work with Netflix?
Free VPNs are not a good option to watch any online video content for many reasons:
Free VPNs usually force monthly data limits. As we all know, streaming movies/TV shows consume a lot of data, so you'll exceed the limits in a matter of minutes.
A free VPN will not allow you to access restricted content in all regions. And most of the free VPNs are not compatible with Netflix servers. 
Even if free VPNs are compatible with Netflix servers, their speed is not fast enough to stream without interruption and buffering issues.
Free VPNs always come with hidden costs to your online privacy. For example, many of them sell your information to third party services. 
Free VPN provider will place ads and track cookies while you are online, which put your online anonymity at risk!
Therefore, we recommend you use a reliable VPN that can hide your IP address and help you bypass geo-restrictions securely and fastly. 
Countries with the Largest Netflix library
It is not surprising that the US Netflix library is the largest. However, other countries also have a good number of movies/TV shows titles Here is a list of countries with the biggest Netflix libraries. 
| | |
| --- | --- |
| Country name | Number of Netflix titles |
| Hungary | 5,062 |
| Czech Republic | 5,063 |
| Japan | 5,065 |
| Slovakia | 5,077 |
| India | 5.591 |
| Australia | 5,349 |
| United Kingdom | 5,673 |
| Canada | 5,730 |
| United States | 5,879 |
Wrapping Up
Due to copyrights and license agreements with production houses and distributors, Netflix content is blocked in certain countries. So, the number of films and TV shows you can watch on Netflix differs based on region. The article above helps you to unblock different Netflix libraries in 2021!
You may also like: How to Watch The U.S. Version of Netflix Abroad With a VPN