Click here to get this post in PDF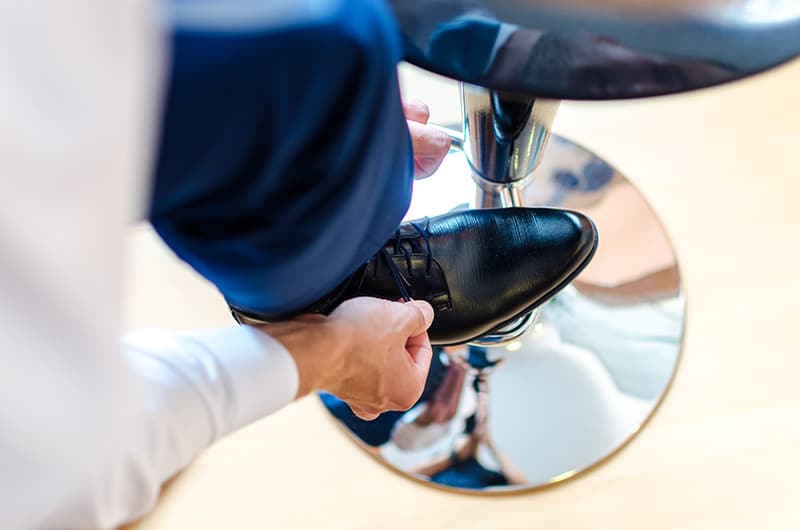 Work shoes are essential, for they enable you to perform your duties with ease. It is, therefore, critical that they stay in shape. When they do stay in shape, they will serve you for a longer duration. Saving you money and protecting your feet from injuries.
Explained below are several steps you can take to protect your work shoes:
1.           Think quality
No matter how well you take care of shoes, they will have a shorter lifespan if they are of low quality. Try and ensure you invest in quality shoes. They tend to last longer.
2.           Keep them in a dry place
There is a no bigger enemy of shoes than moisture. It slowly but surely destroys them. Moisture also causes shoes to stink. That isn't something anyone would want.
3.           Use a shoehorn
Every day you struggle to put on your shoes. By shoving your feet in the shoes, you reduce their lifespan by damaging the heels' back. A shoehorn prevents the back from a tear.
4.           Use a water protector
Waterproofing spray keeps moisture away from your shoes. Leather and Suede are very vulnerable when exposed to moisture; thus, this is a great way to protect them. Make sure to check your waterproofing spray container to know how many times you will have to spray. For maximum protection
5.           Wear socks that allow your feet to breathe
Wearing very heavy socks that do not allow your feet to breathe will make them sweat. This will, in turn, lead to your shoes producing an unpleasant odor.
6.           Air your shoes for about twelve hours
Airing will remove all the moisture e. Reducing the chances of them having a bad odor.
7.           Have two or more pairs of work shoes
Having several pairs will increase your shoes' life span and allow you to air them for about twelve hours. Constantly wearing the same shoes leads to quick wear and tear.
8.           Use a wooden shoe tree
A shoetree prevents creasing by stretching the shoes to their original size. It also absorbs any moisture and allows the shoes to have fresh air.
9.           Use newspapers
Wooden shoe trees can be expensive when you have many pairs of shoes. Newspapers are also a nice way to keep your shoes well stretched and aerated. Feel free to fill the shoes with as many newspapers as possible.
10.        Polish the leather shoes
Polishing has two major benefits, your shoes look better, and you get to see any tear that may require a visit to the cobbler.
11.        Wear the correct shoe size
It is recommended to have shoes that fit you perfectly. Bigger or smaller shoes may cause sweating and friction.
12.        Regularly air and replace the insoles
Innersoles absorb moisture and are prone to smell when not aired. Once you notice that they are worn out, ensure they are replaced. When replacing, confirm that the innersole fits the shoe. Also, if for some reason your heel is hurting getting heel spur inserts could fix this issue. 
Remember, how long your shoes serve will depend on how well you protect them.
You may also like: Is formal or casual best for office productivity?
Image Source: Pexels.com