Click here to get this post in PDF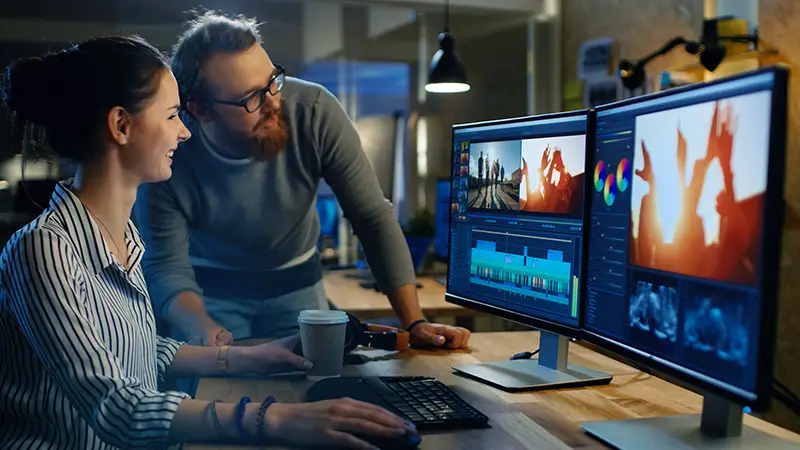 We have been making 1080p resolution videos for many years now. However, HD videos have turned a new leaf with the introduction of '4K UHD' videos that offer an even better resolution than 1080p. 4K UHD is primarily used in digital movies and has a 4096 x 2160 pixel resolution. 4K videos allow users to look at minute details of videos and movies, which was a distant dream before.
There are several 4K devices available today, including 4K TV, 4K monitor, 4K camera, and 4K smartphones. However, the technology is still new and expensive, and not everyone has access to these devices. Many devices still do not support 4K technology, due to which the options for playing these videos is also limited.
If you do not have access to 4K camera and device to create 4K videos, you can still convert your 1080p videos to 4K with the help of online 4k video editor movie makers. Let us look at some online resources where you can make 4K videos.
1. Pikavue
Pikavue is a cloud-based video converting service that can be used to upscale your videos to 4K resolution. Being completely online, the program does not strain your computer and is thus ideal for making 4K videos and movies—the platform converts your HD video to 4K through an AI engine.
The AI of the platform is trained regularly using videos and images to deliver the best output. When you sign up, you will receive 400 Pikavue coins for free, which can be used to upscale your videos. Here are a few steps you need to take to make a 4K video online
Sign up on the platform and go to the Dashboard
Choose Video Upscaler from the menu and select Upload. Import your source video to the platform
Now choose H.264 / H.265 codec, at least 300 seconds of length, and a minimum resolution of 864 x 480p
Depending on your source video, you can choose either 2X or 4X enlargement
Keep the upscaling quality slide one notch above 'Realistic'
Select Upload
Once the video is uploaded, click on the blue arrow on the Video Upscaler Screen
Now click Upsale to being the video conversion. Once upscaling is done, you can easily download the video using the Download button.
2. Movie Maker Online
Movie Maker Online.com is another online video editor that will help you create 4K and Full HD videos. The platform is free to use and does not require downloading or registration. It can be used on Windows, Linux, Chrome OS, Android, and macOS. To create 4K videos using this platform, you can take the following steps.
Upload your source file to the platform
If any changes are required, you can also edit the video using the platform
Choose the desired output format in the settings of the video editor. To make 4K video, you need to select 3810 x 2160p resolution
Set the video orientation to portrait, landscape, or square, depending on the platform you will upload the video. For example, the square format works best for uploading on social networks such as Instagram or Facebook
Convert and download the 4K video to your computer.
3. Kizoa
Kizoa is another movie maker online that you can use to create ultra high definition movies. You can upload your 4K resolution video clips on this platform and use them to make 4K movies. Kizoa allows you to download movies in 2160p resolution to your computer so you can use them later. These 4K videos make using Kizoa can be enjoyed on the largest screen out these without compromising on its quality. Making 4K videos on Kizoa offers a few advantages. These include:
If you have Kizoa's Business Membership, you will get a commercial license by the brand that you can use to show and distribute your 4K movies on TVs and Cinema or your website
Kizoa also offers one-on-one training to its users that you can take advantage of and become expert movie makers.
4. Easy Video Maker
Easy Video Maker is a great tool that you can use to render and create videos in 4K and 2K resolutions. With this tool, you can create, edit, make, render and download movies in 2K and 4K Ultra HD. It is an all-in-one video editing tool that is easy to use and powerful. To create 4K videos using Easy Video Maker, you can use the following steps:
Upload your source video file onto the platform
Click on the 'Settings' button in the lower right corner
Choose 4K profile for render/output 4K UHD videos, then click on OK
Download the output file on your computer and use it wherever you like.
5. Biteable
Biteable is one of the simplest 4K video makers in the world. With the help of its online video editing tools, you will be able to handle all kinds of video editing projects without the need to know too many technical aspects of video editing. Whether you want to resize your 4K video to upload on different social media platforms, you want to make edits add animated text or sounds. You have everything covered with Biteable. To use Biteable to make 4K videos online, simply use the following steps:
Create a new project on Biteable's online platform.
Upload your 4K, or HD file make the necessary edits using the online editor.
Convert your video to 4K and download it to your computer.
Conclusion
The above-mentioned online video editors and tools work great for editing and creating all kinds of 4K videos and movies. All these programs are entirely online and do not put extra stress on your computer. Check out the features and editing options these programs offer and choose the one that suits your needs the best. With the help of these tools, nothing is stopping you from making the best 4K movies that you have always dreamed of sharing with the world.
You may also like: Top 5 Sites to Learn and Enhance your Video Editing
Image source: Shutterstock.com