Click here to get this post in PDF
When it comes to running a small business successfully, some would say that having a strong online presence is what counts nowadays. However, traditional marketing tools such as business cards are still an important element when it comes to establishing your business brand identity and communicating with public. Business cards make a great first impression, reflect professionalism and build trust between you and your potential associates and customers. Their design, shape, font and paper choice can tell a lot about your products, service and your creativity. Now, imagine that you can choose how your business cards will look like, from the beginning to the end without even leaving your home. If you like this idea, then Labeley online custom business card creator is a right tool for you.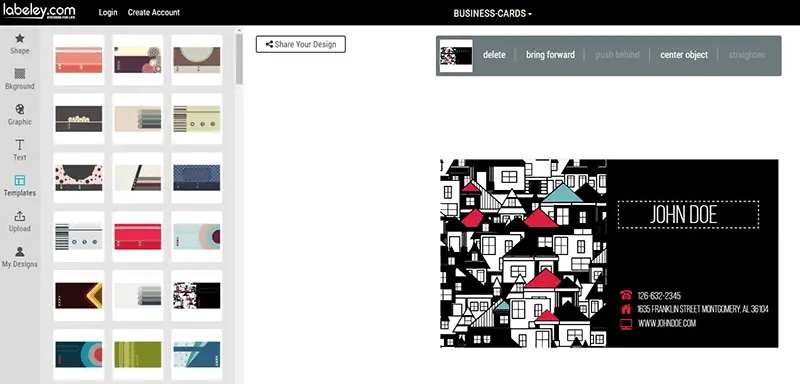 Labeley business card creator is a free online tool for creating high-quality business cards for various industries. With Labeley, anyone can create custom business cards completely free and get them professionally printed and delivered to any destination in the world. It might sound intimidating, but rest assured that with this tool you don't need any design skills to make unique, professional-looking business cards that best reflect your company.
Labeley Business Card Maker Quick Overview
Create and download unlimited number of single-sided or double-sided business cards for free and without registration
Choose among 200+ industry specific free templates
Upload any image and completely personalize your design
Order premium quality professional printing at reasonable prices
How to Use It?
The very first step of using Labeley business card creator is choosing whether you want to create single-sided or double-sided business cards under the Shape category. Continue by adding the Background of your choice and finish it with the appropriate Graphics that you want to represent your personal information which you will later fill in under Text section.
Keep in mind that you can also skip these creation steps and go straight to the Templates category, choose single-side or double-side template that best fits your industry and simply add your contact information before clicking on Save. Some of the industries available now are real estate, architecture, law, hospitality, dentistry, catering and many more. This way you can save time on designing your business cards while still making sure they look the way you wanted. All these templates are originally designed and completely free for commercial use.
Once you are all done you have several options to go with:
Save and download your design without any sign-up
Save and keep your designs on cloud for future use; you need to create an account by providing only your email address
Save and order professional business card printing on prime quality paper
Those interested in high-quality printing can order from 50 up to 2000 business cards on six different paper materials and a very good value for money. Either way, with this handy online tool you will get unique business card design in minutes. So, if you haven't really thought about having custom made business cards before, then this is a good time to consider it.
Article by Labeley.com