Click here to get this post in PDF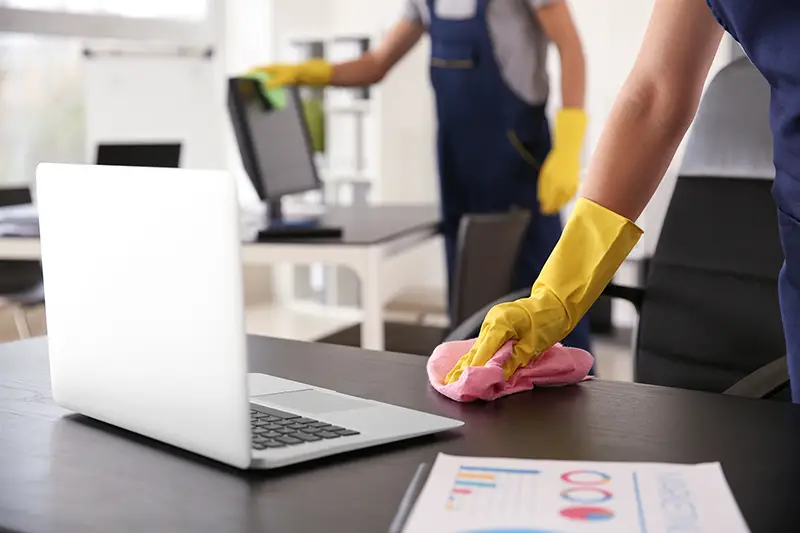 Choosing the right office cleaning supplies for your office post-COVID can be overwhelming, especially as there are many cleaning chemicals on the market. However, ensuring your office is a COVID-safe workplace is imperative to help keep employees safe while at work. While you may be aware of government guidance around social distancing, knowing which office cleaning products are highly effective will enable your staff to work safely once their working-from-home period comes to an end.
 In this article, we'll provide More Info about how you can choose the right sanitation products for a COVID-secure workplace, as well as discuss what you should avoid.
Select reliable cleaning products
Whether you're searching for the best hand sanitiser for office use or cleaning equipment for an office deep clean, choosing proven products that are known to disinfect and kill germs is the best way forward. Well-known disinfectants effectively kill germs, although they do not clean. That means you need to both clean and disinfect frequently touched surfaces, objects, door handles, etc.
Use soap and water
Soap and water on their own are effective enough to prevent the spread of viruses. If you're unsure what products to use, start with these and follow with a disinfectant.
Use isopropyl alcohol for screens
Disinfect electronic items with at least 70% isopropyl alcohol. This is strong enough to kill the virus without causing damage to equipment.
Purchase an office hand sanitiser
While soap and water are fine for washing hands, hand sanitising is essential for a COVID-19 secure workplace. Employees are unable to wash their hands every time they touch a surface, so regular sanitising will keep hands free from germs. Hand sanitiser should have over 80 per cent ethanol or over 60 per cent isopropyl alcohol to be effective. However, those containing over 60 per cent of alcohol should also do the job.
Avoid products with harmful chemicals
If you're using professional cleaning supplies that are designed for working environments, designated staff members must be fully trained in using them. If you're using new products, ensure a health and safety risk assessment is conducted beforehand and provide adequate training. Also, follow the manufacturer's instructions as some products could contain potentially harmful chemicals. Commercial cleaning products with exceptionally harmful chemicals should be avoided where possible.
Use professional office cleaning services
Commercial office cleaning services know exactly which products to use for COVID-secure office cleaning. They can provide effective deep cleaning of all surfaces and ensure even computer equipment is properly cleaned. They'll also follow a strict cleaning schedule to keep spaces germ-free.
Avoid misting products or equipment
One of the benefits of a clean office is having happy and relaxed employees. While you may assume that getting the job done quickly will be better for morale, conducting a thorough cleaning job is crucial for properly cleaned surfaces. That means you should avoid any fogging or misting products, including equipment unless you're using them as an extra safeguarding procedure. There is no relevant test data for this type of cleaning, so it's not known how efficient it is when used solely.
Good disinfectants can be environmentally friendly
Don't be dismayed by labels such as environmentally friendly, QAC free, or natural ingredients. These products can still be highly effective. Every product has to be approved to attain an EN number (products that can claim effectiveness against coronaviruses). If in doubt, ask the company to supply a microbiological profile as every approved cleaning product will have this information available.
Select the right office sanitation products today!
Now you know the best cleaning products for a COVID-secure workplace, you can ensure your office space is regularly cleaned with the correct measures. Just remember to continue to use an effective cleaning routine to protect staff against ill health.
Also read: Your Guide to Scented Household Cleaning Products
About the author

Perfect Clean is a professional cleaning company based in Edinburgh. With highly experienced professionals, they have the capacity to offer affordable and high-quality commercial and industrial cleaning services. They are passionate and committed to keeping everyone safe with their exemplary health and safety practices.