Click here to get this post in PDF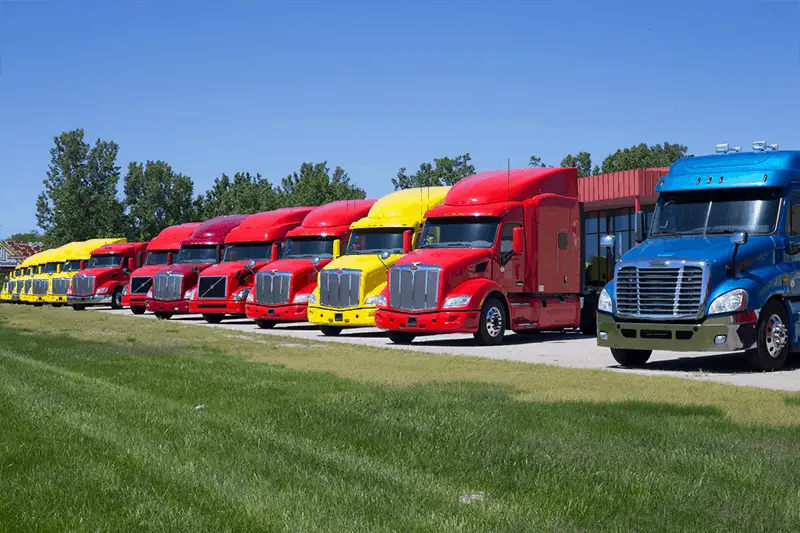 For decades, trucking has connected America. The industry brings freight from coast to coast on a daily basis. All across the United States, there are trucking companies that started from just one big rig. People like Amari Ruff start trucking businesses and build them into multi-million dollar companies. His company, Sudu, has become a great story for the industry; he began with $300 and a Ford Ranger; by the way, he was homeless. He risked everything to go into a business he knew would work. He knew it would work because truckers are needed everywhere.
Like any business, starting a trucking company will not be a breeze; you just have to put your mind to it. . That's how a flatbed trucking company in Texas started its journey that still goes. Statistics conclude that the trucking industry transports 75% of all freight within the United States. That measures up to more than $700 billion in goods. The need for the industry is apparent, but many people are afraid to get their own company going.
How would you start your own trucking company? Well, we developed a step by step plan to help you on your journey.
The U.S. Needs More Truckers
As said by the American Trucking Association, the trucking industry was short roughly 60,800 drivers in 2018. That statistic was up by more than 20% from 2017. If the trend continues, they estimate that it could increase to a shortage of over 160,000 drivers by 2028. The issue doesn't stop there, either; the numbers include drivers that are not great at their jobs. There is a lack of quality surfacing because trucking companies need every driver they can find. Only the largest companies have the luxury of hiring seasoned veterans with years of experience behind the wheel.
And the reason for this kind of fear is ignorance. However, there's always a way out. Thus, you can always address a professional business formation service that will help you successfully register and run your trucking business. 
For this, you will need to first prepare your business plan and identify your goals in it, as well as your values and potential risks. Next, you want to legally establish your company. We recommend choosing an LLC as your business entity structure due to its limited liability benefits for business owners and members. That said, an LLC will allow you to separate your personal assets and business liabilities. And this is when you might need the help of a business formation service.
Alternatively, once you learn how to start an LLC, you can try and prepare all the necessary registration paperwork on your own. 
The registration process usually starts with choosing a business name for your LLC and making sure it's 100% unique and available within the state where you will run your business. You can also file a DBA for marketing purposes. Next, you want to hire a professional registered agent to handle your legal/tax correspondence and receive service of process (if any) from the state. 
Once done, you can file your Articles of Organization with the Secretary of State. Usually, you can submit your application form online (advisable) or by mail.
After you get your Articles of Organization reviewed and approved by the Secretary, you will also need to get an EIN, prepare an Operating Agreement, obtain all the necessary business licenses/permits (for this, consult your local government agency), choose the right insurance policies for your LLC, learn how to file your annual reports, etc. 
That said, if you're a first-timer, we'd highly recommend entrusting the entire LLC registration to a professional business formation service to avoid mistakes/errors.
The shortage epidemic stems from certain realities about the occupation. The hours are long, you're often away from home, deadlines are tight, sleep deprivation is rampant, and pay can be spotty for certain companies. These facts make it hard for many people to go into the business. However, it is up to the trucking companies to make the culture in the industry better. America needs more truckers; it starts with young entrepreneurs, like Amari Ruff, who have the guts to take it on. Here's a six-step plan to help you get your trucking business going. Even if you start with one rig, you never know what could happen. The need for truck drivers does not seem to be disappearing anytime soon, so now is the time to get your company going.
1. Get a CDL
To start everything, you'll need a commercial driver's license. This takes some time and training. If you're planning to enter the trucking industry as an owner, you'll need to gain some experience driving, first. Many companies pay for their drivers to go to CDL school if they know they will come back to drive for them. Getting experience and knowledge under your belt is vital in beginning your entry into the business, so try driving for companies that will help you with schooling.
2. Plan Everything
Once you've gained experience and know the ins and outs of the trucking industry, it's time to plan. Like most things in life, going in with no plan is never a good idea. Try writing a business model for yourself. That will usually look something like this:
Market Analysis
Organization
Management
Products
Marketing and Sales
Funding
Finances
Knowing these key factors will get you moving toward your final goal of owning a trucking company. It's essential to get your business plan ironed out smoothly. Always prepare for the worst-case scenario; the world is tough, and it won't change for you. You should know the strengths and weaknesses you possess as an owner, and the issues that may arise from them. Being honest with yourself about the trials and tribulations that you'll face will help you and your business grow.
3. Calculate Expenses
Calculating the expenses of your company is a no brainer. You want to know every penny that will come out of your pocket. Trucks, trailers, licenses, compliance, and registration will all cost your company money. Those are only start-up costs also; as your company progresses, more costs will begin to add up.
The best thing you can do is add up the first six months of projected business, then save up that amount of money. That will get your company off to a fast and prepared start.
4. Legal Compliance
Legal compliance is the number one priority in owning a business. If you aren't in tune with the legal practices, your trucking company will be shut down before it opens its doors.
To begin, you need to determine what kind of trucking company you want. Will it be an LLC, a corporation, or a partnership? Each different kind of company has pros and cons, and it's significant to know how each legal name will change the business' structure.
After you've determined what kind of company you'll be, you need to make sure you follow the rules and regulations of trucking. The U.S. Department of Transportation collects and monitors everything companies do. There are taxes to adhere to, equipment codes to follow, and files to keep handy. Assure that you know your way around the requirements. Once your company begins delivering freight, the rules and regulations that you must comply to become even more strict. Be ready for everything.
5. Buy or Lease Equipment
Equipment is everything in the trucking industry. If you purchase bad trucks, you will run into an enormous number of problems. You can either buy or lease equipment; knowing which is better for your company could be difficult to determine. The best option to solve that issue is to talk to someone who was already an owner-operator of a trucking company. They can help you decide what is cost-effective but still works the way it should.
Next, buy all of the insurance. You never want to be liable when something happens on the road, and it will happen. Purchase the correct insurance on all of your equipment so that you can run your business with peace of mind. Another useful move would be to invest into a fleet management system. This will greatly improve the service you offer to your customers.
6. Hiring Drivers & Getting Customers
If you plan to start by yourself, you won't need to hire drivers. However, if you have plans to operate a fleet of trucks, you'll obviously need some qualified drivers; in some cases, they resort to the services of truck dispatchers. You can find drivers by using job sites like Indeed or LinkedIn; they will narrow down applicants for you.
Even more important than drivers are your customers. If you get lucky, you'll run into a small business that is looking for a cheaper alternative to the large corporations. Take advantage of these businesses in the beginning; they can give you your big break. Offer discounts, market yourself and do everything you can to sell your business model.
Unfortunately, underqualified drivers and neglectful passenger vehicle operators have created high trucking accident rates. If you, or anyone in your family, has been involved in a truck accident, you could be entitled to compensation.
---
How to Guarantee a Business Profit by the End of 2020
---
Time to Shine
Now that you know the basic steps to owning a trucking company, go out and get started. The world needs people who are willing to take on the task. It may not be easy, but nothing worth doing ever is. Start with one truck and grow an empire that has deals with Target and Apple. Take advantage of the shortage, and show people how to run a trucking company the right way.