Click here to get this post in PDF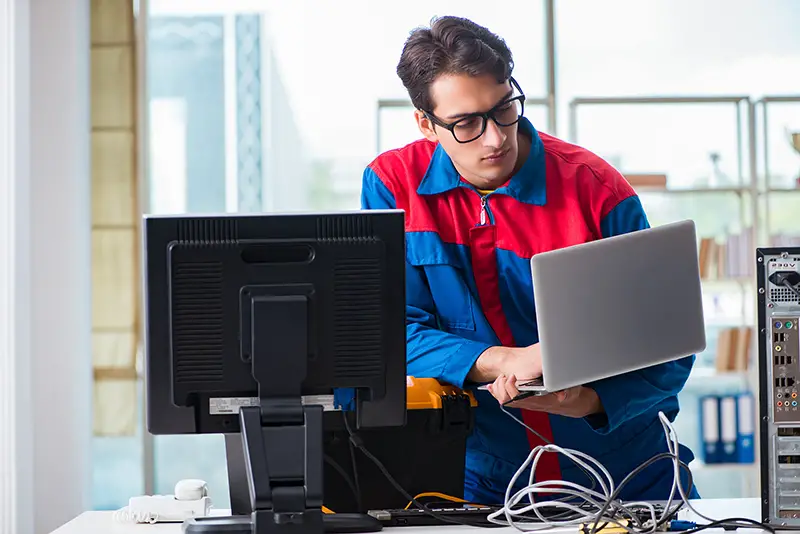 If your laptop is running slowly, you're not alone. This article will provide you with tips for upgrading the memory of your computer. Upgrading your computer's memory is a simple process that requires only a screwdriver, the owner's manual, and a good how-to video. You don't need to hire a computer tech to make the necessary changes, and the results are immediate.
Uninstalling programs that take up a lot of memory
To repair a slow laptop, uninstall programs that take up a lot of memory. While some programs are required to run, you can easily uninstall them if you do not need them anymore. However, it is important to know that some of these programs run in the background and can negatively impact the speed of your laptop. Viruses and spyware can also cause your laptop to run slow by interfering with the performance of your system. These programs hijack the browser and push advertisements or phishing sites to your PC. 
There are a number of helpful utilities and tools available on the internet. These applications may be useful, but they often take up a lot of memory and storage space. Uninstalling them is a great way to fix a slow laptop. However, you must be careful to only remove applications you recognize and need. If you remove unnecessary apps, your computer will be much faster.
Increase the memory
You can also increase the memory of your computer. Adding more memory is a simple and inexpensive way to fix a slow laptop. However, it is worth noting that adding additional memory might not fix the problem completely. If your computer is slow, uninstalling programs that use up a lot of memory may be the only solution to your problem. But it is also recommended to run a malware scan to prevent viruses and other malware from damaging your laptop.
Update your drivers
Updating your drivers is another way to fix a slow laptop. Outdated drivers can cause the hardware to communicate with each other. You can update the drivers manually by visiting the manufacturer's website or a trusted antivirus program. But beware that some drivers may need to be updated multiple times. You can also use a program called Driver Easy, which can scan your computer and download new drivers automatically.
Reinstalling Windows
If your laptop is running slowly, you might want to consider reinstalling Windows. While you can do this to fix software issues, reinstalling Windows completely may also help you determine whether your laptop needs a hardware upgrade. However, this method is not for the faint of heart. It could lose your data, and you may find that the issue worsens with the next restart. Read on to learn more about reinstalling Windows to fix a slow laptop.
Before you attempt this method, make sure your laptop is running Windows 8 or later. Some of these systems are not supported by Microsoft anymore, so you might not be able to do it without installing the latest version of the OS. To get started, open the Charms bar on your computer's screen and click on Settings. From there, choose Change PC settings. Click on Update and recovery. After this, click Refresh PC without affecting your files. If the process fails, you can reinstall Windows from the Windows installation disc.
If you are unable to boot to the Windows installation disc, you can manually enter the BIOS to change the boot priority. This will let Windows boot to the installation disc. Then, select your language and then click Next. When you've finished, you should see a familiar language selection screen. If this still doesn't fix your slow laptop, you should consider backing up all of your files and settings before proceeding.
Before you begin this procedure, you should remove bloatware from your computer and install the most recent version of your operating system. If this is not possible, uninstall all the software and hardware drivers. This is an excellent way to fix a slow laptop. It also allows you to keep your personal files and applications. Unlike a reinstall, you won't have to buy a new copy of Windows.
If reinstalling Windows doesn't fix your problem, you may also need to upgrade your hard drive. In the case of a 1TB hard drive, the best option is to replace it with a solid-state drive, which is several orders of magnitude faster than an HDD. The latter also eliminates fragmentation. While reinstalling Windows will definitely improve your system, you'll have to take care of your disk first.
Identifying and removing malware
If you have a slow laptop, the best way to fix it is to identify and remove the malware. Viruses consume precious computing space and interfere with the normal function of your computer. By using anti-malware software, you can quickly identify and remove malware from your system. For more advanced users, you can use the Task Manager to find suspicious programs on your system. To do so, press the CTRL, ALT, DELETE keys on your keyboard. Once in the Task Manager, select "Run" and "Close" from the list of options.
Viruses and malware are among the most common reasons for a slow laptop. However, you shouldn't try to identify and remove these malwares by yourself. Regular malware scanners aren't designed to detect and remove malware from various systems. If you're unsure whether your computer is infected, you can hire a virus removal service to scan your system and remove malware from your computer.
After determining the cause of your computer's slowness, run a scan using free anti-malware software. Malwarebytes can scan your system and remove malware from your PC. Malwarebytes' quick scan won't find any infections, but you'll get a text file of the results. This scan will remove all malicious files on your computer and will also fix any slowdown caused by viruses and other malware.
It's possible that your computer is running a slow program that's causing the problem. Malware can cause slow performance by using resources and making it difficult for your computer to perform routine tasks. Even worse, it can also be caused by a malfunction in your hardware. Therefore, it's important to use trusted anti-malware software to repair a slow laptop. Also, you need to make sure that you download programs from trusted sources only.
After you've identified the malware infection, you may have to reinstall Windows. In some cases, this is the only way to fix your laptop. During this time, you may have to export your messages and settings from any email client programs you're using. Backup any installed software and device drivers before starting a reinstall process. However, before attempting to repair your laptop, you should take the necessary steps to ensure your security.
Upkeep and maintenance
One of the easiest ways to fix a slow laptop is to perform normal maintenance. Files and programs build up on your computer over time, reducing its response time and lowering your productivity. Upkeep and maintenance for a slow laptop include cleaning up your hard drive, running Windows hard drive utilities, preventing programs from launching, and adding RAM memory. You should also run a virus scan to remove malware, which can use up CPU resources.
Depending on your operating system, there may be several causes for your computer to become slow. You may have too much data on your hard drive, or you may have an app that crashes every few seconds. In either case,  you should seek help from software technicians for internal laptop repair. There are also a variety of other causes for your slow computer. You can check if your hard drive is too full to create temporary or swap files. A minimum of 500 megabytes of hard drive space is recommended.
You may also like: How Do I Know If My Laptop Is Upgradeable?
Image source: Shutterstock.com