Click here to get this post in PDF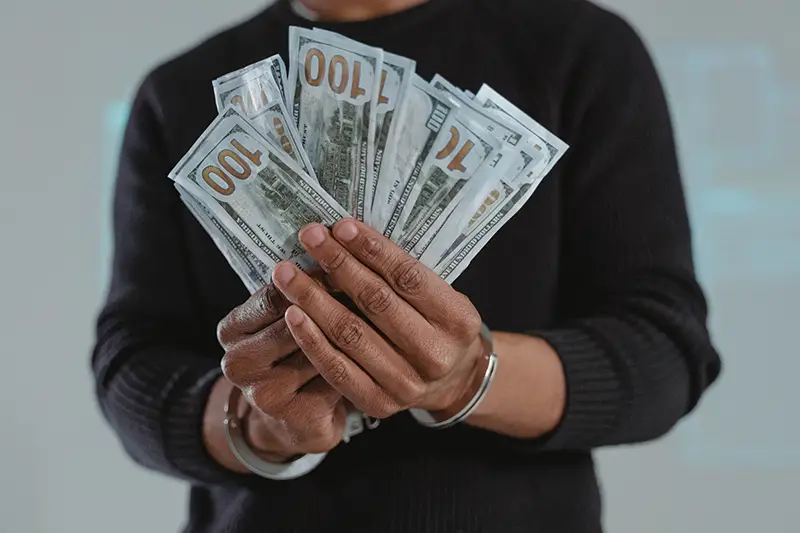 Intro:
Bank robberies might seem like a thing of the past. 
But they still happen. 
According to the FBI, there were exactly 2,440 violations of the Federal Bank Robbery And Incidental Crimes Statute in the United States in 2019. 
Acts of violence were committed during 70 of these robberies, which resulted in 25 injuries, 4 deaths, and 15 people taken hostage. 
If you're a bank manager, these types of statistics may serve as a grim reminder that bank robberies still happen. 
And if you're an employee, they may sound downright terrifying. 
If there's one thing that you don't want at a bank, it's a violent robbery. 
So, in this post, you're going to learn 7 tips for how to prevent robberies at your bank. 
Some of these measures are probably already being taken at your branch. 
But some of them may surprise you!
Here's what you need to know. 
1. Install A Security System
Security systems are the cornerstone of bank security. 
They generally include video surveillance, locks and hardware, ATM security, fire and life safety, intrusion detection, alarm systems, and more. 
2. Hire Security Guards
Security guards are an important fixture for bank security, especially if your bank is located in a metropolitan area. 
According to the FBI statistics, 1,191 of the 2,440 incidences of bank crime that occurred in 2019 took place in a Metropolitan area.
It's also a good idea to make sure that these guards are armed. 
It isn't pleasant to imagine that a dangerous bank robbery could occur. 
But if it does, it certainly isn't in your best interest for the bad guys to be the only ones with weapons.  
Special Security Services, a security company based in California, says it perfectly:
"A security guard will keep you safe. If you fear violence for any reason, you should consider looking at armed service instead of unarmed service."
3. Encourage Personal Customer Service
During one interview, a convicted thief and current consultant on bank security, Troy Evans, spoke about the importance that customer service can hold in deterring bank robberies. 
He basically said that one of the first steps in bank robbery target selection is to see how employees acted. 
"The last thing a robber wants is for someone to notice them. Someone to look them in the eyes," he said during the interview. 
Tellers can use this information to their advantage. 
If they're friendly, look every customer in the eyes, and make a point to study every customer who comes through, the odds of a bank robbery decrease. 
4. Use Dye Packs
Banks use radio-controlled devices to foil robberies by causing stolen money to be permanently 'marked with dye' shortly after the robbery. 
This, in theory, would make it impossible for the thieves to cash-in on their spoils; and serves as a deterrent. 
If your bank isn't equipped with dye packs, you should definitely make sure to start using them. 
5. Use Bait Money
Bait money is basically cash that has recorded serial numbers. 
In a robbery, if bait money is taken, the bank can forward the serial number information to the police to help them track down the perpetrators. This not only helps in leading to arrests, but it can also serve as a deterrent. 
If your bank isn't currently using bait money and recording serial numbers on at least some of its cash, this is a practice that you should absolutely begin to deploy. 
6. Have Your Employees Sign Non-Disclosure Agreements
Sometimes, one of the biggest dangers associated with bank robberies is the robbers having inside knowledge of how the bank security systems work. 
For example:
If a woman worked at a bank, then went home and told her 'curious boyfriend' about the inner workings of how the bank protects its money, that boyfriend may be able to use that information in the future. 
Or, worst-case scenario, it's possible that some bank employees may be targeted by perpetrators this way on purpose, in an effort to learn information about the inner workings of the bank. 
Therefore, having employees sign non-disclosure agreements, and helping them to understand the dangers of talking about bank security outside of the workplace, is another effective means of preventing information leaks that could put the bank at risk. 
7. Keep Cash Out Of Sight And Locked Away
The tellers will obviously need a bit of cash in their drawers. 
But for the most part, you should always keep the cash out of sight and under lock and key. 
And for large amounts of cash, they should always be kept in the vault, under a timed lock. 
Conclusion
There you have it. 
7 tips for how to prevent armed robberies at your bank. 
Of course, these are just a few robbery prevention methods. 
But they're all important, and they all matter. 
For best results, hire a professional security consultant to help you identify potential risk areas within your bank's systems. 
This can help you to spot trouble and stop it before it actually becomes trouble.
You may also like: 3 Security Tips to Help Protect Your Business
Image source: Pexels.com