Click here to get this post in PDF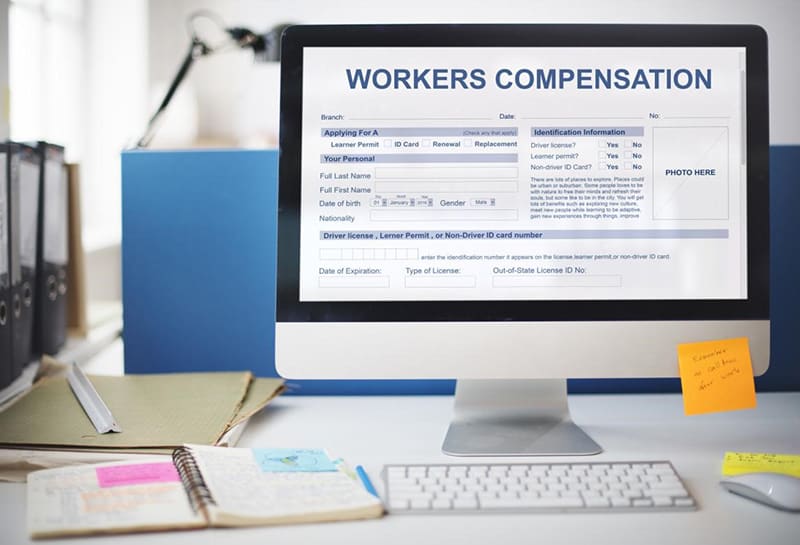 Did you know that the average cost for all workers comp insurance claims between 2016-2017 was $40,051? This is a large amount that most employers can't afford to pay out in case of an emergency. Protecting your employees will protect you and your business as well. 
If you are curious about learning more about workers comp insurance and how much is workers comp insurance, then you are in the right place. Keep reading to learn everything you need to know about workers comp.
What Is Workers Comp Insurance?
Before we dive into whether your business needs workers comp insurance and how much it is, we want to give you a clear understanding of what workers comp insurance is. In layman's terms, it is an insurance policy that protects employees and employers when there is an injury or illness caused at work. 
Part of the policy covers workers that are injured, become ill or are killed due to a work-related event. Another part of the policy protects the employer from having any lawsuits filed against them for their medical expenses and other compensation. 
What Is Covered?
Now that you know what workers comp insurance is let's go over what a policy typically covers. The following are the main coverages that workers comp insurance will take care of:
Medical Expenses
If your employee has expenses such as ambulance transportation, visits to the emergency room, hospital bills, diagnostic testing due to being injured at work then workers comp will step up and cover these bills. They do not require a case of knowing who is at fault like in a car accident claim.
As long as the injury or illness is related to work then they will cover the costs from either a workers comp doctor or your regular practitioner.
Employer's Liability
If you live in a state that does not have an exclusive remedy rule for workers comp insurance then your policy will help pay for defense costs and expenses for settlement, and judgments that the court awards. 
Wage Loss
If your employee has an injury that is work-related and it keeps them from working, then workers comp will reimburse your employee for the wages that they lose. The amount that is paid depends on the state you live in and the policy you have. Typically, most states pay up to 66% of the usual weekly earnings.
This compensation is normally on a tax-free basis. There are other states that provide what is called a "Loss of Earning Power" that pays for a partial benefit if the employee returns to work on a limited basis. 
Funeral Expenses
In the unfortunate event that an employee dies from a work-related injury or illness, workers comp will help pay for the funeral expenses and in some states, they might also pay the surviving family members death benefits. Hopefully, this will never happen, but it is good to know that workers comp can help in these extreme and unfortunate events. 
How Much Is Workers Comp Insurance?
Next on our list – how much will all this coverage cost your business? Workers comp rates are typically regulated by the states. Normally the rates depend on the line of business that you are in and how high of a liability it is. If your employees work in the construction field, then your policy rate will more than like be higher than that of a secretary. 
Other factors that go into calculating your policy rate include how prone your area is to accidents, how many employees you need coverage for, and if you have a history of filing claims. Like other policies what you choose as your deductible will also affect your policy rate. If you choose a higher deductible then your rate will be lower and vice versa, if you choose a super low deductible then expect to pay more for your policy.
To give you an idea the median costs per month for workers comp can be around $50. Do not forget that the higher the risk the higher the premium. This is only a midpoint average cost. The industries that can expect to pay higher premiums are those in the construction field, landscaping, food and beverage, and cleaning services. 
Businesses with more employees will also see a significant difference in their rates compared to a business with a couple of employees. Covering 1 person vs 100's will make a big difference in cost. Having more than 10 employees can bring your rates per month to over $2,000+.
There are providers that offer a "pay-as-you-go" billing system. This is when you pay your premium after each payroll instead of making large upfront payments. If your payroll is every two weeks, then after payroll is complete your workers' comp policy will charge you based on the payroll amount.
This system will fluctuate if your payroll fluctuates but it can mean a cheaper policy and also easier payments to handle vs a large payment upfront that you might have to reconcile at the end of the year if you pay too much.
Why Should I Buy Workers Comp?
If you are wondering why you should have workers comp a big reason is that most states require it. If you live in a state that requires your line of business to have workers comp insurance, then you do not have an option. You have to start shopping around and buy the best policy to cover your business in case of an emergency.
There are states that allow certain businesses to opt-out of workers comp if they meet certain requirements. You will have to research the specific laws for the state that you live in. 
Another reason to consider buying workers comp insurance is that it will help your employees in the event that they need it. Your employees should be very important to you because without them you would have to do all of your work yourself. Therefore, make sure you have their back in case something happens. 
No matter how safe you think your place of employment is accidents can and will happen. If you do not have the coverage you need what will you do when an accident happens? 
Last but not least you will protect your business with workers comp insurance. More than likely you love your business and would not want to put it at risk. Not having workers comp insurance when you need it will put everything you worked so hard to build at risk. 
You won't have to come out of pocket to cover an employee's medical expenses or lost wages. You will avoid losing a great employee that worked very hard to help your business succeed. You will also avoid going through any types of lawsuits for not having the right coverage in place.
In summary, having workers comp insurance is a smart move to protect the business that you love, your employees that you appreciate, and your own peace of mind. 
Where Can I Buy Workers Comp Insurance?
If you are wondering where to buy your next policy, you have options. You can do a search for your local area online if you prefer to go somewhere in person to set up your policy. You can also purchase your policy from a private insurer right from the internet. 
You will have to select your industry and your profession and fill out an online application. Once you fill everything out you will receive quotes that you can go through and choose the best one for your business. 
There are states that run their own insurance funds that sell workers comp insurance. Double-check if you live in one of those states. There are other states such as Wyoming, Ohio, North Dakota, and Washington that require a business to buy their workers comp policy from the state fund. These states are also known as a monopolistic state. 
Ready to Go Insurance Shopping?
Now that you know more about workers comp insurance including what it is, why you need it, what it covers, and how much is workers comp insurance are you ready to go insurance shopping? This might be one of the smartest policies your business has in case something was to happen. 
The last thing you need is to run the risk of a lawsuit or filing for a business bankruptcy because you failed to be prepared in case of an emergency.
Did this article help you? Check back often to stay in the know of all things business!
You may also like: Why is it So Important for Your Business to Be Insured?