Click here to get this post in PDF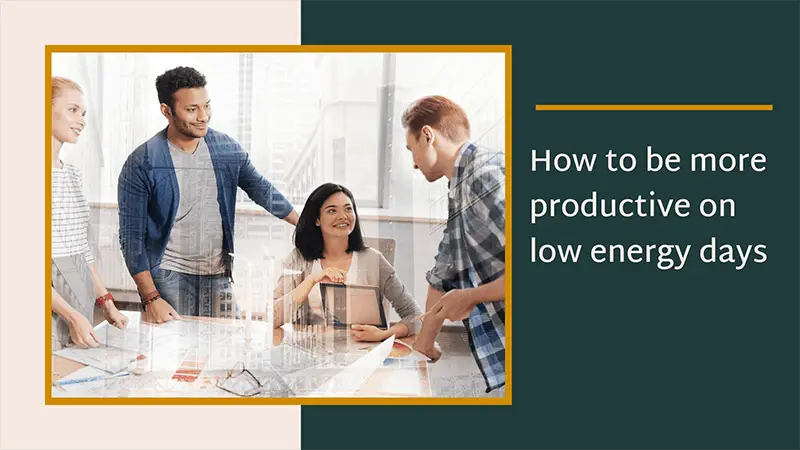 Everyone goes through low energy days once in a while. It's like you get up in the morning dreading the sound of the alarm. The worst part is that you can't even call it a day, as a lot of things need your attention. A low energy day can reduce your productivity significantly and demotivate you. But there are ways by which you can fix this. Doing a few simple things will help you to rejuvenate and revitalize your energy and increase your productivity. Focusing on your physical, emotional, intellectual, and spiritual areas is important to feel energetic and motivated.
Daily walks
Most of us have white-collar jobs and must sit in front of a computer for long hours. The human body isn't designed for that. So, take 10 to 30 minutes of break every day and go for a walk. Your body will get much needed physical exercise and stay healthy. If you feel reluctant to go alone on a walk, then invite any of your friends or family members to accompany you. After this light and short activity, you will feel refreshed.
Power naps
Our work requires immense amounts of cognitive focus. This drains the energy out of our bodies. A 20 to 30-minute power nap is therefore essential to boost your focus. Your brain refocuses and prepares you for the remaining work that you must complete in the day. All the biggest performers in the industry took naps to increase their focus at work.
Exercising
Exercise is good for the body. Once you wake up in the morning, you can do some stretching, breathing exercise, or meditation to refresh yourself. Deep breathing increases oxygen intake in your body much needed for proper functioning for body cells. Stretching will increase the blood flow in your body and get your muscles moving. You can also hit the gym in the afternoon in case you feel lethargic during the day. Meditation is another way to relieve stress and boost energy. Doing these exercises will bring a significant change in your energy and motivation levels.
Gamify your tasks
If you are feeling tired or lethargic at work, you can make a game out of your tasks. This allows you to refocus and challenge yourself to finish important tasks. Make a list of all the tasks that you have to complete. Categorize them based on the complexity and time duration needed to finish them. Once you complete a task, check it off the list and add points to your total. Reward yourself on the points that you have been able to collect by completing tasks. Just don't cheat and ensure that you reward yourself.
Drink your coffee
Coffee is a great energy booster. Caffeine present in coffee kills free radicals and refreshes the brain. A hot cup of coffee will increase your focus on completing tasks. Thus, you get more productive throughout the day. If you are a coffee lover, then drinking coffee outside or from the office pantry won't interest you at all. For such situations, you can buy coffee pods that make instant coffee. These pods come in a variety of flavors. One pod can make 40 ml of espresso coffee that should be good enough to get you going. Moreover, the pods are biodegradable and reduce the wastage also.
Eat cautiously
Diet has to be well balanced so that you get all the required vitamins and minerals for your body. A high protein and fiber diet will give you the essential nutrients for your body. Hogging food or eating junk food isn't good for the health of your body. Even though high sugary foods will give you an instant energy boost, the effect drops very fast. Thus, maintain a balanced diet for keeping your body and mind healthy.
Share emotions
Relationships can play a supporting role during tough times. They are a source of happiness and energy booster. If you feel low or down, then you can talk to your friends or family members to share your thoughts and emotions. By expressing yourself, you will feel less stressed and regain your energy to deal with the day ahead.
Putting these small changes to practice will cause big positive changes in your life. Make these lifestyle changes, get out of the roadblock, and buckle up to conquer the world.
You amy also like: Encouraging Coffee Breaks Across Your Business