Click here to get this post in PDF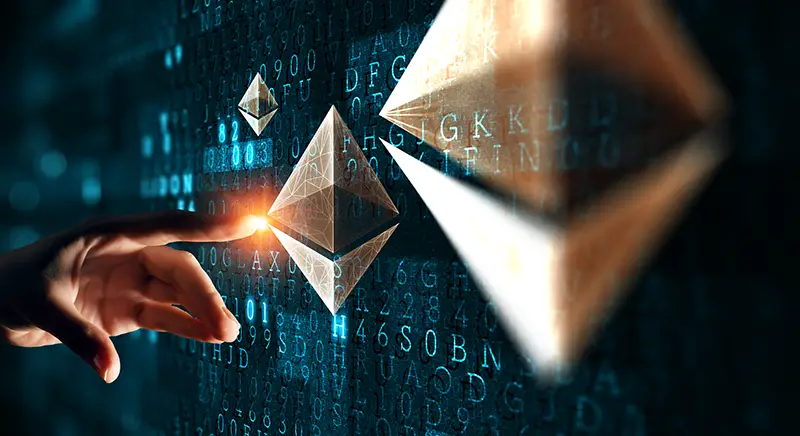 No doubt, 2022 saw Ethereum step out of its comfort zone. While struggling through the crypto winter, Ethereum endured the long-awaited change of consensus algorithm known as The Merge. While this opened up new opportunities for the token, it also presented challenges that will need to be addressed in the new year. Let's take a look at ETH's year-end results and forecasts on its behavior in 2023, shall we?
On the first day of 2022, Ethereum market cap totaled $448.53B. ETH finished the year with $146.24B. Predictably, the second most popular token made quite a contribution to the total crypto market cap for the whole year. However, Ethereum was still very dependent on Bitcoin's price and ended 2022 with a 12-month decline of 69% versus 64% on BTC's side. This is in no way surprising, considering the overall market turbulence. But as you might have guessed, there's more to it than that.
The main issue for Ether is the crypto winter, which is unlikely to end in 2023. Historically, such periods last for 3-4 years. If we start the countdown from the fall from the highs of 2021, we can hope for change in 2024. This also aligns with Bitcoin's halving – when the reward for Bitcoin mining is cut in half every four years – after which cryptocurrencies usually go up in value.
The long-awaited Merge also created some challenges, promising a busy 2023 for Ethereum. It changed its core principle of work and retracted mining altogether by switching from the Proof-of-Work (PoW) consensus algorithm to Proof-of-Stake (PoS). Before The Merge, users had to solve complicated computations to receive the coin. From now on, the algorithm will be based on staking cryptocurrency validators already own. 
Technically it went perfectly well: energy consumption was decreased by 99.9%, new blocks in the chain were created within exactly 12 seconds. What could possibly go wrong? For starters, the minimum amount of 32 ETH (~$38k) required for staking ended in dominance of big players controlling the network, which for a DeFi token was questionable, to say the least. It also didn't go unnoticed by the financial regulators, and Ethereum ended up having a 72% censorship level. SEC Chairman Gary Gensler even made a statement that Ether could be recognized as a security, as the stack algorithm gives an opportunity to earn passive income. 
Another thing to be dealt with this year is the option to withdraw coins from the blockchain – right now, it is impossible. The tokens are to stay on the user's balance until the update planned for March 2023. This means that the new Ethereum issuance is isolated from the market until then, and a release of a high volume of coins will follow.
To sum up, one should not expect growth in 2023; there are no drivers for it – not Ethereum or other coins. While ETH looks stronger than the rest of the crypto, as it hasn't gone below 2022 lows.
You may also like: How Is Ethereum Currency Different From Bitcoin Crypto Money?
Image source: Depositphotos.com