Click here to get this post in PDF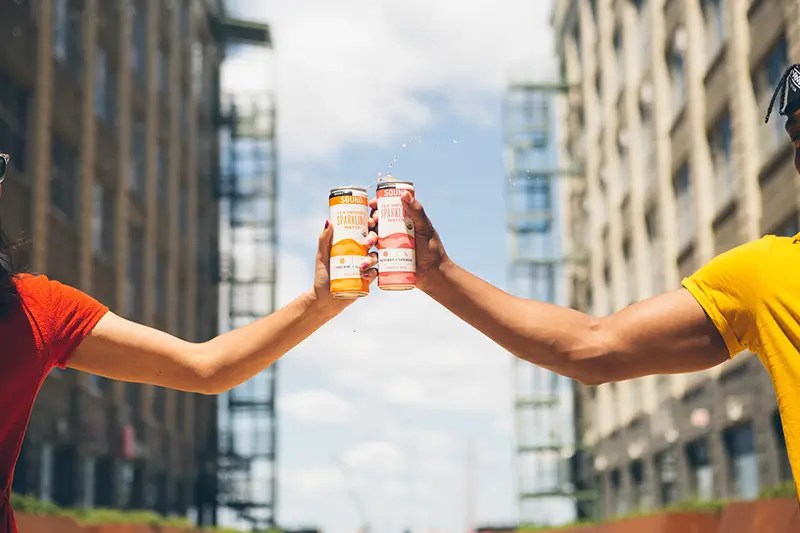 So… you've finally come up with the perfect restaurant/bar formula, created jazzy beer mats and packaging that appeal to the millennials and received interest from well-known investors in the food industry.
This is, for sure, an ideal recipe for success in these competitive beverages market, right?
Sadly, the answer to that question is a big NO!
When it comes to the food and beverage industry, there's a lot of ongoing competition between businesses. There are various challenges ranging from innovations to operations, so much so that your bar business needs a constant flow of cash to remain afloat.
While the usage of offline marketing and personalised products like custom beer mats can help your business, online marketing is the best way to improve your customer base.
In this article, we've mentioned everything you need to know about marketing and promoting your beverages through online platforms.
Let's dive in!
1. Improve the Online Experience for Your Customers
An incredible website that influences and appeals to your customers' "visual palate" through the use of videos, visual content and HD images – yes, it's extremely important!
Having said that, creating a beverage themed website is quite easy – and so is hiring a product photography studio like DW Images to help create exceptional visual content. But how is it that you can make your business stand out from others through an appealing web design?
Well, the answer is quite simple!
It's ale (pun intended!) in the way you improve your customer's online experience when they're going through your website. The best approach is leveraging integrated customer service and e-Commerce.
Here are a few things you can consider when promoting your beverages through your site:
Create a website using a theme that best suits your restaurant/bar business.
Have a dedicated blog section and regularly post appealing content.
Get in touch with other food bloggers to write for your blog.
Enable your customers to book and make reservations through your website.
Offer a virtual tour of your kitchen and store.
Offer a similar customer experience through your mobile app too.
2. Use Email Marketing for Your Beverage Business
Yes, email marketing is still highly relevant and effective for most types of businesses; more so for those in the beverage industry.
This is mainly because of the following reasons:
Most of the subscribers are really excited to receive information regarding a beverage they're interested in.
It enables your business to reach out to a wide range of customers that too on a scale which is usually available for big brands.
Businesses can leverage emails as the top of their funnel marketing to drive more website traffic and then convert them into subscriptions, reservations, product purchases, etc.
3. Leverage Social Media Marketing to Increase Your Audience Base
You saw this coming, didn't you?
Over the past years, content related to food and beverages have started gaining significant popularity on various social media channels – this mainly includes Pinterest, Facebook and Instagram.
Well, that's primarily because all these contents posted on the platforms are heavy on visuals.
That said, if you want to market and promote your beverages or restaurant in a way that it helps you increase your customer base while also improving your overall profits, then here's what you can do:
Learn from Your Key Competitors
There's a high possibility that your main competitors are already leveraging these social media platforms to their full potential.
In that case, to build hype around the products offered by you and grow your customer base, the best strategy you could come up with is learning and doing way better than your competitors.
You need to use unique ways to approach your target audience and ensure that your content is appealing to them.
Post Content As Often As Possible
If you've been sharing posts just once a week, then know that it's not going to give you the end results you've been looking for.
For your social media marketing campaign to be successful, you need to shift to uploading posts as regularly as possible. However, you also need to ensure that all your posts are relevant to your audience and in line with the latest trends.
Make Use of High-Quality Images
It has been noticed that posts containing high quality images receive 2.3x more engagement when compared to the ones with mere content.
This is what makes it important for you to invest in professional product photography, since that way you'll be able to get both visually appealing and high-quality images of your beverages. These can later be used not only on your social media accounts but also on your website and press releases.
Create a Stronger Email Subscriber Base
After reading this point, we know exactly the question you'll be asking – is it even possible to nurture and build your email subscribers' base for a beverage related newsletter?
Well, the simple answer is – Yes!
All you need to do is take a look at how the other beverage businesses are investing their time and money on social media marketing… of course, with the aim to build a stronger email subscriber base.
Here are a few ideas you can leverage:
Share quick recipes of your beverages.
Upload BTS videos of your kitchen to show your hygiene practices.
Send the videos of your employees and cooks in action, doing what they do best – creating amazing beverages for them (their customers).
Participate in Contests and Engage With Your Online Customers
Modern beverage businesses have an incredible personality and brand image.
You too can achieve this – all you need to do is put in conscious and consistent efforts to constantly engage with your customers. For this, you need to ensure that you're as active as possible.
Perhaps you could implement these ideas:
Sponsor various charity events like marathons for a good cause.
Participate in food festivals and other online contests.
Organise workshops and seminars on topics like conscious farming practices, healthy food choices and more.
Final Thoughts
With fierce competition in the beverages industry, marketing and promoting your restaurant/bar on online platforms is no mean feat!
As a business, you need to invest time and capital into creative thoughts and come up with marketing campaigns that set your products apart while also enabling you to reap the various benefits.
Make the most of the available strategies and make your beverage business a successful one.
You may also like: 5 Ways to Promote Your Business Using Custom Printed Clothing
Image source: Unsplash.com